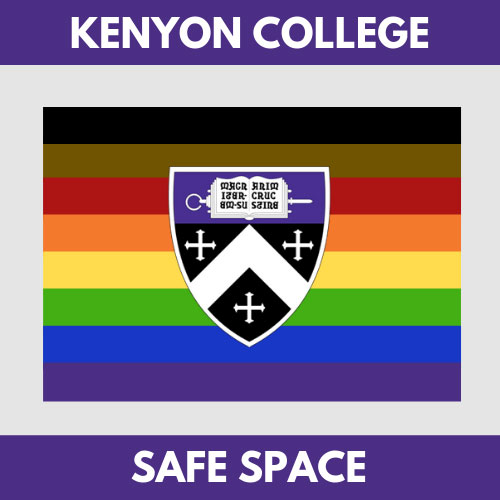 The program includes a 4-session sequence, and the 1-hour long sessions are offered both 1) concurrently over two days and 2) one-by-one throughout various points each semester. The purpose of having multiple options for delivery times helps to ensure the training is accessible for a variety of schedules.
The four sessions should be taken in order, as they build upon one another. The training session sequence is as follows:
LGBTQ+ Terminology 101: A Primer to Understanding and Interacting with the Community
Marginalization and Erasure: Contextualizing the Importance of LGBTQ+ Inclusion and Equity
The LGBTQ+ Community and the Law: Understanding Queer and Trans Student Rights Under Title IX, FERPA, and More
On-Campus Resources for LGBTQ+ Students: Identifying Support Networks and Resources in the Kenyon College Community.
Upon completing the 4-session sequence, participants are then encouraged to attend one on-campus LGBTQ+ event — including but not limited to a lecture, film screening, program for a day/week/month of significance, etc. — per semester to reinforce the formal training.
Previous Training Experience?
While we are encouraged that a number of on-campus partners completed the previous Safe Space Training Program, the LGBTQ+ community's needs, along with the best practices and resources to support those needs, evolve quickly over time. We encourage all faculty, staff and student leaders to engage the new Kenyon Pride: Safe Space Ally Training Program.
Since a significant amount of new content has been added to this training program, completing the new program can help ensure that you have updated information to best support an inclusive and affirming campus community for our LGBTQ+ students.
How to Enroll
To enroll in the training program, please complete this short registration form. To ensure that a significant number of faculty, staff and student leaders can complete this training, the full 4-session sequence for the Kenyon Pride: Safe Space Ally Training Program will be offered at least once per semester and once throughout the summer months. As noted on the registration form, dates, times, and locations vary.
When registering, please simply select the training session that you'd like to attend, and please remember that you should follow the sequence as outlined on this page, as each session builds upon the previous one. There is no deadline to complete the 4-session training sequence, though we do encourage attendees to complete the full sequence within one to two semesters to aide with knowledge retention and application.
Summer 2022 Update: Currently, this training program is on a temporary hiatus, and updates about resuming the training program will be shared once the Office of Diversity, Equity, and Inclusion is fully staffed.
Impact
In spring 2019, the Office of Diversity, Equity, and Inclusion facilitated a soft launch of the newly expanded and updated Kenyon Pride: Safe Space Ally Training Program. During summer 2019, the training program was opened to all faculty and staff at the college. At that session, over 40 attendees completed the inaugural training.
Currently, each division of Kenyon has a faculty or staff member who has completed the newly expanded and updated iteration of the training, and to date, over 130 faculty and staff across our campus community have been trained under this program.
More information about the impact and progress of the training program will be displayed here in the coming terms.