We're all on a quest to understand more about life—and so we write. We write about unrequited love, the Civil War, superorganisms, penalty kicks, global warming, bluebird feathers, Arab literature, anime, nuclear waste, neurotransmitters, game theory, Black Arts, modern democracies, LGBTQ+ cinema and more. We write not only to share our views, we write to be part of the solution.
The Best in Contemporary Writing
The Kenyon Review is one of America's most revered literary magazines, publishing breakthrough work by prize-winning authors and daring new voices.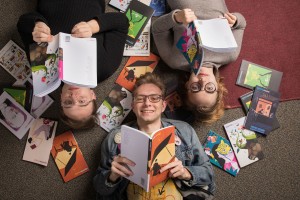 Kenyon Review associates pore over literary submissions for promising works.
Find your outlet.
Students contribute their ideas and perspectives to more than a dozen publications, from literary and political journals to blogs.
Prose Power
Alumnae Elliott Holt '97 and Yohanca Delgado '06 are two of 35 writers to win Creative Writing Fellowships from the National Endowment for the Arts for their work in prose, a prestigious award whose past recipients have gone on to win the Pulitzer Prize and the National Book Award.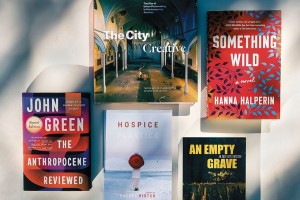 Graduates of our renowned English program go on to excel in writing careers. It's not unusual for our alums to make repeat appearances on The New York Times' bestseller lists or find success in the publishing industry. Kenyon's own E.L. Doctorow '52 once said that Kenyon does poetry like Ohio State does football. He's not wrong. Explore new releases from members of the Kenyon community. Explore new releases from Kenyon alumni.
"Beethoven's Diving Board"