Science and nature writing at Kenyon empowers students to become skilled storytellers who can communicate complex scientific issues to a general audience. In this interdisciplinary program, students write artfully, creatively, and with precision about the natural world.
Building on Kenyon's renowned writing program, the science and nature writing program cultivates a vibrant literary science community and situates scientific knowledge and its discovery within the liberal arts tradition. In courses across the college, students explore genres ranging from nature writing and science poetry to popular science writing and biomedical narrative. Working closely with faculty and each other, Kenyon students learn to communicate the narratives that underpin STEM research and enrich the stories they tell with scientific detail.

Introduction to Science and Nature Writing
There has been a renaissance of science writing for the common reader that combines literary and scientific merit. This interdisciplinary science writing course will combine literary analysis of exemplary essays on scientific topics with a writing workshop that requires students to do close observation of scientific processes, conduct independent research and interviews, interpret data, and present scientific information in highly readable form.
This creative writing course tackles "the mind" in its diverse animal (and not-so-animal) forms. We may consider the hive minds of social insects; the collective decision-making of pack vertebrates; tool-using octopodes; and even the underground root networks of plants. Your writing may straddle genres (fiction, poetry, and nonfiction) and you are encouraged to experiment, using the primary scientific texts and literary pieces as jump-off points to imagine minds unlike your own.
The Hoskins Frame Summer Science Writing Scholars
Open to students with interests in both science and creative expression, the summer program provides opportunities to work in close collaboration with mentors in creative writing, the natural sciences and Kenyon's Office of Communications.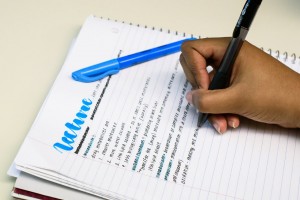 Sarah the Explorer
How a nature lover from New Hampshire connected her interests in science and writing to tell stories about the world.