Izzie Meneguzzi '22 is a strong believer in the power of the email.
Last fall, in the midst of a semester like no other, Meneguzzi found herself a junior psychology major who had never been involved in research at Kenyon. Hoping to find work with faculty who shared her research interests, she emailed professors whose research intrigued her. "I reached out to a few professors about research they were doing outside of class, and so, I started being [Assistant Professor of Psychology Patrick Ewell's] research assistant at that point, and I was also in his research methods class," Meneguzzi said. She didn't know it then, but this work would lead to a successful in-class project, a coveted position as one of Kenyon's Summer Science Scholars, and a lead on her psychology senior honors project.
In her research methods class, Meneguzzi was able to construct several projects that incorporated her own interests, starting with a group project looking at whether "girls and guys move out of your way when you're walking," using students on Middle Path as subjects. Later, Meneguzzi "continued looking at gender and social media. One girl in my group was really interested in Photoshop, so that all moved into the project that I have now taken on."
Meneguzzi independently proposed a study looking at men's and women's responses to photos of their same gender with either no editing, light editing, or heavy aesthetic body editing applied. Though her findings in that first experiment were not statistically significant, meaning her tests didn't produce numbers reaching the high threshold needed to rule out coincidence and prove a connection between variables, Meneguzzi did find that there appeared to be a trend toward people displaying lower levels of self-esteem when they saw more intensely edited photos. In addition to this trend, her study had another thing going for it: an unusual design.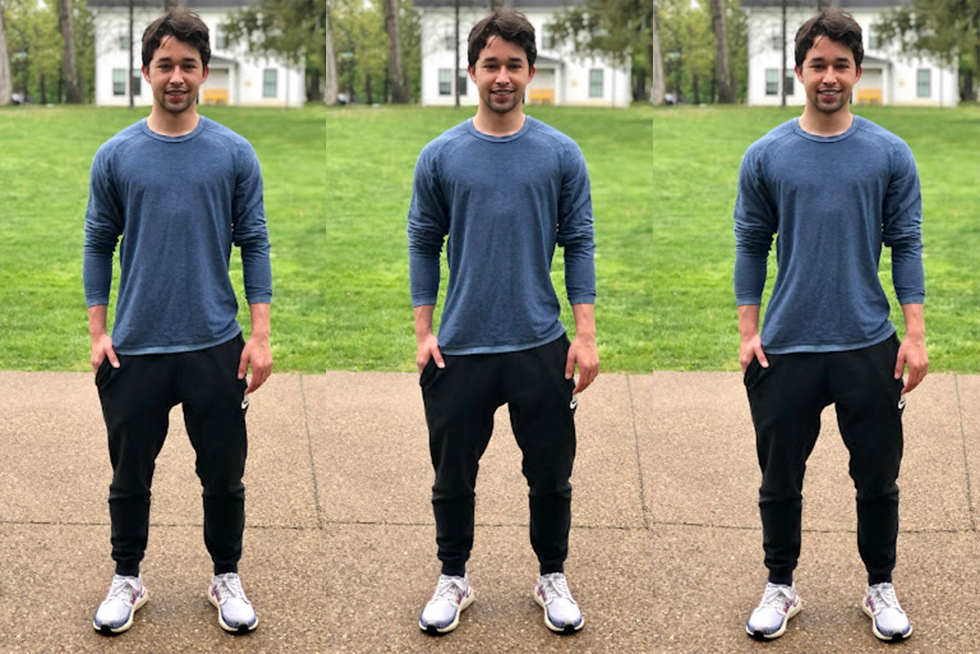 "Our study was a bit different," Meneguzzi said. "Most studies looking at the effects of photo editing look just at a control group and an edited-photo group; not a lot of studies have three different levels. And gender is a big piece as well, because most studies just focus on young women as this vulnerable population, but therefore a lot of studies don't even consider men, where ours does." After her in-class presentation was done, Ewell mentioned to Meneguzzi that she could potentially re-work the project as a proposal for Kenyon's Summer Science program, in which Kenyon students propose their own projects and work with a faculty mentor with similar research expertise to execute it, supported by funding from Kenyon and other independent grants.
So Meneguzzi took that idea and ran with it. She created a proposal based on her class project, adding more information on the significance of her research to the greater field of research on the psychological effects of photo editing. Ewell accepted her proposal as a Summer Science project, conducted in June and July of 2021. "Not just anyone gets a scholarship position like this," Ewell said. "But Izzie put in the work, and proposed a really great project, and now as a result of that hard work, she gets this opportunity to design and potentially publish her own research as an undergrad."
Meneguzzi has gotten a lot out of the Summer Science experience, and her time in research at Kenyon in general. "Beyond the data, the research experience has been really significant to me as a student," she said. "What has been great about working with Professor Ewell in the last year is that he really does put a lot of responsibility in my hands, allows me to mess up a lot, and has just been very helpful in teaching me the ins and outs of research. So even if my research does not have significant findings, I've still learned a lot about how to complete research."
One important experience that Meneguzzi pointed out was the work she and Ewell have done to record her research process on the Open Science Framework, an open-source software program that encourages transparency in research, and that is becoming increasingly popular in the sciences. Meneguzzi was unfamiliar with the program, and so the experience was a major learning process, but both she and Ewell agree that this skill will likely be vital to her in her future as a researcher.
Meneguzzi doesn't know yet what her research will find or whether her work will be publishable. Still, she has a lot of ideas and questions about the possible implications of her findings, and about how they could be built on in future research. "Both Professor Ewell and I are interested in whether people are able to accurately perceive editing — like, can someone look at a photo and say, 'Oh, their arm's edited,' because there are some things you might be able to see, and some things you might not, and I think that that difference could have an impact on people. It's just interesting to me how people may perceive something differently, based on their exposure and experience on social media, and the type of user they are," she said. Meneguzzi hopes to address the questions this experience has raised in future research. "We intentionally designed this study, for the summer, to be able to be built upon. I'm planning on doing an honors project for my senior year, so hopefully we'll be able to answer those other questions, about how editing is perceived."
Through a combination of her own ambitious drive and interest in her subject matter, and the accessibility of research at Kenyon, Meneguzzi was able to turn a single in-class project into a potentially publishable paper, one that might even inform her senior honors project. "At Kenyon, as long as you have an interest and want to get involved, you can," she said. Sometimes all it takes is a well-written email.
This story was written by Sarah Wagner '23, an inaugural scholar in the Hoskins Frame Summer Science Writing program. Find out more about the program below: