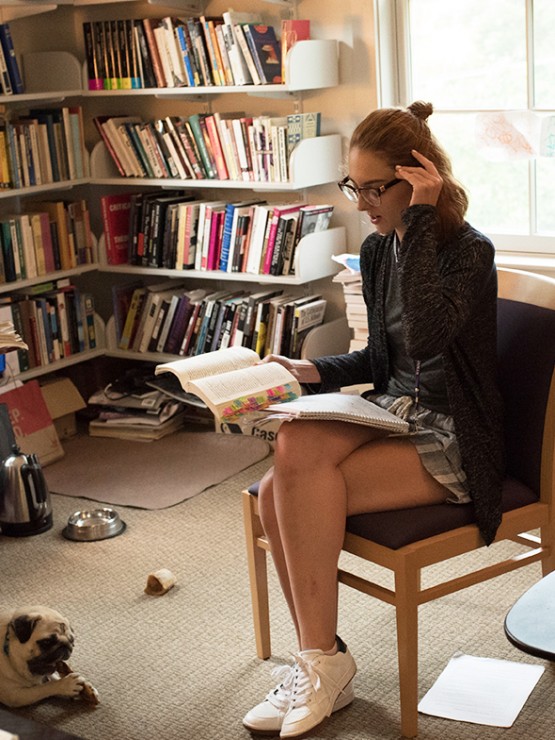 Kenyon
"Chatting after class with your professor is a spontaneous enjoyment. You don't know what is going to happen next, but you often end up leaving with a core memory."
Caleb Newman '24, a sociology and political science major from Arlington, Virginia, on the joy of impromptu conversations with faculty
Spend a minute in our light-filled library.
A hub for studying and connecting, Chalmers Library offers spaces for quiet concentration and focused collaboration, all within reach of academic services.

Celebrating the Classes of 2022 and 2020
Celebrating the Classes of 2022 and 2020
In her Commencement address, television producer Samie Kim Falvey '96 urges the Class of 2020 to build community through "your extraordinary actions in response to extraordinary times."

In her Commencement address, investigative journalist Sheila Coronel H'22 praises the "fresh thinkers, brave souls and explorers of ideas" in the Class of 2022.

Assistant Professor of Psychology delivered the Baccalaureate address to the Class of 2022.
This year's Commencement events mark a return to tradition after the disruptions of the pandemic.
We read "Beowulf" and "Beloved," study the structure of the ecosystem and the universe, debate questions of justice and raise our voices in assent.
Choose from more than 50 majors, minors and concentrations.

"One of the big questions we ask in public health is not 'How do l treat one person?' but 'How do I treat millions of people and ensure these things won't happen again?' "

100% of young alumni say they learned to write better at Kenyon.

Kenyon ranks eighth in the country (ahead of every Ivy) for the proportion of STEM grads to earn a doctorate in the field.