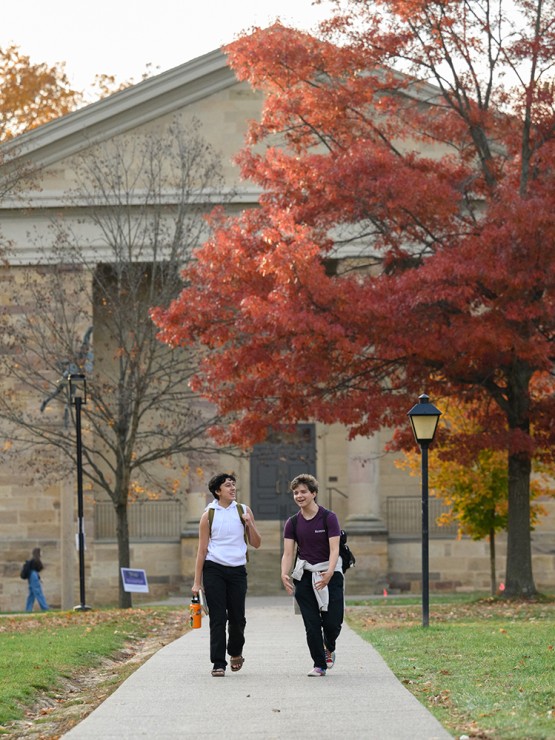 Kenyon
"I appreciate being in a community where everyone is just as passionate about their interests as I am. It's almost otherworldly."
Otto Fox '27 (right), a first-year from Council Bluffs, Iowa, whose interests include drama, English and music
In the middle of it all
Most days in Gambier, Ohio, start on Middle Path. Ten feet wide and running the length of the campus, it connects us to this place and to one another.

Off the beaten path, on purpose
A community connected by purpose
A community connected by purpose
New students — led by a new president — found a poetic way to celebrate the annual tradition that salutes the unbroken line of people who built and strengthened the College.

Anthropology students will soon excavate a site near Church of the Holy Spirit in the search for artifacts from one of the earliest buildings at Kenyon.

Six students and alumni accompanied Professor of Dance Julie Brodie to a conference in Seoul to present on dance notation.
Faculty and students, we are partners in inquiry. We devote great attention to the work in front of us and the people around us.
We read "Beowulf" and "Beloved," study the structure of the ecosystem and the universe, debate questions of justice and raise our voices in assent.
Choose from more than 50 majors, minors and concentrations.

"One of the big questions we ask in public health is not 'How do l treat one person?' but 'How do I treat millions of people and ensure these things won't happen again?' "

100% of young alumni surveyed say they learned to write better at Kenyon.

Kenyon ranks eighth in the country (ahead of every Ivy) for the proportion of STEM grads to earn a doctorate in the field.