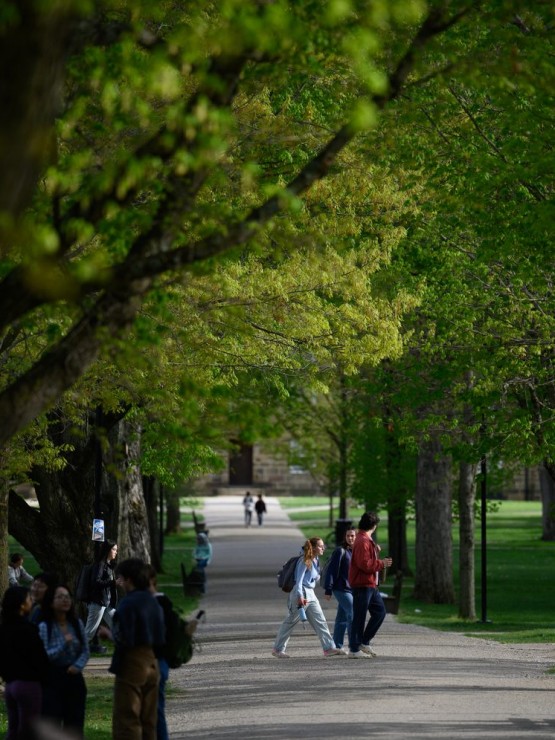 Kenyon
"While you attend each and every class, make a home for each other. Help make this a place where there is deep comfort alongside the effort and the joyous mess of imperfection."
Diane Anci, vice president for enrollment and dean of admissions and financial aid, gives advice to new students
A community connected by purpose
A community connected by purpose
Anthropology students will soon excavate a site near Church of the Holy Spirit in the search for artifacts from one of the earliest buildings at Kenyon.

Natalie Wright, assistant professor of biology, has won a prestigious National Science Foundation CAREER grant for her bird research.

Six students and alumni accompanied Professor of Dance Julie Brodie to a conference in Seoul to present on dance notation.
Students and faculty, we are partners in inquiry.
A student and professor team up to research economic growth in the community surrounding Kenyon.

Learn the How and the Why
We read "Beowulf" and "Beloved," study the structure of the ecosystem and the universe, debate questions of justice and raise our voices in assent.
Choose from more than 50 majors, minors and concentrations.

"One of the big questions we ask in public health is not 'How do l treat one person?' but 'How do I treat millions of people and ensure these things won't happen again?' "

100% of young alumni surveyed say they learned to write better at Kenyon.

Kenyon ranks eighth in the country (ahead of every Ivy) for the proportion of STEM grads to earn a doctorate in the field.