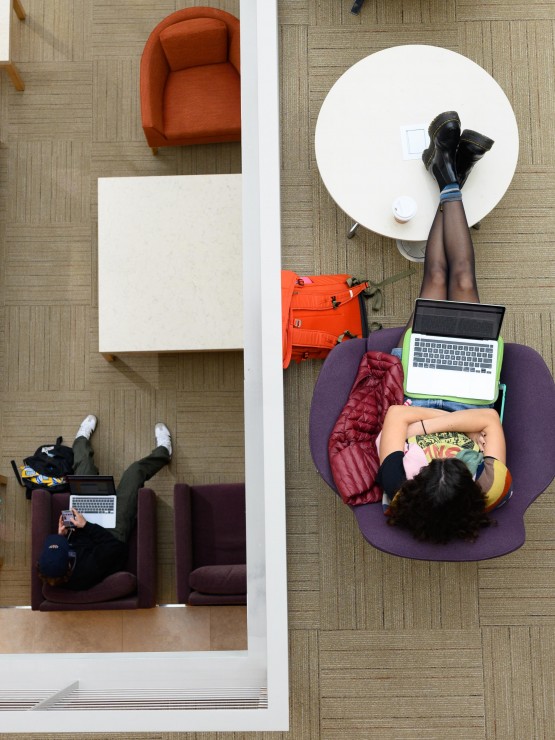 Kenyon
"What's going on here? What do you see that makes you say that? What more can we find?" I've found you can stand in front of anything in your life, ask those questions and be surprised by the answers.
Caleb Bissinger '13 of Los Angeles on the three questions Gund Gallery associates are taught to ask patrons as they stand before a work of art.
Spend a minute in our light-filled library.
A hub for studying and connecting, Chalmers Library offers spaces for quiet concentration and focused collaboration, all within reach of academic services.

Go beyond the how, dig deep into the why.
Go beyond the how, dig deep into the why.
Eleanor Tetreault '21 is named a lead author on a psychological study making national headlines.

Students who interned at the Gund Gallery reflect on the experiences that launched their careers in the art world and beyond.

International studies major Raul Romero '22 combines his talent for tech and interest in politics to launch an unexpected career.
We build on our insights to tackle issues in the industries we hope to shape.
We read "Beowulf" and "Beloved," study the structure of the ecosystem and the universe, debate questions of justice and raise our voices in assent.
Choose from more than 50 majors, minors and concentrations.

"One of the big questions we ask in public health is not 'How do l treat one person?' but 'How do I treat millions of people and ensure these things won't happen again?' "

100% of young alumni say they learned to write better at Kenyon.

Kenyon ranks eighth in the country (ahead of every Ivy) for the proportion of STEM grads to earn a doctorate in the field.