Studying Biology at Kenyon
Biology students at Kenyon learn to make connections between life processes, with their work rooted in discoveries they make in the laboratory. Beginning in the first year of study, biology students are engaged in lab and research projects of consequence that are unparalleled in most undergraduate biology programs.
Led by, and collaborating with, faculty who are leaders in their field, biology students conduct research that leads to breakthroughs in fields ranging from health care to the environment to agriculture. The discovery occurs year-round, as the labs of Higley Hall are filled after the academic year ends with Summer Science Scholars conducting research projects.
Shaping Scientists

Kenyon ranks eighth in the country (and ahead of every Ivy) for the proportion of STEM grads to earn a doctorate in a STEM field.

75

students a year pursue College-funded research projects in the humanities, natural sciences and social sciences.

$1M

grant from the the Howard Hughes Medical Institute

The grant is one of several that Kenyon scientists have earned to foster a more inclusive and diverse scientific community.
Life as a Biology Major 
The biology department has its own distinct ethos. As a student, you'll be part of traditions and practices that shape our community: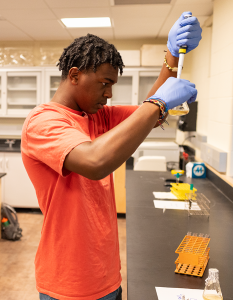 Discuss science, careers and research with scientists from other institutions through the Biology Seminar Series.  
Catch up with your favorite faculty at the  fall biology picnic.
Nosh on pizza at the Bio Journal Club while students and faculty delve into the latest research on topics ranging from plant physiology to the human genome.
Honor the father of evolution with cake and song at the annual Darwin Day celebration.
Dive deep into your Bio 110 independent research project, a spring rite of passage for all beginning biology students. 
Bring your creative energy to Lyceum, the student literary journal focused on science and the natural world, and Higley Headlines, the department blog.
Location
Department of Biology
Higley Hall
Kenyon College
Gambier, Ohio 43022