From summer programs to year-round projects, students collaborate with faculty experts on research opportunities that hold the potential to change the world.


Anu Muppirala '19

Neuroscience major Anu Muppirala combined her experience studying zebrafish at Kenyon with her interest in science writing, and successfully applied for a coveted NSF Graduate Research Fellowship — a rare achievement for an undergrad. She's now pursuing her doctorate at Harvard University.

Rachel Nguyen '19

The Clare Boothe Luce Undergraduate Research Program, focused on women in STEM, helped physics major Rachel Nguyen connect with Professor Tom Giblin to study the origins of the universe — resulting in publication in a top physics journal. She's pursuing a Ph.D. at the University of Illinois.

David Anderson '19

Biology major David Anderson started his pre-med track at Kenyon as a KEEP scholar. With Professor Chris Gillen, he researched how to eradicate disease-carrying mosquitoes, helping Anderson earn acceptance into Harvard's Exceptional Research Opportunities Program. 

Delaney Barker '20

A political science major, stand-up comedian (who once introduced comic Tig Notaro on campus) and president of Kenyon's Student Council, Delaney Barker conducted Summer Legal Scholars research with Professor Ric Sheffield. She's now studying civil rights law at Harvard Law School.
Summer Research Opportunities
Research takes center stage during the summer months at Kenyon—more than 75 students take part in research projects covering the natural sciences, humanities, social sciences and fine arts.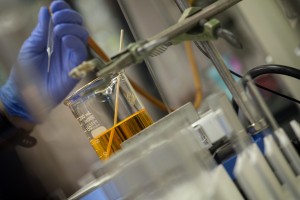 Kenyon consistently produces Goldwater Scholars, the premier award for undergraduate research in the sciences.