From summer programs to year-round projects, students collaborate with faculty experts on research opportunities that hold the potential to change the world.


Summer Research Opportunities
Research takes center stage during the summer months at Kenyon—more than 75 students take part in research projects covering the natural sciences, humanities, social sciences and fine arts.
Summer Scholars team up with faculty mentors during the summer months to work on projects focused on the social sciences and humanities. The fellowship awards $4,000 per student plus on-campus housing. The Summer Scholars program is funded by Kenyon and a grant from the Beulah Kahler Foundation.
Supported in part by a grant from the Andrew W. Mellon Foundation, this program brings students and faculty together to perform community-focused research. Students selected for these competitive awards receive a $4,000 stipend, summer housing and up to $500 in funds for research materials and supplies. 
The CSAD Democracy Scholars Program provides opportunities for students to work in close collaboration with faculty members as full participants on a fundamental question, text or theme of American liberal democracy. The Program is supported by the Class of 1978 Summer Research Fund and the Pamela K. Jensen Faculty Research Fund endowments for the Center for the Study of American Democracy.
The John W. Adams Summer Scholars Program in Socio-Legal Studies supports the design and execution of original law-related research. Students selected for this program receive stipends, summer housing allowances and funds for research materials and supplies.
More than 30 student-faculty pairs spend up to 10 weeks in the summer to delve into research projects in the fields of archaeology, biology, chemistry, mathematics, physics and psychology. Science scholars present their findings to the public at a research poster session during Family Weekend in October.
This summer research program is designed for first-year and second-year students who have no previous research experience. Twelve scholars are funded by a grant from the Sherman Fairchild Foundation, which supports projects in biology, chemistry, neuroscience and physics. Other projects in the fields of anthropology, mathematics and psychology are funded by Kenyon. 
Six qualified undergraduate students are selected each year for this highly competitive 10-week summer research project at the James Cancer Center. Scholars participate in groundbreaking studies and methods to advance cancer research, such as exploring strategies for metastatic cancer treatment and optimizing clinical management decisions for patients with gallbladder cancer.
The Ohio State University and the Five Colleges of Ohio co-sponsor 20 paid summer research internships in biochemistry, chemistry, mathematics, physics and statistics. The 10-week program partners interns from Kenyon, Wooster, Denison, Oberlin College and Ohio Wesleyan with Ohio State University faculty members to create and execute a research project, then present results in a public forum.
The Rise Science Fellowships provides opportunities for Kenyon students who already have research experience to conduct off-campus projects in the fields of biology, chemistry, neuroscience during the summer months. Rise Science Fellows present their results to the Kenyon community during Family Weekend in October.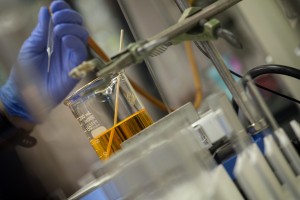 Kenyon consistently produces Goldwater Scholars, the premier award for undergraduate research in the sciences.