Look in any direction from campus onto the rolling hills of the Kokosing River valley and you can't help but admire and respect nature and all of its wonders.
We take seriously the care and preservation of the wide-open spaces that surround Kenyon. Part of doing right for our planet means being connected — to the local farmers who supply our dining hall, to the rural communities where you'll work and volunteer, to a sustainability ethos that encompasses your coursework, and to energy conservation on campus.
Working to Protect Our Environment
Green-minded student interns focus on five areas of sustainability: compost and recycling, communications, carbon emission reporting, carbon offsetting and outreach and events.

A Place to Learn and Reflect
A true leaf-peeper's paradise, the Brown Family Environmental Center sits on a picturesque 610-acre preserve and serves as a living laboratory for Kenyon students and the community.
Pastoral Meets Academic
Less than a mile from campus, students experience the full cycle of farming, including planting and harvesting crops and caring for animals.
Promoting a Sense of Well-Being
The Philander Chase Conservancy works with local farmers and landowners, conservation groups, and local and state governments to conserve open space and other important habitats in our communities.

A Living Laboratory
Guided by faculty with expertise in climate change, wetlands preservation, macroecology and microbiology, Kenyon students study the complex systems that lie at the heart of humans' interaction with the natural world.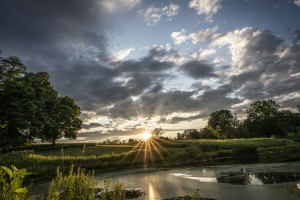 Environmental studies major Jayne Gelman '22 is drawn toward the light of a career in solar energy development.