We're so glad you've chosen Kenyon. Like you, each and every one of us has made the decision to be at Kenyon, converging from every region of the country and corner of the globe to live and learn together. As our newest members, you are a vital part of our community, and we're eager to help you thrive throughout your first year and beyond.
January Orientation: January 14 - 15, 2022
We are so excited to welcome you to your new home in Gambier this January. Whether you are returning from Copenhagen or you deferred and opted for a January start, we've planned a special orientation for you and your family. This comprehensive program will introduce you to campus and important support services, provide you with opportunities to meet other members of the community, and set you on the path for an unparalleled college experience.

You will receive a detailed schedule at Orientation check-in. Until then, we've posted arrival and departure information to help you get started with your travel plans.

Friday, January 14
9 a.m. - 1 p.m. Check-in and Residence Hall Move-in 
2 p.m. Kick-off for Students and Family Members
3 - 6 p.m. Student Orientation Programming
3 - 6 p.m.  Parent/Family Orientation Sessions* 
Saturday, January 15
9 a.m. - 5 p.m. Student Orientation Programming
* Parents depart on Friday. Orientation continues on Saturday for students.
Beyond Orientation
Throughout the year the first-year experience team helps you stay connected and informed about student organizations, resources for support, course registration, housing selection for sophomore year and more.

Inside Views
Everyone's first-year experience is a little different, but most students will tell you that they benefited from the guidance they received from their faculty, Kenyon staff and older peers. Consider this collection a taste of conversations to come.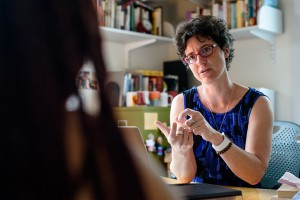 Associate Professor of English Sarah Heidt '97 offers advice on launching your academic journey.
At Kenyon, everyone picks up their mail from the Gambier post office. Ethan Bradley '20 writes a letter to the student who will inherit his P.O. Box.

It's always been true: Dropping in for a chat with Kenyon's friendly and accessible faculty is one of the best ways to set yourself up for success (and get some dog love).

Article has related video

Most first-years get to share a room with another member of their class. Mary Angela Ricotta '20 shared her Norton Hall single with a couple of fish.
First-Year Experience
Don Miller, director of the First-Year Experience
Location
Gund Commons
101 E. Brooklyn Street
Kenyon College
Gambier, OH 43022