We're so glad you've chosen Kenyon. Like you, each and every one of us has made the decision to be at Kenyon, converging from every region of the country and corner of the globe to live and learn together. As our newest members, you are a vital part of our community, and we're eager to help you thrive throughout your first year and beyond.
Your Kenyon journey starts at Orientation on August 19.
You are already part of the Kenyon community, and we hope Gambier begins to feel like home starting with Orientation. Check in at the Lowry Center any time between 9 a.m. - noon.
Beyond Orientation
We know your transition to Kenyon does not end on the first day of class. Throughout the year the first-year experience team will help you stay connected and informed about student organizations, resources for support, course registration, housing selection for sophomore year and more.








Inside Views
Everyone's first-year experience is a little different, but most students will tell you that they benefited from the guidance they received from their faculty, Kenyon staff and older peers. Consider this collection a taste of conversations to come.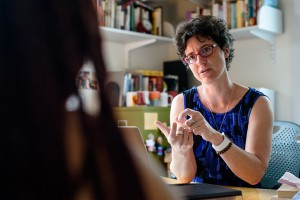 Associate Professor of English Sarah Heidt '97 offers advice on launching your academic journey.
First Person: Student Life at Kenyon

As it turns out, the toughest part of the admissions process is not waiting for the decision, but for the first semester to begin.

It's always been true: Dropping in for a chat with Kenyon's friendly and accessible faculty is one of the best ways to set yourself up for success (and get some dog love).

Kenyon Kribs - related video

Most first-years get to share a room with another member of their class. Mary Angela Ricotta '20 shared her Norton Hall single with a couple of fish.
Location
Gund Commons
101 E. Brooklyn Street
Gambier, OH 43022
Don Miller, director