On the oddly warm evening of December 10th, I stared at my ceiling, tracing its imperfections. The anticipation of my Kenyon admissions decision had me running my hands through my hair until clumps of it ended up on my bedspread. Letting out an exasperated sigh, I decided to implement a rule meant to distract me from spiraling theories about decisions made behind the arched wooden doors of Ransom Hall: no checking my email more than three times in one hour. Of course, when I broke this rule a mere five minutes later, I found the email—the focus of so many nightmares and recurring daydreams. Its subject line: "Your Kenyon Admissions Decision." I called for my parents, who clustered around the back of my squeaky Ikea desk chair. As they watched in anticipation, I shakily typed my password into the portal. Confetti fluttered down the computer screen. Warm tears of relief stung my eyes as my dad read my personalized acceptance letter aloud, his smile growing wider and wider.
Just like that, the wait was over. I hastily slipped on my Kenyon t-shirt and Facetimed my best friend who screamed "No way!" when she noticed my purple collar. No longer worried about jinxing my acceptance, I gathered my family's apparel requests and placed an obscenely large online order from the Kenyon bookstore. Most importantly, though, the bright white screen and its bolded "Congratulations!" granted me permission to begin imagining my day-to-day as a member of Kenyon's Class of 2026.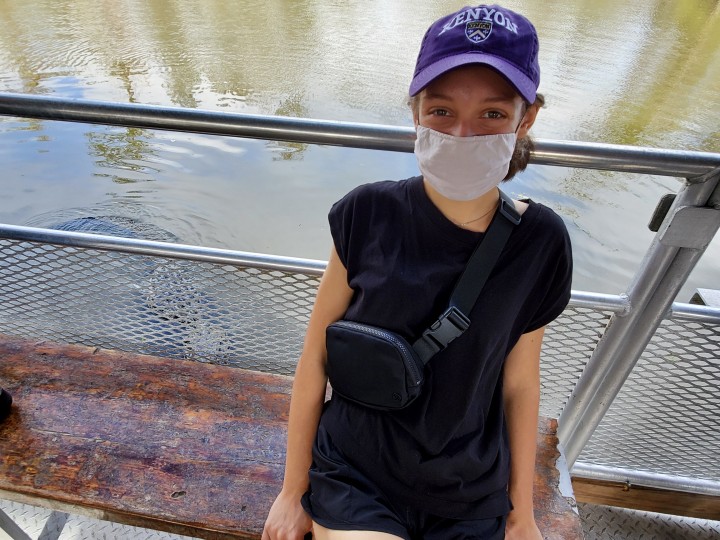 As it turns out, the toughest part of the admissions process is not awaiting the decision but the long and drawn out months of high school which remain before the next fall begins. In order to break up mundane afternoons of homework, I found an escape in Atlanta's BeltLine, a concrete trail surrounded by abundant greenery and the strangely relaxing sound of businesspeople hitting golf balls. Before heading out for a run or walk, I made a habit of grabbing my purple Kenyon hat, gifted to me by my little sister. That hat soon became the inspiration for my reveries. Every afternoon, whether the heat rendered my hair crisp like straw or a slight breeze dragged Atlantans out in beanies and scarves, I lost myself in the rhythm of my steps and imagined my future at Kenyon.
In my mind, I strolled down Middle Path in October, casually untangling the bright orange leaves stuck in my hair. I ate dinner in Peirce, inhaling a whiff of Old Bob's famously delicious dessert station. I played piano with my best friends in the basement of Rosse Hall, singing quietly so as not to embarrass ourselves in front of the real music students. In this fanciful world, I was certainly not an exhausted second-semester high school senior dripping in sweat. So, when I heard someone on the trail exclaim "Kenyon, Class of 1995!," I thought I must have been imagining it.
In the distance, I made out a man waving his hands above his head in excitement. I picked up my pace, and when I arrived in front of him, the alum nearly burst as he asked, "Did you go to Kenyon?" I reluctantly confessed that I hadn't started yet, but would begin my first semester in the fall. We got to talking about the admissions process, housing, extracurriculars, and his own time in Gambier.
I left the conversation giddy. How was it that, all the way in Atlanta, Kenyon could stimulate such a meaningful conversation? I concluded that the interaction must have been luck, and that another spontaneous Kenyon connection would be highly unlikely.
Instead, my interactions with Scott, coincidentally also my high school English teacher's son, became habitual. When I saw a quick-paced dot, often clad in purple, around the bend of the golf course, I prepared to flaunt the Kenyon shield on my hat and reciprocate his casual salute. One misty spring Sunday morning, I came up behind him and rotated on the squeaky heels of my crisp new Hokas to wave. "Hey Emilie! How are-" he cut himself off abruptly. "Wait, wasn't your prom last night? Why are you awake and running already?" I stammered, not quite knowing how to justify my admittedly odd behavior. I settled on "Um, I'm not sure…" Our steps began to sync as they squished the newly fallen pink magnolia petals. He asked about my night, my dress, and my date. I recalled how uncharacteristically chilly the wind had been against my bare shoulders. He nodded in acknowledgement of my plight, perhaps thinking to himself how much colder I would soon be in Ohio. I went on in exasperation: I couldn't have cared less about my senior prom; I just wanted to get to Kenyon already. His laughter rang like reminiscence.
As our brief chats lasted through the chilly months and into early spring mornings, I began to realize that I was walking Middle Path before even arriving in Gambier. Sure, Middle Path is the pleasant, colorful stroll in the fall and the treacherous, slippery stretch in the winter. It is the walkway which simultaneously runs past Wiggin Street Coffee, busy on a Wednesday morning, and Chalmers Library, tranquil on a Saturday night. But the real Middle Path is seen in Kenyon's capability to foster connection beyond the hills of Ohio. It is the magical ability to turn strangers into friends with a simple question: "Did you go to Kenyon?"