We come to Gambier, Ohio, from every region of the country and corner of the globe to better understand our place in the world. Together, we explore questions that transcend languages, cultures and personal histories. We apply our learning to solve real-world problems, building on our insights with internships, independent research and off-campus study programs.
Go There
We offer more than 190 immersive study abroad programs across 50 countries. We also sponsor signature programs in England and Italy, and support a number of learning opportunities throughout the U.S.

Primary Sources
Part of the excitement of studying abroad is exploring the world beyond Gambier—and coming back with new knowledge and experience. Here, Kenyon students tell you first-hand about their adventures around the world.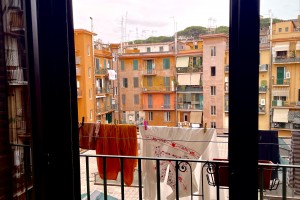 First Person: Student Life at Kenyon
Before studying abroad, I told myself to just say "yes" whenever a new opportunity presented itself.
First Person: Student Life at Kenyon

Jodi Ann Wang '20 looks back on her studies abroad in Beijing, China, as she prepares to return for her senior year at Kenyon.

First Person: Student Life at Kenyon

My first two years at Kenyon gave me the stepping stones to make my way across the Atlantic to Exeter, and I'm so thankful for that.

My first night in Oaxaca City, Mexico, the bells rang for me.
A Community of Diverse Perspectives
Students from 49 countries bring their points of view to a multicultural community where all of us—students, faculty, and staff—learn from a diversity of experiences and perspectives.

Every year, nearly half of Kenyon's junior class participates in an off-campus learning opportunity.
16

Times Kenyon has been named a top producer of Fulbrights.

8

Modern languages are taught at Kenyon: Arabic, Chinese, French, German, Italian, Japanese, Russian and Spanish.

17

Countries represented in Global Crossroads, an international alliance that connects courses from two colleges.
Global Partnerships
Writing Beyond Borders
Kenyon science faculty, the Kenyon Science and Nature Writing Initiative and the Indian Institute of Technology Madras in Chennai, India, partner in annual workshops designed to hone the writing skills of India's most talented science and engineering students and scholars.
Humanities Across Borders
Kenyon is one of just two American members of Humanities Across Borders, an international consortium of colleges and universities focused on Asia and Africa and committed to locally rooted, globally conscious higher education and educational justice.
Far and Wide
This photo was taken during a three-day expedition of the Atlas Mountains and Sahara Desert. To see as much of Morocco as possible, a friend and I joined a tour group that included three doctors from London, a Moroccoan French family from Marseilles, and two Hungarian mathematicians. The students I met abroad were eager to travel far and wide and form identities beyond deadlines and seminars—we were people first, students second.