Kenyon's location at a cultural crossroads — a blue dot in a red county in a purple state — compels us to engage with our community and the world in order to shape perspectives and influence fundamental change.
What to know at the polls
Whether you are voting in Ohio or another state, Kenyon's Center for the Study of American Democracy has the non-partisan information you need to make an informed decision on Election Day.


Sparking Conversation
The Center for the Study of American Democracy brings together the Kenyon community to debate the issues of today — no matter how controversial — through nonpartisan and civil discourse. The center also supports internships in Washington, D.C., and makes teaching and research opportunities possible for students and faculty.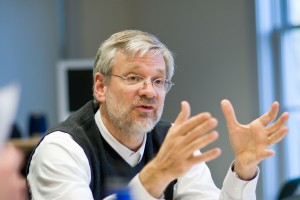 According to political science professor David Rowe, the best class is one where a student's worldview is turned upside down.
Kenyon students interning with county government demonstrate a commitment to community that transcends partisanship.

Kenyon's Office for Community Partnerships aims to connect students with Knox County through the Rural Life Initiative.

Restoring a Community - related video

A local internship gives a political science major an opportunity to revitalize troubled properties in the neighborhoods surrounding Kenyon.


Engaging Opportunities
From sustainable agriculture to foreign language development, community-engaged learning (CEL) courses connect students to the people and issues affecting Knox County and beyond.