The Leopoldo López Freedom and Democracy Award honors an individual who has shown a commitment to plural and inclusive democracy echoing that of the award's namesake, prominent Venezuelan opposition leader and political prisoner Leopoldo López '93 H'07. In creating the award, López's classmates, family and the Kenyon community at large ensure López's commitment and bravery will not be forgotten, and they shine a light on the dangers of undermining the core principles of democracy.
The award, which comes with a $10,000 honorarium, will be presented for the second time in spring 2022. The inaugural winner of the López Award was Chinese human rights activist Chen Guangcheng.
Who is eligible for the award?
This award will be presented to an individual who has demonstrated:
A significant commitment to the peaceful advancement of the causes of freedom and/or democracy
A consistent and unwavering insistence on the use of non-violent means in pursuit of their goals
A sustained commitment over time, showing personal sacrifice in doing so
An impact, clarity of purpose and engagement with many others.
Nominees do not need to be affiliated with Kenyon College.
How will the awardee be determined?
Letters of nominations may be submitted directly to the Center for the Study of American Democracy at democracy@kenyon.edu. Letters of nomination need not be lengthy, but should provide sufficient detail to demonstrate the qualifications and strengths of the nominee relative to the terms of the award. Letters will be reviewed by a selection committee including members of the Kenyon community and representatives of the López family.
When will the recipient of the award be announced?
The recipient will be announced this winter and will be presented their award in spring 2022.
Whom can I contact for more information?
For more information, email the Center for the Study of American Democracy at democracy@kenyon.edu.
Yes. Both awards pay homage to López's commitment to his cause. One award honors a member of Kenyon's campus community, and the other honors a member of the global community.
Who is Leopoldo López?
Leopoldo López '93 H'07 is the most prominent leader of the Venezuelan opposition movement. In early 2014, López, along with more than 500,000 supporters, peacefully protested the Venezuelan regime's human rights abuses and dismantling of fair democratic processes. López was unjustly detained on charges of murder, terrorism and conspiracy, and after a trial that the Venezuelan prosecutor has since conceded was a "farce," was sentenced to nearly 14 years in Venezuela's Ramo Verde military prison. He was released under house arrest in 2017. Amnesty International called López's treatment a "politically motivated attempt to silence dissent." The New York Times editorial board described his trial as a "travesty." The list of world leaders that have called for his freedom includes German Chancellor Angela Merkel, French President Emmanuel Macron, British Prime Minister Theresa May, Canadian Prime Minister Justin Trudeau and U.S. Presidents Barack Obama and Donald Trump.
Through this award, López's classmates, family and the Kenyon community acknowledge López's bravery, conviction and compassion, which stands as an inspiration to all citizens of the world working for peaceful, democratic change.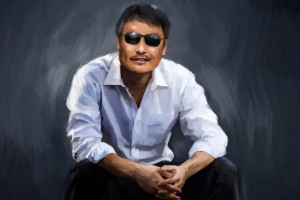 Chen Guangcheng will join Leopoldo López '93 in conversation about personal sacrifice for the public good.
"A La Calle"
Watch the trailer for "A La Calle" (To The Street), a documentary featuring Leopoldo López that explores the efforts of ordinary Venezuelans to reclaim their democracy from the dictatorship of Nicolás Maduro.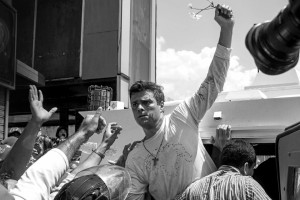 A new public award named for Venezuelan opposition leader Leopoldo López '93 honors his commitment to plural and inclusive democracy.