With Ohio once again a key battleground for control of the U.S. Senate in this year's midterm elections, the political differences between the Village of Gambier and surrounding areas of Knox County might seem more apparent than ever. But efforts by the Office for Community Partnerships and Career Development Office to place Kenyon students in internships with local agencies and organizations may have a role to play in bridging the divide.
During the spring of 2022, in their final semester before graduation, two Kenyon students completed internships with the Knox County Recorder's Office, located in nearby Mount Vernon and charged with maintaining careful and complete records of all documents relating to transfers and ownership of real estate. The office is overseen by County Recorder Tanner Salyers, a former Mount Vernon City Council member appointed to the position in 2021 by the Republican Party of Knox County following the resignation of the previous long-serving recorder. (Salyers is on the ballot this year — unopposed — to fulfill the remainder of that unexpired term.)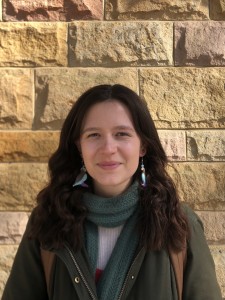 "They've been outstanding," Salyers said regarding the two Kenyon interns, Emmie Mirus '22 and Claire Hanke '22. Mirus spent her internship focused on compiling a massive manual of standard operating procedures for the recorder's office, while Hanke juggled several different community outreach projects to increase awareness and understanding of the work the recorder's office does, including a community art project that engaged students in local schools.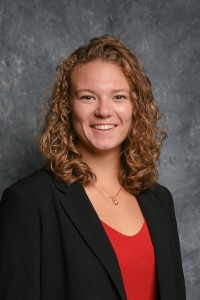 "I think we're doing work that's helpful," said Mirus, a former Kenyon swimmer who double majored in sociology and Spanish. "Sometimes internships are almost more of a burden on the people hosting them; they're just trying to think of things for you to do. Whereas here, Tanner definitely has stuff that he needed to get done, but they don't have the manpower in the office, they don't have enough time, so I felt like I'm actually helping out in that way. It's been a really good experience."
Salyers is enough of a traditional Republican that he maintains on his desk a large golden pachyderm affectionately named Barry Goldwaterphant, in homage to the libertarian-leaning Arizona senator who was a founder of late 20th-century conservatism. Nonetheless, the work of the county recorder is non-partisan and bureaucratic, and Salyers was able to forge connections with his more left-leaning interns over a shared commitment to executing the office's duties as well as possible. "Good government is good government. That's what it is," Salyers said. "Anybody that comes through the door, I'm going to take care of you."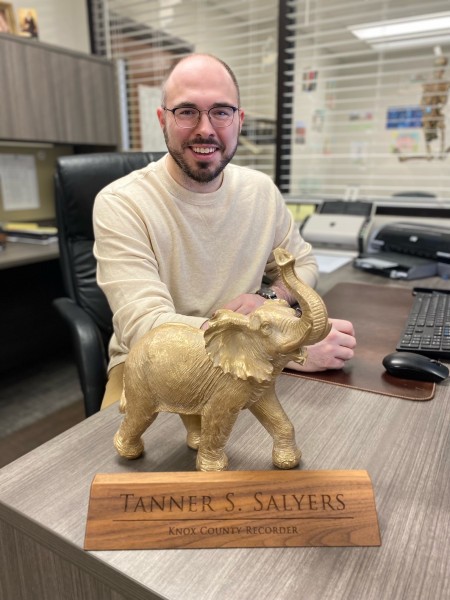 "I love Tanner. We have so little in common, but Tanner's awesome," Mirus said, laughing. "Tanner is trying to look to the future a little bit; he wants Knox County to be ready for the new Intel plant that's being built, because that's going to bring a ton of people to this area and there's not the housing for it currently. So zoning is going to have to change, and just a lot of things are going to have to shift very quickly."
Hanke, who double majored in economics and Spanish and now researches community land trust models and affordable housing development as an AmeriCorps member in Philadelphia, was first drawn to the internship out of a desire to get to know the community beyond Kenyon. "Because there's so much going on on campus all the time, everyone feels like we're in a bubble," she said. "It's good for the spirit, it's good for everyone involved to just get out there and talk to people." As a native of California's Bay Area, Hanke also appreciated learning more about state politics from Salyers, noting that "Tanner knows all the local political gossip."
"These internships are a great resource for people to remind themselves that the world is bigger than Kenyon," said Mirus, who is now attending the University of Wisconsin Law School in her home town of Madison. "I hope to practice law in the public sector somehow, so I saw this [internship] and thought it would be a really great taste of local government and policy."
For Salyers' part, he hopes to continue hosting interns as long as he's in charge of the recorder's office. "Kenyon makes a concerted effort to be involved in the community, and we appreciate that," he said. "I want this to be a regular thing, I don't want this to just be a one off. We have thousands and thousands of students who over the course of decades come through this community. I want them to feel like Mount Vernon and Knox County were a critical part of their foundational, professional growth."