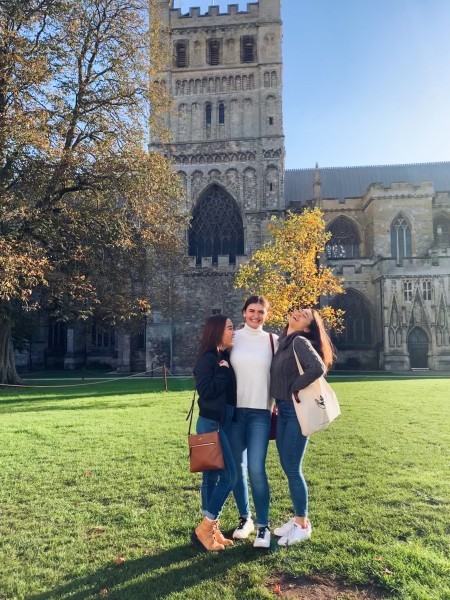 On my first day of class at the University of Exeter, I was greeted by an adorable orange tabby cat that couldn't help but seem like Moxie's long-lost British cousin. This is, of course, after I walked from my flat to campus up the massive hill that puts Kenyon's KAC hill to shame. Since being here, I can't help but feel as if I'm studying at the British equivalent of Kenyon. Much more rain, less gravel and more concrete, greener fields, but just the same amount of Kenyon-esque quirks.
Even before applying to Kenyon, I knew I wanted to study abroad. I didn't know where, but I was fully determined to explore the world. When my parents first encouraged me to look into the Kenyon-Exeter study abroad program my first year, I admit I was very resistant to the idea. Leaving Kenyon? For a full year?? I refused. Flash forward two years, and I'm 10 times happier here than I ever imagined I could be.
After receiving the encouragement I needed from my advisor, Professor Davidson, and my other English professors, I quickly began to feel as if I were ready to take the jump and move to England for the year. Yes, it was scary. But when else in my life would I be presented with this opportunity?
My previous two years at Kenyon gave me the stepping stones to make my way across the Atlantic to Exeter, and I'm so thankful for that. Nevertheless, I was ready to make my way out of Gambier to explore a new country. Of course, there have been times when I've been homesick and have gotten a bit tired of my American accent standing out so much, or have longed for some really poorly made American-style chicken nuggets, but overall my time here has already exceeded my highest expectations. I was very lucky to have been placed with flatmates that I get on with incredibly well, and Kenyon's encouragement to join societies (our version of clubs) pushed me to start writing for the uni newspaper (Exeposé), join the Fashion Society and work as a fashion blogger, and even join the Rowing Society, a sport that I had never done before. I've already felt my independence grow exponentially within the past six weeks, and I'm not even halfway through.
My coffee addiction has grown into a tea addiction, I've learned that 'college' does not equal 'university,' Americans tend to be much louder than the British, and the chocolate here is in a league of its own compared to the waxy chocolate of the U.S. The integrated Kenyon travel the program includes has taught us even more about how to navigate living in a new country and has also provided many comedic stories. Trips to Dartmoor and getting lost with Professor Murthy in a hill of prickly shrubs, somehow learning to navigate the Tube in London and visiting Shakespeare's Globe Theatre, and now this week a trip to Yorkshire for Halloween.
In two weeks I'll be taking a seven-hour bus at 1 a.m. to get to London, to then fly to Copenhagen to visit one of my best Kenyon friends. I'll most likely get lost somewhere along the way, but I still cannot wait.
Bryn Seltzer '21 is an English major from Needham, Massachusetts.