Studying Chemistry at Kenyon
At Kenyon, students learn chemistry by doing chemistry. This grounding in student-faculty collaborative research is the centerpiece of the curriculum. Close working relationships begin during the first year and extend from coursework into independent research projects that often take place over multiple years. Through the Summer Science Scholars program, students work with faculty through the summer on intensive laboratory research projects, culminating in presentations and papers published in scientific journals.
Shaping Scientists

Kenyon ranks eighth in the country (and ahead of every Ivy) for the proportion of STEM grads to earn a doctorate in a STEM field.

75

students a year pursue College-funded research projects in the humanities, natural sciences and social sciences.

$1M

grant from the the Howard Hughes Medical Institute

The grant is one of several that Kenyon scientists have earned to foster a more inclusive and diverse scientific community.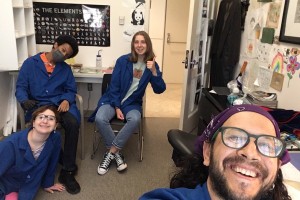 Location
Department of Chemistry
Tomsich Hall
Kenyon College
Gambier, Ohio 43022