A liberal arts education prepares you for the challenges of a changing and unpredictable world, equipping you with the skills to communicate, debate, solve problems and think critically.
Discover how you can build your resume as an anthropology major and where your degree can take you.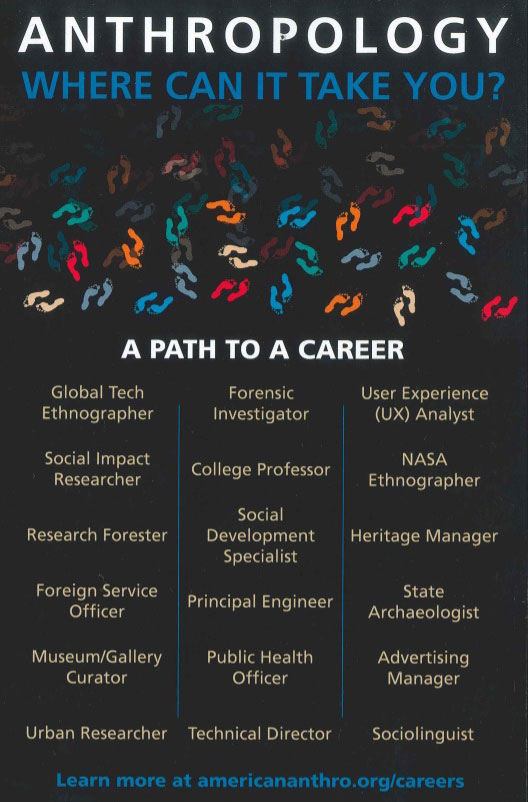 Where Anthropology Can Take You
Careers for anthropology majors include: ethnographer, forensic investigator, user experience analyst, social impact researcher, professor, social development specialist, research forester, heritage manager, foreign service officer, engineer, archaeologist, curator, public health officer, advertising manager, urban researcher, sociolinguist and more.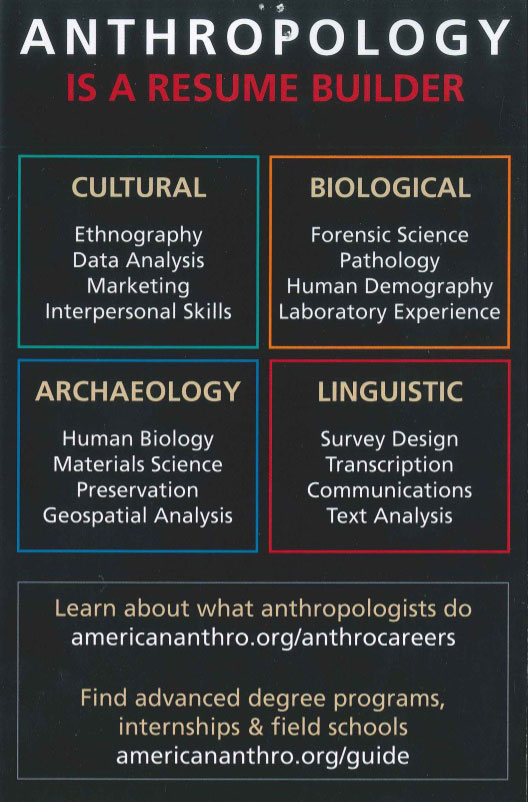 Anthropology is a Resume Builder
Cultural: Ethnography, data analysis, marketing, interpersonal skills
Biological: Forensic science, pathology, human demography, lab experience
Archaeology: Human biology, materials science, preservation, geospatial analysis
Linguistic: Survey design, transcription, communications, text analysis
Click on each image to view a larger size, and learn more at americananthro.org/anthrocareers and americananthro.org/guide.
Below is a sampling of careers paths for Kenyon anthropology majors.
First Jobs
Research assistant, Institute for Women's Policy Research, Washington
Marketing intern, Cosmopolitan Magazine, New York
AdWords account strategist, Google, Mountain View, California
Archaeological supervisor, Warren Wilson College Berry Site Field School, Morganton, North Carolina
Environmental educator, Canyonlands National Park, Utah
Corps member, City Year, Chicago
Secondary English teacher, Teach for America, New Mexico
Fellow, Newman's Own Foundation
Careers
Director, The Carnegie Museum of Natural History
Archeologist, National Park Service
In-house counsel, Intel
Curatorial associate, Museum of the City of New York
Emerging markets analyst, T. Rowe Price
Vice president, Global Brand Marketing, Nike Basketball
Anthropology professor, Vanderbilt University
Program manager, United Airlines
Psychiatrist, University of Pittsburgh Medical Center
Alumni Spotlight: Selam Bezuneh '20
Anthropology major Selam Bezuneh '20 coordinated events and programs in partnership with local communities connecting City Hall and New York City residents.
Alumni Spotlight: Rita Carmona '19
While interning at I Grow Chicago, anthropology and modern languages and literatures double major Rita Carmona '19 took her work beyond the organization's headquarters, known as the Peace House.