Sean M. Decatur became the 19th president of Kenyon College on July 1, 2013. An award-winning biophysical chemist, Decatur is a lifelong champion for the liberal arts and a leading voice in the national conversation about higher education.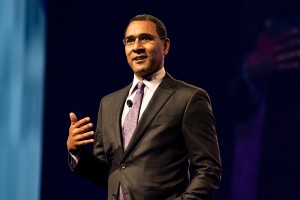 President Sean Decatur describes how racist harassment takes an invisible toll.
As Earth Day approaches, President Sean Decatur outlines steps Kenyon is taking to confront climate change, including a new partnership to design a carbon neutrality master plan.

Trans and non-binary people are a vital part of the Kenyon community; they are our students, our alumni, our employees and our loved ones.

This week's bestowal of the Leopoldo López Freedom and Democracy Award reminds us of the importance of free expression both close to home and far afield.
In the News

—

The Chronicle of Higher Education

President Sean Decatur pens an essay about the invisible toll of racist harassment.

In the News

—

The Hechinger Report

We must broaden our view beyond the scrutiny of admissions at wealthy, private selective colleges, President Decatur argues in an op-ed.

In the News

—

Washington Post

When people from different backgrounds collaborate on common causes, the shared work spurs personal relationships and erodes stereotypes, writes President Decatur.
Location
Office of the President
Ransom Hall
Kenyon College
Gambier, Ohio 43022