Success can be measured in many ways, and for the two winners of this fall's Franklin Miller Awards, it's all about how much they can help others.
Both Yufan Lu '25 and Jaden Stewart '25 — selected for the award that recognizes those who make a difference in the Kenyon community — have a track record of serving their peers.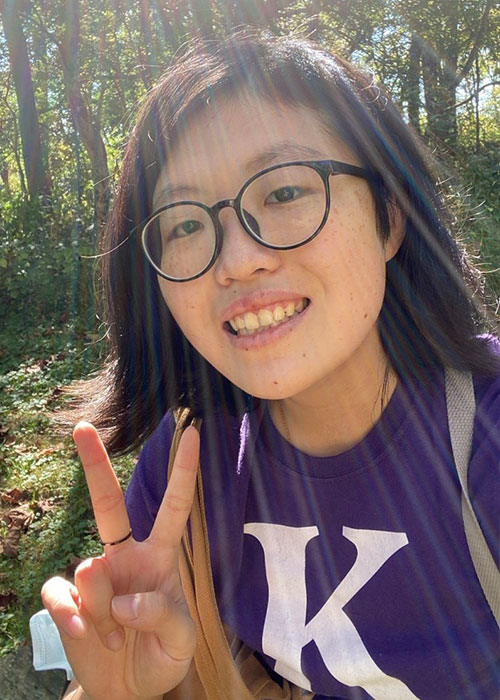 As Unity House manager, Lu works tirelessly to create a safe and welcoming space for fellow LGBTQ+ students. On a daily basis, that means everything from keeping things clean to taking the lead on programming. But they take a longer view, too.
"As students, we are only here for four years and then we'll be gone. What can we do in four years that is most helpful to students?" they asked. "For me, I'm just thinking about creating a system that's sustainable and will last even after I graduate."
Some days that means reorganizing Unity House data in a way that will make things easier on future house managers. On others, it means identifying a systemic problem on campus and offering a solution.
"You need to be the person who sees a pattern and sees the root cause of the pattern," Lu said.
Assistant Professor of English Orchid Tierney drew attention to the broad impact of this work in her nomination of Lu for the award, saying: "Yufan deserves recognition for their activities that help make Kenyon a more inclusive space for everyone to participate."
A double major in English and psychology, Lu's contributions to campus life go far beyond Unity House. The China native is co-leader of the student science and arts magazine Lyceum, for which they help produce podcasts, and they play harp in the Symphonic Wind Ensemble. A research and reference worker in Chalmers Library, they're also a member of QTPOC, a queer and trans group for students of color, and they have been part of the Ultimate Frisbee team.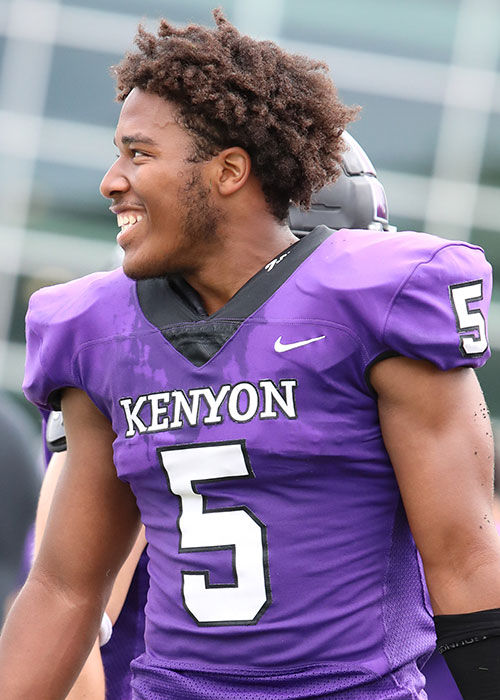 For Stewart, helping others has been a matter of overcoming his own adversity, learning from it, and turning difficult experiences into a strength.
As a first-year student, the transition to college was challenging at times for Stewart, an English major from Chicago who plays football, runs track and is part of Kenyon Men of Color.
"I prayed a lot," he said. "Being part of different organizations on campus, building relationships with faculty and staff, they just helped me find my footing. That's what helped me find myself in a way."
He's used that experience to assist younger students and peers, leading by example and encouraging them to work harder and smarter.
"A lot of it just comes down to sacrifice," he said. "You have to put the work in."
That work didn't go unnoticed by Liz Keeney, associate director of student accessibility and support services, who nominated Stewart for the award.
"His resilience encourages others to do the hard work to stay or get back on track, and the study skills and life advice he offers mean more coming from him than from any staff member," she said. "This fall I connected Jaden with a first-year who was overwhelmed and lost. Jaden's calm reassurance and practical guidance has made all the difference."
Stewart has extended his reach through a series of YouTube videos, which have covered topics such as mental health and tips for succeeding in college (as well as more light-hearted subjects, like students' best pick-up lines). He's also worked on videos for the Kenyon Office of Communications.
The Franklin Miller Awards are given to students who make unusual or significant contributions to the academic environment of the College. The awards are named for Franklin Miller Jr., a longtime member of the faculty and a distinguished physicist, teacher and textbook author.
The awards were established by Edward T. "Chip" Ordman '64, who credits receiving a modest, named award as a student with helping him get into graduate school. The award is meant to give that same small, but meaningful, encouragement to deserving students whose efforts and ingenuity make a difference in the life of the Kenyon community.
Nominations are accepted in September and March of each year.