Modern Languages and Literatures
Study in the Department of Modern Languages and Literatures aims to deepen the understanding of other languages and cultures and is characterized by its immersive approach. Students may major or minor in Arabic, Chinese, French, German, Italian, Japanese, Russian and Spanish. An innovative curriculum of introductory courses in American Sign Language (ASL) is also offered.
Chart a new path
Learn how MLL students are using the department's interdisciplinary and cross-cultural focus to plot courses of study that speak to their interests and career goals.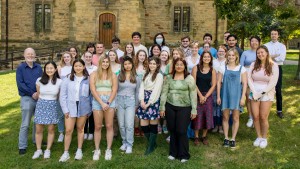 Student Spotlight: Hayden Toftner '22
Toftner is the most recent recipient of the Gutekunst Translation Prize, awarded by the Goethe Institute New York, for his translation of an excerpt from the novel "Betrachtungen einer Barbarin" by Asal Dardan.
Location
Department of Modern Languages and Literatures
Ascension Hall
Kenyon College
Gambier, Ohio 43022