Conventional wisdom holds that campus life slows to a crawl over summer break, and in many ways that's true as Middle Path becomes the road less traveled.
But look closer, and you're likely to find a flurry of activity.
A variety of camps and conferences find a home on campus after most students move out, reinvigorating classrooms with the tapping of keyboards and the excited tones of engaged voices.
And as the mercury rises, so does the intensity of summer student research, with 70 Kenyon students sticking around to pursue scholarly work under the guidance of faculty mentors.
Love is in the air as alums return to Gambier to tie the knot and so are the sounds of saws and earthmovers as crews prepare for the future, plowing forward on long-term construction projects and sprucing up existing facilities in anticipation of another academic year.
Slow season? Well, not for the students, faculty and staff captured in these scenes of summer life at Kenyon.
Getting ready
Whether it's cleaning, painting or mowing, there's a lot of work needed to get campus ready for another rush of students arriving in August. A team of more than 90 people — including grounds and custodial workers — swarmed campus this summer to keep it looking in tip-top shape. Among them was groundsperson Derek Lahmon, who recently gathered plants for a landscaping project.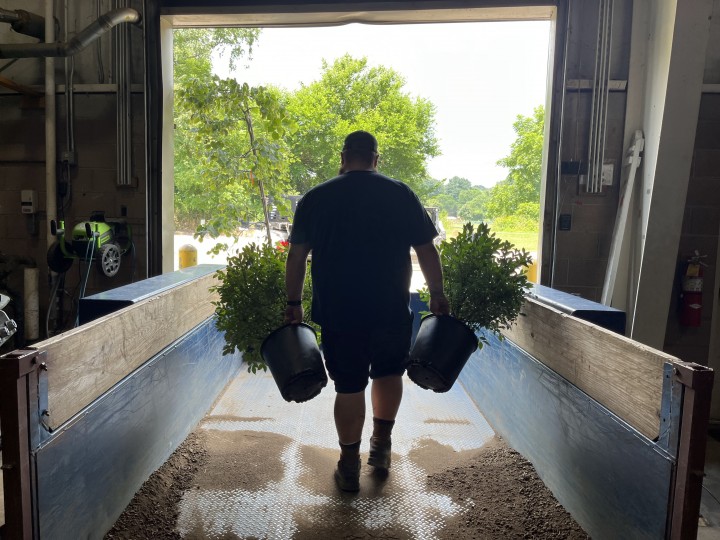 Write away!
Kenyon hosted 36 camps with nearly 2,000 guests this summer, and among them were more than 200 high school students looking to stretch their writing skills as part of two residential Kenyon Review Young Writers workshops. In the classroom or curled up outside, they learn to indulge their passion wherever inspiration may strike. Separate workshops for adults took place in June and July as well.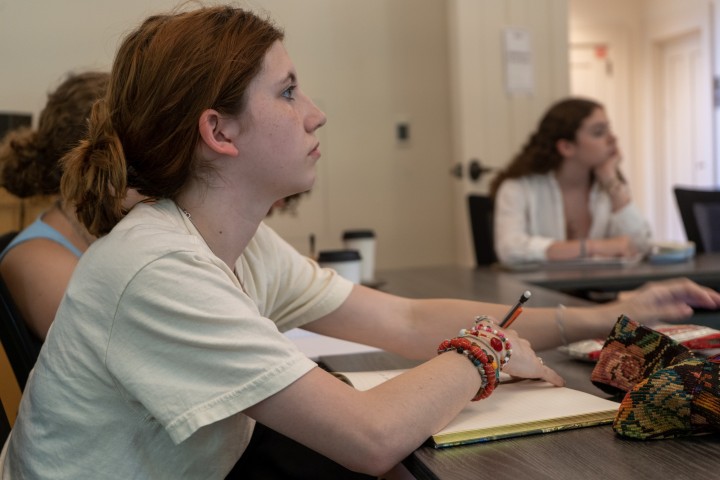 Hard hat zone
Construction season never stops! At Bexley Hall, scheduled to be completed this fall, crews continued to make progress on its renovation into student housing. Workers have put on a new roof, installed 20 geothermal wells, and are well along on the interior tradework. At the other end of Middle Path, two apartment-style residence halls on South Campus continued to take shape. Masonry work on one of the buildings will begin soon, and it is scheduled to be completed in late 2024; the second building should follow about eight months later.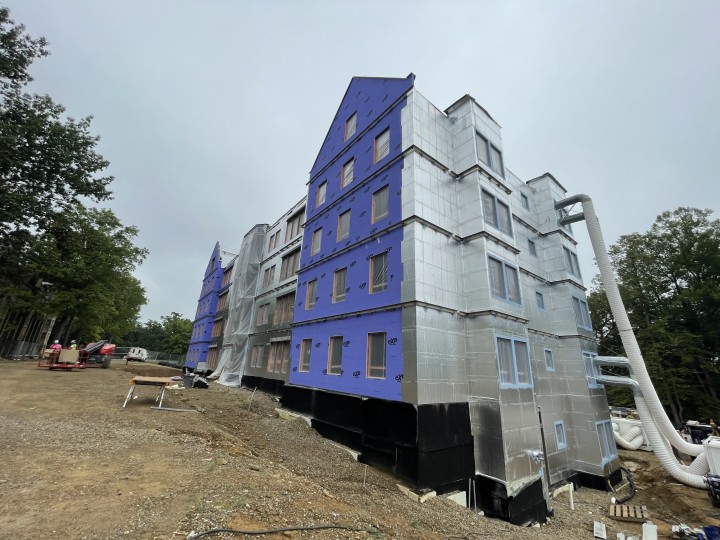 Strike a pose
The Brown Family Environmental Center is no stranger to a host of creatures, but during the summer it added downward dogs to the mix when it played host to Yoga in the Garden. Led by April Baker, a staff nurse at Health Services, the twice-weekly program attracts students, faculty and area residents and runs through September.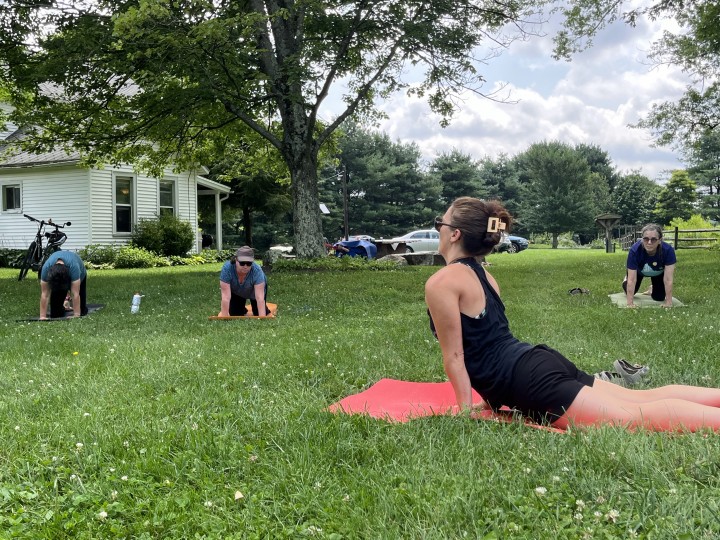 Summer studies
Scholarship at Kenyon doesn't take a summer break. Dozens of students and their faculty mentors stayed busy in Gambier with summer research projects as part of the Summer Scholars program and others. These students — including Leif Schaumann '25, pictured working with Judy Holdener, professor of mathematics — had big questions on their minds, researching everything from issues related to the early universe to possible cancer advancements.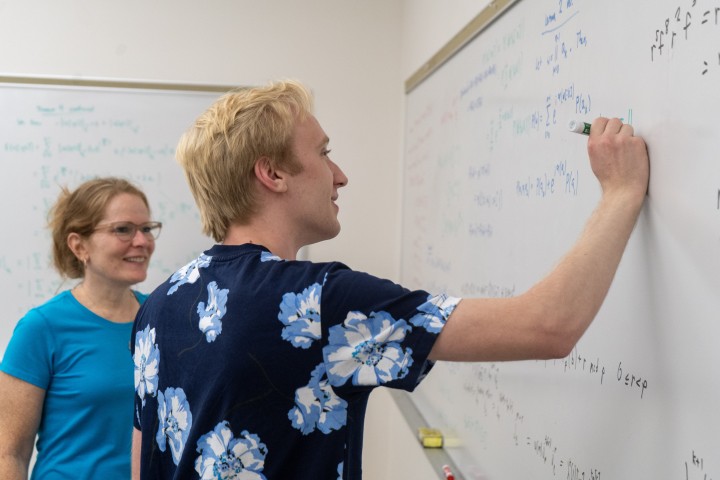 Wedding season
There are nearly 2,000 Kenyon alumni who are married to each other — and that number is getting bigger all the time. Some of those couples choose to tie the knot on campus, including Sarah Lloyd '17 and Alex Seaver '17. The two collegiate swimmers, who met on a recruiting trip to Kenyon, were married on the front lawn of the Church of the Holy Spirit on June 17.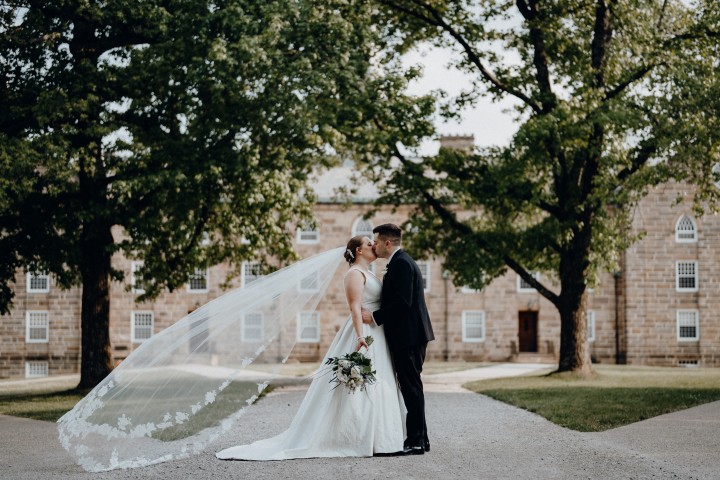 A bologna loaf?
They call it the Bologna Loaf, but it's more likely to be pizza or other treats on the menu when Summer Scholars and their mentors gather for group lunches on Wednesdays during the summer. (The unusual name comes from a "Calvin and Hobbes" comic by Bill Watterson '80.) More than 30 people came together on the Science Quad July 26 for the last lunch of the season.