As sweat builds under the straps of my backpack and my feet blister from working overtime, I crave the familiarity of last August, the rhythm of a schedule committed to memory and the ease of knowing. The previous year came like a present wrapped in a purple bow. One swift movement and everything fell into place. May ended like a sudden spring frost, forced to say goodbye to something so beautiful. Walking away from my friends, I couldn't say I love you back; I knew I'd lose my weak grip on the sob caught in my throat. My teary eyes lost a sense of depth, and I saw soft, wavy walls.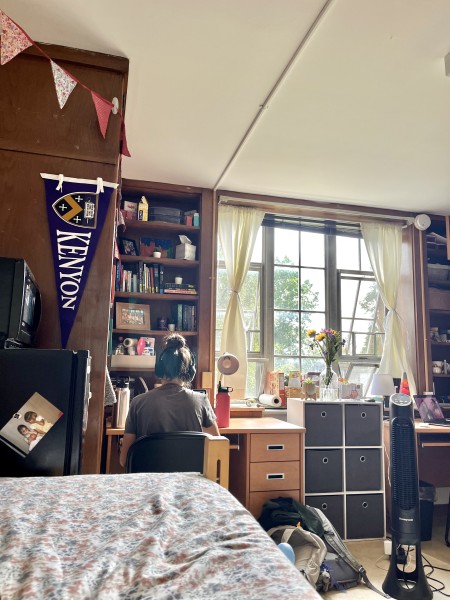 All summer I waited for the very same August to come around again. But sophomore year had already sent me subtle hints; this year wouldn't be like the last. I wasn't playing jigsaw with plastic bins in my family's blue Mazda, coordinating with a new roommate or debating between tan and floral sheets. Instead, I flew alone with one suitcase and waved goodbye to my dad as I turned the corner towards airport security. Dismayed by the change, I dreaded the return to campus. In response, a wise friend reminded me that memories are not meant to be re-lived, but remembered. So I held close to my chest the echoes of last August, and ran excitedly towards the new.
Gate C55 at the Columbus airport acts like a portal to my two worlds. Each break, the red Delta plane takes off and lands at the very same track. My arrival in Ohio for sophomore year was no different. Sitting by the rickety baggage carousel, I tried to block out the sound of a woman chewing loudly. Her lips smacked like a slowing pulse while I reread the same paragraph of The Nightingale. The suitcases took so long to appear. I began to wonder, as I always do, if the machine had eaten them for lunch.
The pastoral drive to Kenyon remains constant, as well. I notice reluctantly that steep hills still make my stomach drop. A herd of cows passes like a blurred photograph. Stop signs sneak up in the haze like a February sunrise. We'd been on the same road since the left turn at the camping car dealer. "Get off the grid," its billboard advertises. I wonder if anyone else notices the irony. Miles later, the shuttle van's turn signal begins to click and the stone Kenyon College marker awaits patiently, as it has for generations of students. Once we pass the ornate yellow house, though, the whispers of my familiar memories are swept up under hot, spinning tires. Everything is different.