Kentucky meets Ohio at an auburn bridge of ancient iron, the kind that beckons you to contemplate America's industrial past. Through the metal gapping is a world without end – emerald forests, golden fields of dancing corn, and the sound of cowbells carried in the wind. This is the bridge to nowhere and the bridge to everywhere, all at once. Yet, the sign framed by the windshield's glass reads "Ohio. Find it here." I remember laughing. What was I expected to find in Ohio lying between the hills and the valleys, the light and the dark? Surely, only something insignificant would disguise itself so magnificently? A cloak of pinks, oranges, and blues. A nightmare dressed like a daydream. But as I approach the end of my first-year at Kenyon, I see beyond the polka-dot of red barns and begin to explore the crevices to find what Ohio has hidden for me.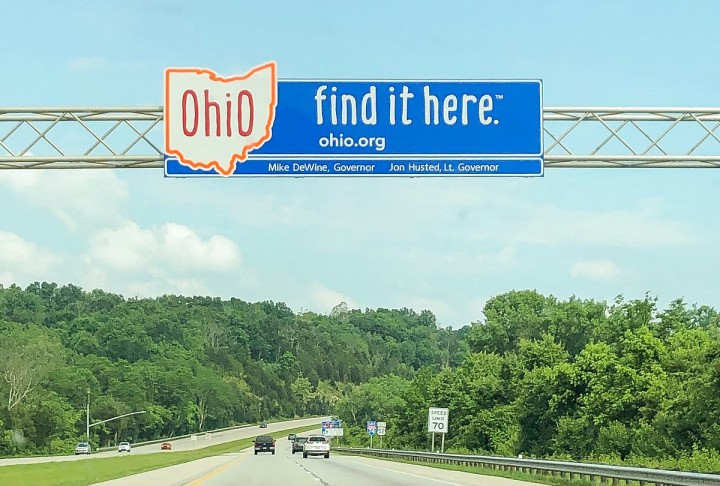 A countdown to August 19th, move-in day, had sat ticking away on my iPhone lock screen since my December acceptance. When that long-awaited Saturday arrived, my eyes bounced to every corner of Norton's dewy lawn, overwhelmed by the buzz of shouted directions, the tissues hidden in clammy hands, and the rainbow of out of state plates. Bombarded with questions and delighted welcomes, I felt like the center of attention, the star – which is to say an actress in someone else's movie, an imposter.
Everything from the dirt I kicked up to the nail holes in my dorm room's walls was foreign to me, untouchable, not mine. And yet by October's change of color, I had grown possessive of Gambier's every peculiarity. Middle Path's hovering blanket of orange leaves trembled at the dropping temperatures. Each time I descended East Wiggin Street's precarious hill towards the edge of campus, I imagined Ohio's orange awning whirling away and leaving, as the name suggests, the dirt to unearth its own warmth and the grass to take on the burden of color. A beautiful tornado, a sudden escape, and, in the blink of an eye, I'd miss it all.