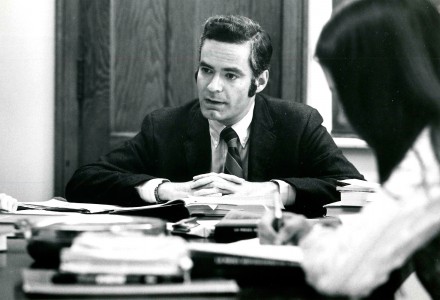 Charles A. Piano H'06, professor emeritus of Spanish and longtime member of Kenyon's Department of Modern Languages and Literatures, died Sept. 16, 2020. He was 83 and a resident of Oxford, Ohio.
Born and raised in New Jersey, Piano was a summa cum laude 1958 graduate of Rutgers University, where he was elected to Phi Beta Kappa. He went on to graduate school at the University of California, Los Angeles, earning a master's degree in 1960 and his doctorate in 1967. After serving as an instructor at Central Washington State College (now Central Washington University), he taught at the University of Wisconsin–Madison, first as a lecturer and then as an assistant professor of Spanish.
Piano joined the Kenyon faculty in 1969, the College's first year of coeducation, as an assistant professor of Spanish. Women in the inaugural class found in him an ally, just as his female colleagues would.
"Carlos supported female students and faculty alike when we were still uncommon on campus," recalled Professor of Spanish Clara Román Odio. "He was a gentleman in every sense of the word; a most caring colleague who I will always cherish.
"I remember when, in my job interview, Carlos offered to let me teach his course on Spanish American poetry, my specialty at the time. His generosity influenced my decision to join the Kenyon community, and I'm still profoundly grateful for it."
Over the years, in addition to his labors in the classroom and on numerous faculty committees, Piano contributed broadly to collegiate life both on and off campus. He was a key player in his department's 1980 adoption of the Kenyon Intensive Language Model and later a founder of the Program in International Studies. For seven years the director of the Great Lakes Colleges Association's (GLCA) Latin America Program in Bogotá, Colombia, he also served on the Test Development Committee of the Advanced Placement Program's language and literature examinations.
"Carlos was not only a founder and great supporter of international studies but also, and perhaps even more valuably, the keeper of the program's history," said Roy T. Wortman Professor of History Wendy F. Singer P'14. "He remembered the courses and the students from the very beginning, and he could retell the past with wonderful flourishes. Throughout his career at Kenyon, he remained devoted to the international studies majors, many of whom he inspired to travel and study in Latin America."
Tall, handsome, and dapper, Piano cut a dashing figure on the Kenyon campus and around Gambier. When not dressed for class, he could often be seen in his tennis whites, heading off to another set of the game he loved, usually played with a fellow faculty member.
"Carlos was renowned as the best tennis player on the faculty for at least 20 years," recalled John M. Elliott H'17, professor emeritus of political science. "The grace and power of his strokes, forehand and backhand, were a pleasure to watch. Many friendships with faculty members and administrators were forged on Kenyon's courts.
"Carlos and I became good friends early on in our time at the College," Elliott added. "His generous spirit and enthusiasm for life in Gambier and teaching at Kenyon inspired me. He was a wonderful friend and valued colleague."
Piano was well known by colleagues and students alike for his geniality. He was also famed as a raconteur with a large collection of stories. One of them involved his own 1969 interview for a position at the College to replace Professor James Browne, who had died a year earlier. On a campus tour with French professor Edward Harvey, chairman of the search committee, the pair walked past the Kenyon cemetery, where Harvey pointed out a grave and said, "Therein lies your predecessor."
"I feel that I've lost a best friend and family member," said Professor of Chinese Jianhua Bai, echoing the comments of others in the department and across the campus. "Carlos, who was then department chair, made me feel instantly welcome when I came to campus for my job interview in February 1991. One detail in particular from that meeting shows how caring and kindhearted he was: I mentioned, in passing, that I would have my dissertation defense on April 27, and, on that day, I received a call from Carlos, wishing me the best.
"Upon our arrival in Gambier that fall, Carlos and [his wife] Helina gave us a personal tour and orientation to the community and took us to Columbus to have a Chinese dinner at Hunan House. I will remember Carlos as an exemplary community member, and as the best storyteller, whose anecdotes — sometimes very long (sorry Carlos) — and humor made him the center of conversations at all occasions. He will be in our hearts forever."
"Carlos loved the richness of Spanish literature, both peninsular and Latin American," remembered longtime friend Reed S. Browning H'07, professor emeritus of history. "He sought to share that enthusiasm with his students, something I experienced firsthand in conversations with him when he guided me to better understandings of Cervantes and Borges.
"As neighbors in the Morgan Apartments in the late 1960s, Carlos and I — he with his New Jersey upbringing, I with a background on Long Island — soon discovered that our childhood days in the penumbra of New York City during the late 1940s and early 1950s involved all sorts of common experiences. We both listened to radio broadcasts of Yankee games and the evening updates of baseball and football scores from the same radio sports show. We listened to the same radio fare, attended and liked the same movies. As time passed we realized that we shared a fondness for both opera and the great film comedies."
"It seems right to me that the last time Carlos and I had a joint outing occurred when, just a few years ago, we went to Cincinnati to see a Reds game," Browning added. "He was at heart a happy man with a generous spirit, a man who took pleasure in encouraging or triggering happiness in others."
Piano retired in 2006 after 37 years of teaching at the College. An honorary doctorate was conferred upon him at that year's Commencement, with a tribute delivered by his longtime colleague Linda Metzler, professor of Spanish. She noted that he had "shaped the discipline of Spanish at Kenyon, established the curricular importance of Latin America and furthered international education. Underlying your most important endeavors is a firm belief in the centrality of an experience of otherness to our mission. Your conviction that mastery of language skills is an essential point of departure in the journey toward the yet-to-be-known is demonstrated by your promotion of language proficiency at the College and beyond."
Metzler had been Piano's colleague since 1979, when Kenyon had first authorized a second tenure-track position in Spanish. In a recent letter to Piano, she wrote, "I reflect often on how fortunate I have been to have you as a colleague and a friend over so many years." Piano made it clear to her that he, too, felt fortunate, not only for his many friendships with fellow faculty members and former students but also for the nearly four happy decades he enjoyed as a resident of the village before relocating to Oxford, Ohio, remarking, "Home is what Gambier means to me."
"Carlos was, above all, someone whose vocation was rooted in devotion to his students," Metzler recalled. "Conversations with his advisees made him beam with happiness, and he lavished on them complete attentiveness. Carlos put them at their ease, finding common interests and experiences; and he made them feel valued and confident. He animated and motivated them with his conviction that knowledge of Spanish and the ability to read and interpret Latin American literature (and "Don Quijote," on which he taught a memorable course) would serve them well in their future lives. And Carlos was right: his students put what they learned from him to use in careers as historians, writers, consultants, teachers, social workers and experts in international business.
"I am comforted in Carlos's loss by imagining that the stories he taught — and the ones he told — continue to swirl about those whose lives he touched, delighting, teaching and richly perplexing us."
Piano is survived by his wife, Helina Oinas Piano, whom he married in 1963, and a daughter, Aili Piano, an editor in New York City.
Comments from Piano's students
As a person, Carlos was affable, enthusiastic and approachable. Indeed, the word cercano in Spanish is a near-perfect description: intimate, personable, approachable, close. He had a genuine interest in his students and in their education. But one thing about Carlos is that he was never harsh. If a student did not wish to learn, despite his invitation and encouragement, he did not force the point. Instead, he spent more time with those who had a curiosity and passion for literature and the sociopolitical context that created genius therein.
I had Carlos for two year-long courses on Spanish-American literature, and I audited another year-long tutorial he taught on Leopoldo Zea's "Filosofía de la historia americana." As context, I pursued a dual major in history and Spanish area studies. This is important because it was Carlos who suggested I create a hybrid major between the political science and Spanish departments because such a thing did not exist in the 1980s. As I learned about liberation theology and communist revolutions and suppressions in Latin America, Carlos taught me the literature that drove and reacted to those historical movements. Furthermore, he was instrumental in advocating for my participation and that of Colleen Murphy Bell '85 in the GLCA's program in Bogotá, Colombia, in the summer of 1982. If he would not have personally traveled there that summer, our parents may well have rejected the idea. But he spoke to both of our families and assured them of our safety. That summer was life-transforming for us. Our language skills advanced, our sensitivity to Colombian culture and Latin America expanded, and quite frankly, Colleen's and my nascent love affair matured.
As a friend, Carlos attended our wedding in 1987, and we remained close as our family grew, including when I studied and received my master's degree from the Johns Hopkins University School of Advanced International Studies in Latin American studies, and when we lived in Spain at the end of the last century.
Carlos had an extremely deep understanding of context, conflict and character — in the literature he taught and the advancing world of Spain and Latin America. He advocated for titans like Gabriel García Márquez, Mario Vargas Llosa, Octavio Paz, Carlos Fuentes, Pablo Neruda and, of course, Jorge Luis Borges. Note that the first three all received the Nobel Prize in Literature after my first class with Carlos. While Professor Linda Metzler taught me the concept of duende — a heightened state of emotion, expression and authenticity, perhaps best represented by flamenco guitar and dance, or the poetry of Federico García Lorca, it is a beautiful description of Carlos when he taught. He would draw a spirit from the ground beneath his feet to excite and entice students to immerse themselves in the wonder of Hispanic-American life and literature. This was his passion and gift, and we were honored to receive it.
Adiós, Maestro. Hasta que nos veamos.
— Jeff Bell '84
Carlos was very dear to my heart.
What a privilege it was to be able to work with Carlos in a one-on-one tutorial on my senior thesis, "The Changing Role of Women in Spain." He was so generous and encouraging, taking the time to coordinate with the sociology department and making the process so meaningful for me.
I had fallen out of touch with Kenyon for years until I joined the College's board in 2004, and then my daughter Gabriella enrolled in the Class of 2010. Gabby was an admissions tour guide, and she stayed in Gambier all summer after her freshman year. No matter how many alumni came through with their children, none remembered me.
One afternoon, Gabby brought a prospective student (Lydia Winkler '13), a tennis player, down to the tennis courts. Gab saw a silver-haired man in whites and asked if he was the tennis coach; he replied, "No, I'm Carlos Piano." Excitedly, but with low expectations, she said, "My mother talks about you all the time! Do you happen to remember Pam Feitler?" He lit up and said of course he remembered. "She was always on time and prepared for class. She came from Whitefish Bay, Wisconsin, and her father made Weyenberg Massagic shoes. Your mother was very special to me because she reminded me of my mother."
After that, Carlos and I met several times and exchanged Christmas cards and notes. What a treat that was, and what a precious memory.
Carlos was an example of the very best and kindest of people — a very rare breed. He will be greatly missed.
— Pam Feitler Hoehn-Saric'80 P'10,'14
I got the sense that Professor Piano was, if anything, relieved to have come to Kenyon from the University of Wisconsin, which he described to me as a place where nobody said hello or made eye contact, and if there were a $20 bill on the sidewalk there, nobody would notice it for being too distracted rushing around to get where they were going.
Carlos had a way of infusing his lectures with personal reminiscences and asides (and, if I am being honest, a whole lot of tangents), the combined effect of which was that it was natural to imagine him as the characters themselves — Silvio Astier, the juvenile delinquent in Buenos Aires; Arturo Cova, the Colombian jungle explorer; Jorge Luis Borges's alter ego, trapped in an endless library.
While working on papers in the computer labs in the basement of Ascension Hall, I was always happy to take a break and head upstairs to see if Carlos was in his office. When I knocked on his door, he would always yell "Go away!" and I would open the door to find him in a state of wonderment, checking this new thing called email.
During one of our extended conversations, Carlos said to me once, apropos of nothing that I can remember, "Don't delay pleasure. It just gets rancid with age." Fitting words for us to keep in mind while living in whatever kind of world we find ourselves.
— Sam Jaffee '04