Members of the Kenyon community are initiating change on a local level by assisting with the political process.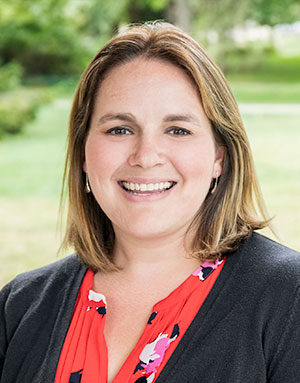 People get into public service for many reasons. For Annie Ellsworth '04, Kenyon's director of parent and family giving in the Office of Annual Giving, it came down to an unexpected email.
"I happened to come back from a Kenyon trip in July and had an email from the mayor of Mount Vernon in my inbox," she said. "And I was like, 'This is weird. Maybe he's just emailing everybody in Mount Vernon.'"
It turned out that Mayor Matthew T. Starr was much more targeted in his approach: He wanted the local resident to consider joining a citizen commission. By mid-September, Ellsworth was the newest member of the city's municipal planning commission, a five-member body that makes recommendations related to zoning and construction issues.
"Gambier and Kenyon are in a really exciting moment of growth as we anticipate many tech companies will come to the Columbus area. This could be a really interesting moment to be involved," Ellsworth said. "I hope to be a thoughtful volunteer who helps move Mount Vernon forward in a really intentional way."
Kenyon has a notable history of public service — and not just because early graduates like Rutherford B. Hayes, Class of 1842, or David Davis, Class of 1832, went on to serve as U.S. president and U.S. Supreme Court justice, respectively. Over the years, this tradition has been continued closer to home by faculty, staff and even students who have gotten involved in their local communities.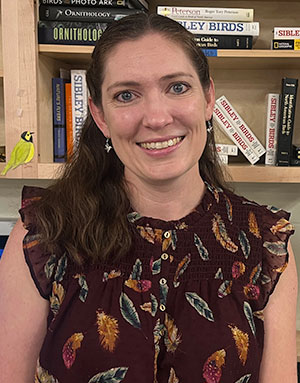 One of them is Natalie Wright, assistant professor of biology. She serves as an elected member of the Village of Gambier Council, where she works alongside other officials with Kenyon ties, including Mayor Leeman Kessler '04 and council members Rakia Faber, an affiliated scholar, and Liz Forman '73, retired senior associate director of admissions.
Wright said that the mayor, who is a friend, convinced her to run for office in 2021.
"I decided I wanted to do it because there are a few things I've always cared really strongly about and just hadn't done anything about before, and those are environmental sustainability and making the world safer for pedestrians and cyclists," she said. "I can't do a whole lot on a national level or on a state level, but actually we can do things to make Gambier safer."
A member of the streets and utilities committee, Wright has worked to add and extend sidewalks around Gambier. Future projects include installing raised crosswalks downtown and a shared-use path for pedestrians and cyclists down West Wiggin Street and across state Route 229.
"It's been really rewarding," she said. "I see the effects of the changes that I'm trying to make."
Ellsworth — who has children in the local schools and who filled a seat previously held by Julia Warga, former director of research and instruction at Kenyon — said her experience at the College, both as a student and staff member, was influential in her decision to get involved.
"I always appreciated former President Sean Decatur's vision to bridge Mount Vernon and Knox County with Gambier and Kenyon more through the Office for Community Partnerships. And while I'm very much on the fringe of that, I see part of my role as a Kenyon employee as continuing to be a partner in that vision."
Students have taken their role in this partnership seriously, too. Through the Center for the Study of American Democracy (CSAD), 10 student associates this year spent the fall registering their peers to vote and writing a nonpartisan guide to all the races on the ballot in Knox County that is available to download online and in print.
"We see it as a service to the community, and it teaches the students a lot in the meantime about local government," said Nancy Powers '83, CSAD associate director and assistant professor of political science. "Our intent is just to try to improve civic engagement and understanding."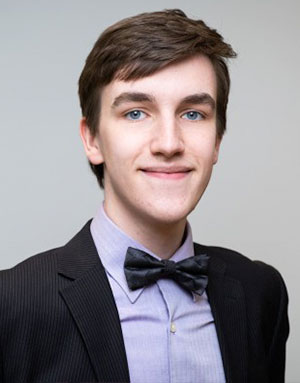 One student associate, Cooper Bertschi '26, will be volunteering in his fifth election next week when he spends Election Day as a voting location manager in his hometown of Hartville, Ohio.
"As somebody who was interested in politics, I wanted to find some way to be active. I was really excited to see how I could get involved and see what the election process is like from the inside," he said. "It's such a phenomenal experience to know that you're helping the system work."
This desire to serve is a through line for many at Kenyon. Will Houston, director of operations at AVI Fresh at Kenyon, was appointed to the College Township Board of Trustees in 2021 and elected to the position the following year. He said the experience of helping the township — which is home to Kenyon and Gambier — has been a rewarding one.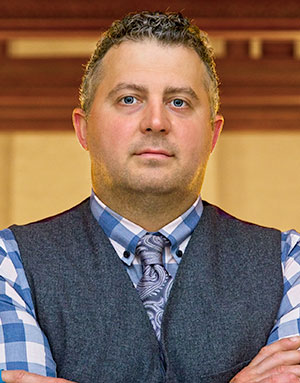 "I love being a contact for the local community," he said. "I enjoy the process of trying to forecast where the next financial need will be. I love working with a team of diverse individuals with many skill sets."
Adam Gilson, director of design and publication in the Office of Communications, has a long history of public service. Over the years, he spent time as the chair of the Knox County Democratic Party Executive Committee — he's now vice chair — and ran for city council in Mount Vernon.
Since 2012, he's been one of the four members of the Knox County Board of Elections, a position that is appointed by the Ohio secretary of state. Currently the board chair, he has worked — at one point with the help of a Kenyon intern — to draw precinct boundaries and identify optimal voting locations.
"My biggest concern is access to the ballot," he said. " I just want everybody to be able to vote and vote as easily as possible."
It's a spirit of service that he — like many — shares with the College.
"I've been a member of this community for 20 years — the Knox County community — and Kenyon is one of the largest employers here," Gilson said. "We are all part of this community, so we should be engaging in every way we can as citizens."