Led by the senior faculty marshal and the flags and banners of the College, the incoming class processes down Middle Path between two rows of faculty members and administrators in full academic regalia as the Pealers ring the bells in the steeple of the Church of the Holy Spirit.
During the ceremony, the class is presented to the assembled members of the Kenyon faculty and administration by the dean of admissions. Students and their parents are welcomed by the president, the provost, the dean of student development, and a member of the College's Board of Trustees. In homage to Kenyon's historical ties to the Episcopal Church, the opening and closing ceremonies of the year include both an invocation and benediction. In keeping with the College's desire to be broadly inclusive of all those in the community, the Episcopal chaplain often shares these duties with fellow religious leaders of other faiths who work with the student body.
Opening Convocation 2022
The Class of 2026 and transfer students were officially welcomed to the Hill on Sunday, Aug. 21, 2022. View the livestream.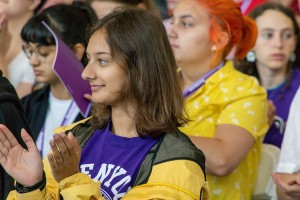 The College's faculty and staff welcomed the newest members of the Kenyon community at Opening Convocation.
Location
Ransom Hall
Gambier, OH 43022