Cicero Owens was born into slavery in 1835 on a Georgia plantation. In 1867, at the age of 32, Mr. Owens registered to vote for the first time, making his mark in the voter registration and oath book in Laurens County, Georgia.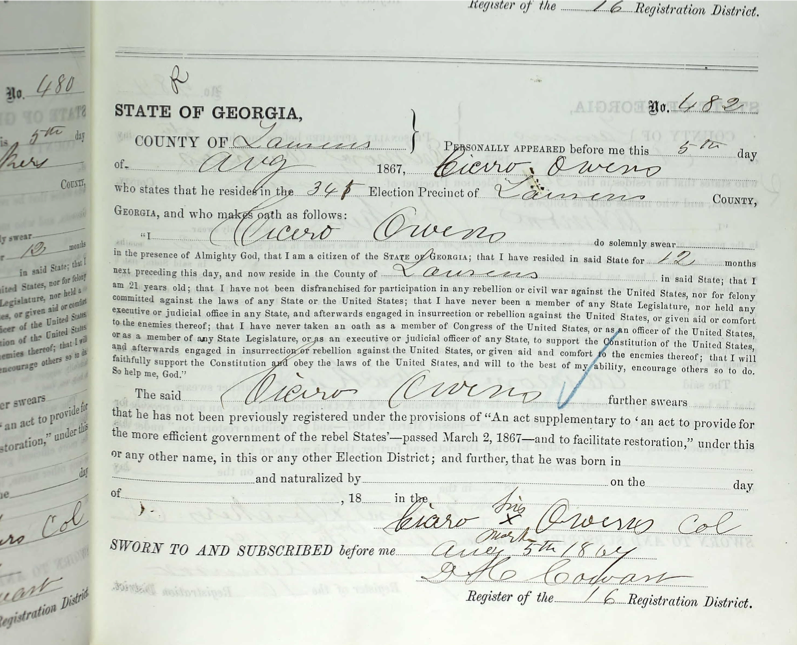 Cicero Owens was my great-great-grandfather. And while I felt an enormous amount of pride when I discovered this document a couple of weeks ago, I can't imagine the emotions that my ancestor felt: recently emancipated, registered to vote under the protection and supervision of the army, but nonetheless subject to the intimidation and violence of the newly organized Ku Klux Klan.
The 150-year-long path between Cicero Owens, recently emancipated slave and new voter, and Sean Decatur, president of a nationally recognized liberal arts college, was neither smooth nor linear; the sacrifices of generations brought me (and us) to this point. And 150 years later, many of us in the U.S. still must overcome voter intimidation and attempts at voter suppression in order to participate in this sacred act of democracy.
I have cast my vote in this election, carrying out an important civic responsibility and honoring the courage and resilience of those who have come before me. If you have not yet done so, I ask you to do the same.
You can find information on how to vote nationwide on Kenyon's website. Our campus polling location is the Gambier Community Center, 115 Meadow Lane; Knox Area Transit will run an Election Day shuttle from 8 a.m.-7 p.m. with stops in front of the bookstore, Peirce Hall and the Gambier Community Center. If you are voting here in Knox County, I encourage you to read this nonpartisan guide to local issues and candidates compiled by the Center for the Study of American Democracy's student associates. (And please, remember to wear a mask and practice social distancing while traveling to and voting inside your polling location.)