If you ask a college student the best place to have a private phone call, "dorm stairwell" is sure to be among the answers. While a stairwell may not be the coziest spot on campus, I found out early on that Norton's thick brick walls provide good insulation for both heat and family conversations. One night, as August bled into September, I sat atop the scratchy, non-slip stairs. I teared up on the phone with my dad, recounting how difficult it was for me to sustain the surface level conversations and get-to-know you games that permeate college orientation. I yearned for our seven o'clock family dinners back home in Atlanta. Before I left for a much colder place, the four of us sat around our creaky wooden table (balanced only by a small tissue stuck underneath the left leg, but greatly loved and refurbished by my grandfather.) At that table, we laughed obnoxiously one minute and sat in warm silence the next. Over the phone, my dad consoled me. Soon enough, he said, the sweetness of true friendship would overpower the sourness of leaving our comfortable dinner table. He was right. In Peirce, my friends soon became my family.
Situated in the left back hand corner of the servery, squarely in between the steaming selection of soups and the empty pizza bar, is the dessert station. I find college dining halls to be reminiscent of airport security: the lines seem like they will never end and, once you finally reach the front, you feel the stares urging you to move faster. Despite its popularity, the Peirce dessert station breeds a calm and peaceful atmosphere. Perhaps this can be attributed to the intoxicating smell of recently settled caramel or the cocoa powder subtly sprinkled on the ground. Either way, the dessert section pulls students into a different dimension. There, English papers and statistical problem sets evaporate like steam off a cookie. As students give a short glance to the cascading display, they drag their feet to the back of the line. The ooey gooey cake, miso brownie, and red velvet bundt cake – accompanied by the dreaded realization that you will never be able to eat them all – are more than quick bites which satisfy the palate before bed. Peirce desserts wrap friends around the table, keeping them there long after their plates have been cleared.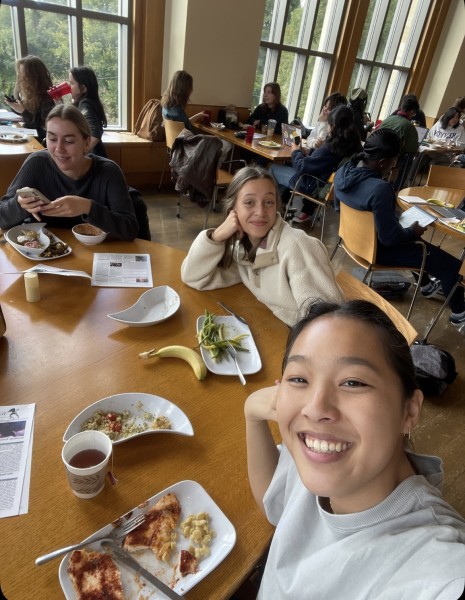 Each night at six-thirty, I catch the double wooden doors to Peirce, carefully dodge the shimmering seal, and begin to defrost from my chilly walk there. Slowly shedding my winter gear, I scan New Side for familiar faces or, more likely, familiar belongings which mark our territory: Georgia's slightly dented pink Hydro Flask, Margot's army green puffer jacket draped atop a chair, and Fiona's flowery lanyard sprawled across the table. Tossing our things down, we skip off to see what is offered in the servery that night. Once seated with plates overflowing, we begin our nightly ritual—telling stories saved in anticipation, asking for silly pieces of advice, and recounting our childhoods. Likely, without our sweet tooths, we'd be quick to wrap up and head back to the First-Year Quad, but our dinners have been longer and our friendships stronger due to the Peirce desserts we have all come to love.