This entry is part of a series reflecting on the study abroad experience, titled An Abroad Retrospective: Time is Out of Joint. You can read the first entry here.
September 2022, Rome
Tonight, I spent an hour and a half completing a sketch of a street scene for my Italian Art & Design class. There's no shortage of beautiful spots to sketch in my area. I'm living in Trastevere, which grants me the once-in-a-lifetime opportunity to, when giving people directions to my place, tell them that my apartment is about 45 minutes away from the Colosseum by foot. (The Colosseum, by the way, is breathtaking, and the subject of another of my sketches. No wonder its name is literally the Colossus.)
The nights in Rome are getting slowly but steadily chillier. It's a valuable break for everyone after a period of 85-90 degree weather that sustained the first month of our trip. So tonight, I donned my coat, grabbed my notebook, pocketed my art pen, pencil, eraser, and sharpener, and began weaving through the maze of Trastevere.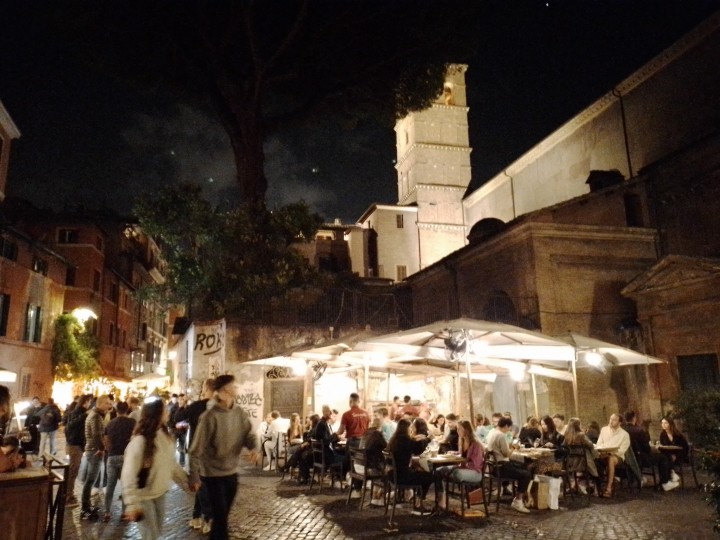 The nights here are intoxicating. The winds of Rome pick up and carry you through the fairy-lit, cobblestone-lined streets of Trastevere—past street vendors, past restaurants where people enjoy any variety of fine pastas and Roman delicacies; past groups of Italian teenagers basking in the ecstasy of Rome at night and past the busy pizzerias outside of which they spend their evenings; past live jazz that always bumps just the right rhythm for the street at any given moment and past the Italians and tourists alike who stand nearby to listen and dance. Roman nights are a symphony, and no one night is ever the same.
It's hardly a surprise that it was difficult picking which street to draw. I eventually settled on a dimly lit, vine-covered alleyway that housed my favorite pasta place, called La Canonica, which served me the best tortellini I've ever had, in a white sauce with peas and ham. I snapped a photo of the alley and headed back out into the Piazza di Santa Maria: one of my favorite plazas in Trastevere, and also the home of the majestic Santa Maria Fountain. I sat down on the side of the fountain, pulled out the photo, and sketched the night away.
As I sank into my sketchbook, a series of events unfolded around me: first, the older Italian man sitting several feet away from me cackled at a small dog that had thrown its entire body into trying to steal a toy from its owner, who lifted the toy and with it, unexpectedly, her dog, and when she tried to swing the dog off, proceeded to swing the dog in clumsy circles through the air. (The dog, I assure you, was having a very good time: when it finally hit touchdown on the cobblestones, it adorned a stupid grin and wagged its tail wildly. It lunged for the toy again.)