For eight years, the Avis family calendar revolved around Kenyon lacrosse. Todd and Sandy Avis made frequent trips to Gambier from their home in Michigan to cheer for their sons Mackie, class of 2013, then Gabe '17. Like many parents of athletes, they were more than just spectators.
Men's Lacrosse Coach Doug Misarti is among those who know the Avis family well. He recognized Sandy's contribution to the emotional heart of the program. "Sandy was a supportive and unifying presence throughout their time here, bringing parents and the team together with post-game food and conversation. All the players knew she was our 'Team Mom' and through this, someone we all relied on for a supportive ear. She very much forged a family atmosphere around our activities. Win or lose, we knew Sandy was always there for us and believed in us."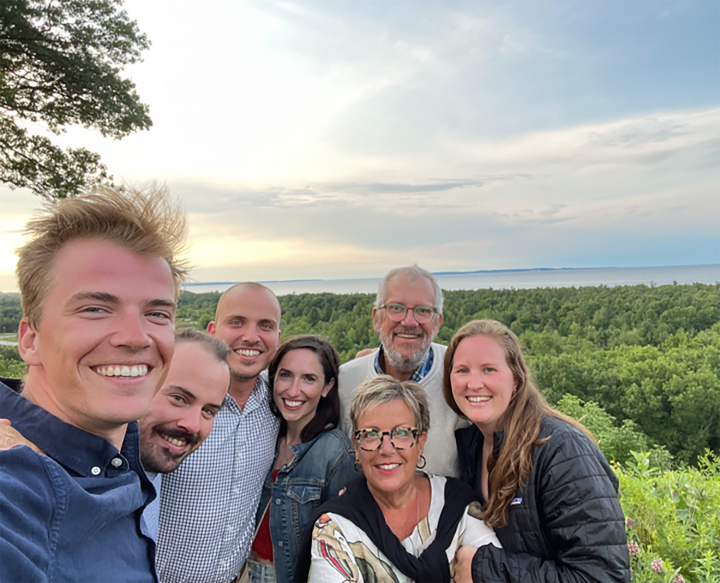 From left to right: Gabriel, Elliot, Mackie, Katie Stratico, Todd, Sandy and Meredith, Elliot's wife
Sadly, Sandy Avis passed away in late April from the metastatic cancer she had been living with for the last eight years. She did not let her diagnosis dampen her enthusiasm for life, and her family, during this time and was actively involved in planning for her legacy. She discussed the motivation for the fund in the early spring.
"I was a first-generation college student in my family. I was the oldest. Because of some underlying issues, I never got to finish my degree and it's been one of the biggest regrets of my life. Our relationship with Kenyon is so positive, and given the direction Kenyon is headed under President Sean Decatur, Todd and I believe this is the perfect time to invest in the College," Sandy said.
The Avis family started the Sandra L. Avis Fund at Kenyon, for a scholarship which will be awarded to a first-generation college student, with a preference for studio art majors like Gabe.
Todd noted that his wife's appreciation for Kenyon extended beyond the lacrosse field. "Kenyon was a very, very big part of our lives, not only following the kids around on spring break and watching them in Florida and Pennsylvania, but also culturally. Sandy had a particular appreciation for the Gund Gallery and senior art show," said Todd. (A series of everyday objects painted by Matt Reed '18 are still featured in the Avis home.)
Sandy was originally diagnosed nearly 20 years ago and went into remission, but learned while Gabe was at Kenyon that the cancer had returned. The Avises leaned on their Kenyon lacrosse family. "I think the fourth person I called after I got it was Doug Misarti to keep an eye on Gabe; that was a really tough phone call," she said. "Kenyon was really very supportive of Gabe."
Through it all, Sandy also focused on supporting the team's family atmosphere. "I was happy to do it, I got to know the kids and their parents quite well," she said.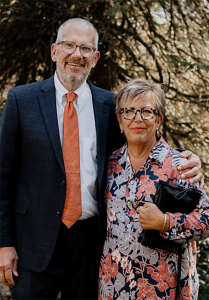 Sandy coordinated meals and worked to help other parents feel connected. "I knew who the vegans were," she said, joking: "The only time I got guff from any of them was when I got Chipotle too many times in a row."
Years after the sons' lacrosse and Kenyon careers wrapped, the entire Avis family, including another son, Elliot, drew comfort from the idea that a permanent scholarship fund at Kenyon would be a fitting tribute to Sandy, in all her mom roles.
In her words: "I'm not a glass half empty person, I choose to see the joy in every day. I'm not someone to wallow and ask 'Why me?' I do want this to be shown in a positive light, that's really important."
If you'd like to support the Sandra L. Avis Fund, please visit this link.