When Kenyon students head to class on the first day of fall semester, they'll spot a new face along Middle Path: Brian Janssen, who begins his role as the College's dean of students on Aug. 22.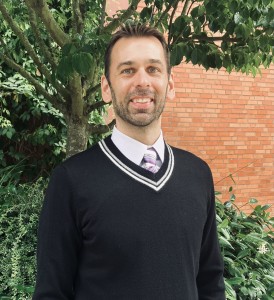 In this position, which reports to Vice President for Student Affairs Celestino Limas, Janssen will focus on residential, co-curricular and extracurricular experiences and will oversee the Office of Residential Life and Office of Student Engagement. He will work alongside colleagues in the Division of Student Affairs, including Dean for Diversity, Equity and Inclusion Chris Kennerly and Dean of Student Development Robin Hart Ruthenbeck, as well as partners across campus. A committee composed of faculty, staff and students selected Janssen following a national search that began in March.
"Dr. Janssen made a phenomenal impression with his relationship-centered approach to students and colleagues," Limas said. "He brings enthusiasm and authenticity to his work, and I am confident he will serve Kenyon students well and be a positive influence in their journey on campus."
Janssen comes to Kenyon from Oregon's Portland State University, where he has served as Director of Student Organizations and Leadership Development since 2014 and where he is also a member of the faculty at PSU's Graduate School of Education. He previously worked at institutions including Miami University of Ohio, where Janssen earned a master of science degree in college student personnel, and the Ohio State University, where he earned a doctorate in educational policy and leadership.
"I am very excited to be joining the Kenyon community," Janssen said. "Over the past few months I have had the amazing opportunity to visit with Kenyon students, faculty and staff. During these conversations it was evident that Kenyon is a place where learning, creativity, community, a student-centered approach to education, and commitment to justice, equity, diversity and inclusion are woven into the fabric of the institution."
As an undergraduate, Janssen majored in history and political science at Denison University, and plans to draw on his own experiences at a similar institution to help students succeed at Kenyon.
"My transition to life at a rural liberal arts college was tough, and I would not be where I am today if others had not provided me with positive feedback and guidance," Janssen said. "Adjusting to new sets of cultural norms, both academically and socially, was not something I had anticipated, and presented several challenges. But with allyship and support from caring student affairs educators and faculty members, I was able to find a sense of belonging, overcome a lack of preparation and have a successful academic career."
Janssen is already well acquainted with one important element of Gambier culture: Kenyon's longtime aquatic rivalry with Granville's Big Red.
"While it is true that I was a swimmer at Denison," Janssen admitted, "I look forward to being an advocate for our student-athletes and a fan of the Kenyon Owls."