The year 2020 may be remembered as a time when the world seemed to almost stop turning — closures and cancellations multiplied as the COVID-19 pandemic spread, and millions found themselves sequestered at home for months on end. But Kenyon alumni, students and faculty pressed on, making strides in art, activism, research and journalism. Here, in no particular order, are a few of the Kenyon people who made headlines this year.
Nadia Reiman '05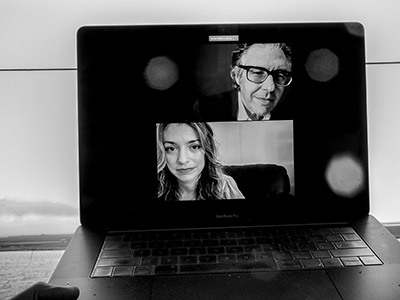 Podcasts have gained increasing cultural influence in recent years, and the Pulitzer Prizes — which have long recognized excellence in more traditional media formats — finally caught up in 2020, with the introduction of a prize category for audio reporting. Nadia Reiman, who has worked in radio production since graduating from Kenyon, was part of the team from "This American Life" to win the inaugural award, for an episode called "The Out Crowd" focusing on immigration policy. In May, she was featured in the New York Times alongside host Ira Glass. (Another Kenyon graduate made a Pulitzer shortlist this year: Will Arbery '11, featured on last year's newsmakers list, was a finalist in the drama category for his acclaimed play "Heroes of the Fourth Turning.")
Bryan Doerries '98 H'17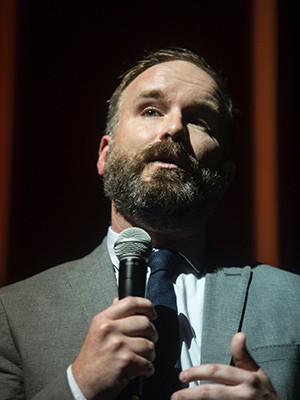 Theater of War Productions, co-founded by Bryan Doerries, has long been known for its innovative use of live performances of classic texts to foster challenging dialogues about social issues, public health and human suffering. This year, Doerries led the group in adapting programs to address traumas of the pandemic, drawing attention from the Washington Post, the New Yorker, the Associated Press and the Columbus Dispatch. Watch for more headlines about Doerries in 2021: As part of a yearlong virtual residency at Kenyon, he and Theater of War will mount a new production designed for and with the Kenyon community.
Sarah Longwell '02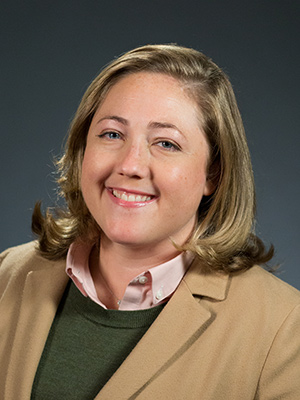 While many establishment figures in the Republican Party found their initial opposition to Donald Trump waning after his nomination and election, D.C. politico Sarah Longwell held firm in an increasingly lonely position — finding herself profiled as the prototypical "Never Trumper" in a March New Yorker article. She founded the organization Republican Voters Against Trump, which produced ads featuring conservative voices and advocating for voters to cross traditional party lines. Longwell also was a panelist in the Center for the Study of American Democracy's "Hill to Hill" series this fall, examining the question "Is the American Experiment Still Viable?"
Raul Romero '22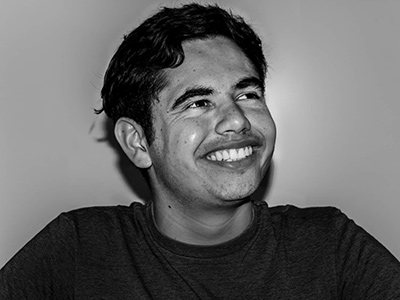 This summer, when U.S. Immigration and Customs Enforcement (ICE) announced new rules that would negatively affect international students amid the pandemic, students from across the country and around the world spoke out about the human impact of the regulations. One of the most prominent voices was Raul Romero, an international studies major from Caracas, Venezuela, who was featured by Reuters, NBC News and the PBS NewsHour, among other outlets. In the face of widespread opposition brought on by the swell of media attention, ICE walked back the regulations.
Erin Schaff '11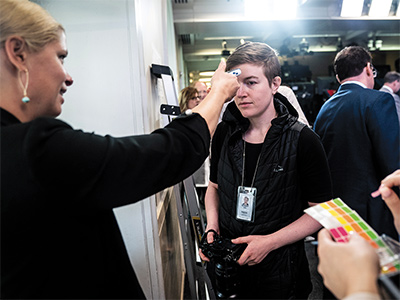 Featured on Kenyon's 2018 newsmakers list for her images covering Justice Brett Kavanaugh's Senate confirmation hearings, photojournalist Erin Schaff — who moved from freelance practice to a staff position with the New York Times in 2019 — returns to the list this year. Schaff's work in Washington, D.C., and around the country took her all the way from Amish communities to the White House even as much of America stayed at home. Traveling with the Biden/Harris ticket in the waning days of this fall's campaign, Schaff's images made A1 multiple times as the historic election results unfolded over several days.
William E. Lowry Jr. '56 H'99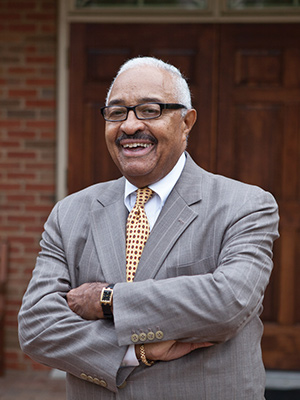 Until this year, trustee emeritus Bill Lowry's name may not have been well known by the broader alumni community, despite his long career in the corporate and civic arena in Chicago and nationally — during which he met U.S presidents and hosted an Emmy and Peabody Award-winning television series. But a decision by the Board of Trustees in October changed that: the College's athletic facility was renamed to honor the former captain of Kenyon's football, basketball and baseball teams and first Black man initiated into Beta Theta Pi. The Lowry Center designation, and an accompanying scholarship created to bring more underrepresented students to Kenyon, helps ensure a permanent legacy on a campus where Lowry has already made his mark in so many other ways.
Nandi Plunkett '11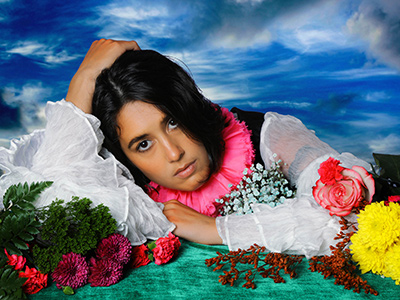 Musician Nandi Rose Plunkett, who performs under the name Half Waif, released her fourth studio album, "The Caretaker,'' in March to rave reviews. When her tour was canceled by the pandemic, she wrote about adjusting to life in quarantine for NPR, concluding, "What worked for me before will not work for me now; what works for me now will not work for me when this is over. We are collectively in a state of becoming." Most recently, the album's first single, "Ordinary Talk," landed at 45 on Pitchfork's year-end list of the "100 Best Songs of 2020."
Brendan Keefe '90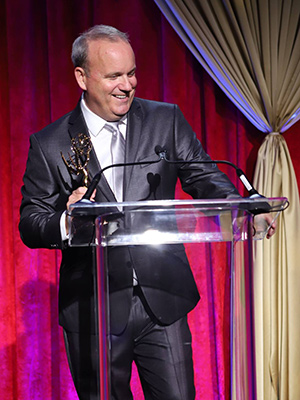 Brendan Keefe has been a news fixture in the Atlanta area for years, becoming known as "Mr. Emmy" for sweeping 105 regional TV awards over his career. But Georgia's status as a critical swing state this year — going blue in a presidential race for the first time since 1992, and hosting two runoff elections that will determine control of the Senate — put a greater spotlight than ever on the multimedia investigative journalist. Political observers nationwide awaited Keefe's detailed updates on statewide ballot totals — he has increased his Twitter following nearly tenfold since Election Day. As misinformation about the integrity of the state's results spread dangerously, Keefe debunked widely shared rumors of voter fraud, tracking down an elderly widow falsely accused of voting as her deceased husband.
Tariq Thompson '21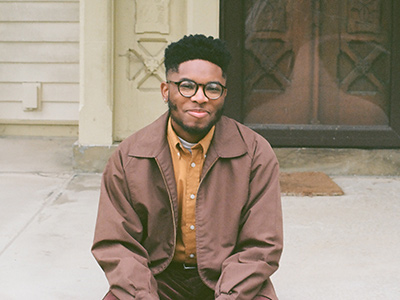 "For years crime & cry seemed like the same word." Thus begins English major Tariq Thompson's poem "On Their Birthday, Suge Knight & My Daddy Discuss Forgiveness," one of two selected for inclusion in the Adroit Journal by poet Jericho Brown. Thompson won the publication's annual prize for high school and undergraduate poetry in 2020, a prestigious honor also received by several other Kenyon students since the award's founding in 2012 (Edward Moreta '22 was also a finalist for this year's prize). The Kenyon Collegian interviewed Thompson and Moreta, and Thompson will read his work as part of a Kenyon Review virtual event on Jan. 12.
Professor of Anthropology Bruce Hardy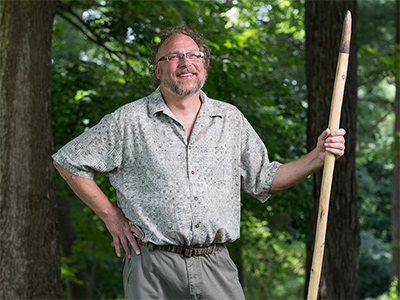 A tiny piece of string drew major attention this April thanks to research conducted by Professor of Anthropology Bruce Hardy with colleagues in France and Spain. Hardy spotted the six-millimeter-long cord fragment while analyzing residue on a stone tool excavated by his co-authors from a site in France. The team dates the cord fragment they excavated to between 41,000–52,000 years ago, making it what is believed to be the oldest known direct evidence of fiber technology. Their work, published in Scientific Reports, adds to the growing body of knowledge about the cognitive ability of Neanderthals and earned headlines in the Associated Press, NBC News, the New York Times and NPR, among other outlets.
Diana Berrent '96 and Bradley Dreifuss '01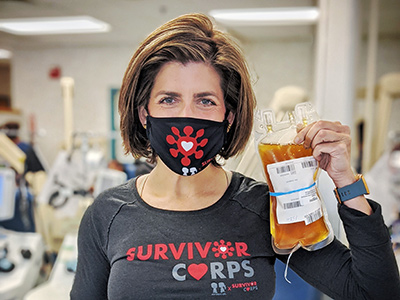 Diana Berrent was one of the first people on Long Island to test positive for COVID-19. She chronicled her illness and recovery in the New York Post and then founded Survivor Corps, the largest grassroots movement in the U.S. dedicated to actively ending the pandemic. She spoke to WBUR's "Here and Now", Texas Public Radio, ABC News and others about rallying fellow survivors to donate their potentially life-saving blood plasma and otherwise support science.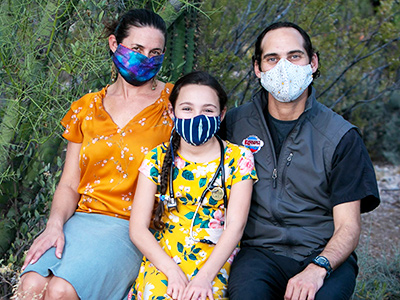 On the other side of the stethoscope was Bradley A. Dreifuss, who directs the rural and global emergency medicine programs at the University of Arizona College of Medicine at Tucson. In June, he penned a widely shared op-ed in the New York Times, "I'm a Health Care Worker. You Need to Know How Close We Are to Breaking." In it, he implored the public to do their part in preventing the spread of the virus. With his wife, Heather (Green) Dreifuss '99 (pictured, with daughter Kaya), and the involvement of Tim Hsu '02 and Caiti Crum '00, he co-founded HCW HOSTED, a group that coordinates community support for healthcare workers and their families.
The Spherical Egg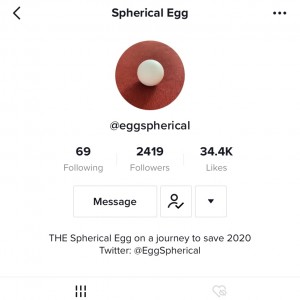 While not technically affiliated with Kenyon (unless an honorary doctorate is in the cards?), this remarkably round egg owes its fame to Konrad Christian '22, who plucked it from obscurity and engineered a surprising degree of fame as a result. Christian, who spent the fall semester studying remotely from South Carolina, spared the one-in-a-billion find from a morning omelet and, along with housemates Michael Morgan '22, Zane Monaghan '22 and Alexander Craner '22, cracked the code to TikTok fame, garnering over 2,400 followers. The introverted ovum came out of its shell for interviews by the Kenyon Collegian, Mel magazine and the Today Show, even fending off scurrilous accusations that it was actually just a ping pong ball.