GAMBIER, Ohio — Theater of War Productions' yearlong residency with Kenyon College continues with a virtual production of "The Book of Job Project," starring Bill Murray, on Sunday, Dec. 6, at 4 p.m. ET. This event, hosted on Zoom, is free and open to the public.
The project presents dramatic readings of "The Book of Job" as a catalyst for powerful, guided conversations about the impact of the COVID-19 pandemic upon individuals, families and communities. The Book of Job is an ancient Hebrew poem that explores how humans behave when faced with disaster, pestilence and injustice.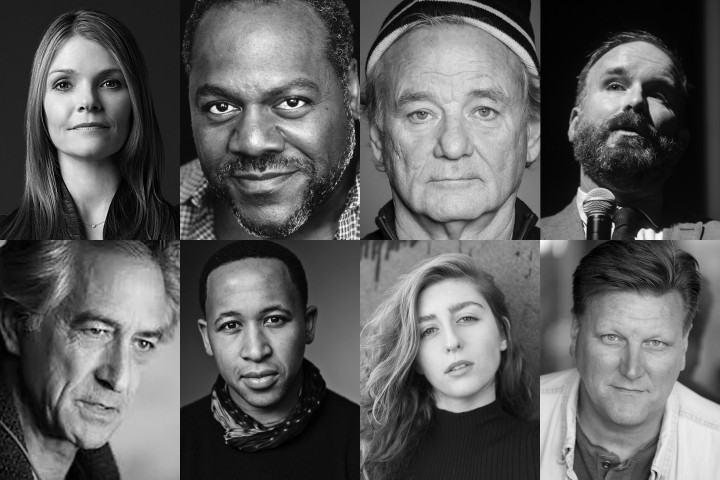 In addition to Murray, the Dec. 6 performance stars Kathryn Erbe, Frankie Faison, Marjolaine Goldsmith, Nyasha Hatendi, David Strathairn and Mount Vernon Mayor Matthew T. Starr. Following the performance, a panel of local residents and members of the faith community will offer their immediate responses to the performance, culminating in a guided audience discussion about some of the timeless themes of the Book of Job.
"We are thrilled to bring the Book of Job Project to Knox County at this critical moment to help foster mid-pandemic, post-election healing throughout Ohio, the nation, and the world, creating the conditions for dialogue and connection during this time of isolation and division," said Bryan Doerries '98 H'17, artistic director of Theater of War Productions.
Theater of War Productions, co-founded by Doerries in 2009, is acclaimed for its use of live performances to foster challenging dialogues about social issues, public health and human suffering. It earned recent attention from the Washington Post and the New Yorker for programs it has created to address the traumas of the COVID-19 pandemic.
The company's "Book of Job Project" was first presented in Joplin, Missouri, on the anniversary of a devastating tornado. It has since been presented around the world, including in New York City after Hurricane Sandy and in Japan, where it was adapted to address the Fukushima Dai-ichi nuclear disaster.
"This production is especially important at this moment, because of the need to make some sense of suffering and disaster, to work through them, and move forward productively and humanely," said Ted Mason, senior advisor to the president, associate provost for diversity, equity and inclusion and professor of English at Kenyon.
Theater of War's yearlong virtual residency at Kenyon opened this fall with a Sept. 24 lecture by Doerries and an Oct. 8 performance of "Antigone in Ferguson." In the spring, Theater of War will stage a third production from their existing catalog as well as mount a new program designed for and with the Kenyon College community.
This production is co-sponsored by Theater of War Productions, Kenyon College, the City of Mount Vernon and the Stavros Niarchos Foundation. To register, visit bookofjobohio.eventbrite.com.
Right-click to download an event flyer: Link (PDF)
###
Theater of War Productions works with leading film, theater, and television actors to present dramatic readings of seminal plays—from classical Greek tragedies to modern and contemporary works—followed by town hall-style discussions designed to confront social issues by drawing out raw and personal reactions to themes highlighted in the plays. The guided discussions underscore how the plays resonate with contemporary audiences and invite audience members to share their perspectives and experiences, and, helping to break down stigmas, foster empathy, compassion, and a deeper understanding of complex issues. Over the past decade, Theater of War Productions has facilitated events for more than 300,000 people, presenting over 20 tailored programs targeted to diverse communities across the globe.
###