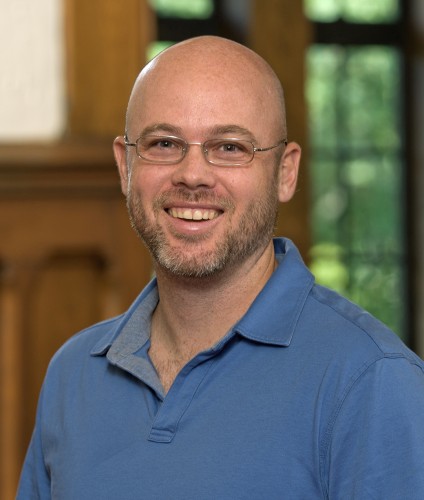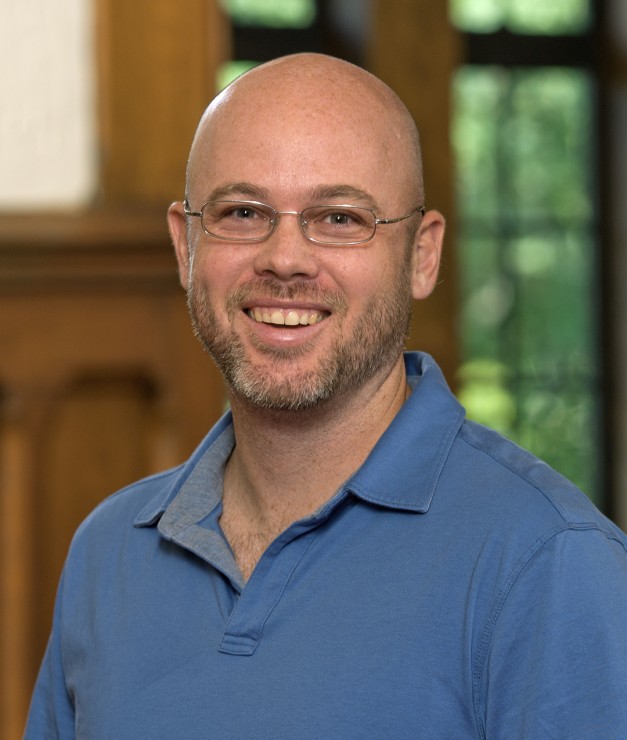 Affiliated Departments & Programs
Travis Landry came to Kenyon College in 2008 after earning a Ph.D. in comparative literature (with degree certification in theory and criticism) from the University of Washington.
His first book, "Subversive Seduction: Darwin, Sexual Selection, and the Spanish Novel" (University of Washington Press and the Mellon Modern Language Initiative, 2012), is an interdisciplinary exploration of the reciprocity between science and literature in the nineteenth century. This study examines how the courtship plot sheds new light on Charles Darwin's theories in "The Descent of Man" and by extension, how the indeterminism of Darwin's thought relates to the socio-political stakes of women's self-determination at the time.
His second book is a critical edition and translation of al-Ghazzāl, Aḥmad ibn al-Mahdī, in collaboration with Abdulrahman al-Ruwaishan (translator), entitled "The Fruits of the Struggle in Diplomacy and War: Moroccan Ambassador al-Ghazzāl and His Diplomatic Retinue in Eighteenth-Century Andalusia" (Bucknell University Press, 2016). This first complete English translation of the eighteenth-century Muslim ambassador's travelogue about Spain uncovers an early example of modern diplomacy and makes plain the significance of Andalusia for one who saw the region through its Islamic past and his own ancestry. As editor and author of the introduction, Landry explains the history of the visit of al-Ghazzāl, draws connections to the Enlightenment context, and reveals how the ambassador's visit relates to the Cartas marruecas of José Cadalso.
Currently, Landry holds the distinguished title of William P. Rice Professor of Literature, which, together with a U.S. Fulbright Senior Scholar Research Grant (Spring 2023), has supported a third book project centered on Spanish Romantics in relation to the philosophy of José Ortega y Gasset. He is using his 2022-2023 sabbatical to conduct research and travel in Spain toward the completion of the manuscript.
In 1997, Landry received a B.A. with honors in comparative literature from Brown University and, in the four years following, taught and earned certification in secondary education (Spanish). He is trained in multiple national traditions and periods, as well as second language acquisition, and regularly offers Spanish language and literature courses at Kenyon, including on Romanticism, the novel, and the legacy of Islam in Spain from the Enlightenment to the present. In 2013, he was awarded a Whiting Fellowship, which recognizes outstanding teaching by junior faculty in the humanities. Beyond his book projects, Landry has published numerous articles, chapters and reviews covering a broad range. His interest in the field of world literature has also shaped his teaching and scholarship.
Areas of Expertise
Eighteenth- and nineteenth-century Spanish literature, science and literature, theory of the novel, Islam and Spain, world literature.
Education
2008 — Doctor of Philosophy from University of Washington
2003 — Master of Arts from University of Washington
1997 — Bachelor of Arts from Brown University
This course is designed for first-year students with two aims in mind: an exploration of literary texts from around the world and an introduction to the discipline of World Literature. This course is at the forefront of literary study, as it brings global perspectives to Kenyon. It emphasizes the study of literature as a way of crossing linguistic, national and cultural borders. The course draws attention to language by placing novels, poems, plays and short stories written in different languages and translated into English in conversation with one another. It questions the boundedness of the nation by showing how the writing, publishing and reading of literary texts is already a transnational activity. Finally, it reveals how local and global cultures are intertwined in the literary text. Course readings may include Ahmed Saadawi's "Frankenstein in Baghdad," Eileen Chang's "Love in a Fallen City," Luigi Pirandello's "One, No One, and One Hundred Thousand," Thomas Mann's "Death in Venice," Haruki Marukami's "The Elephant Vanishes," Virginia Woolf's "The Waves" and Gabriela Mistral's "Poem of Chile." The theme and texts taught in the course vary each year, and students are encouraged to contact the course instructor to find out the specific reading list for a given year. This counts toward major requirements in MLL (Tracks I, II, III) or toward any minor offered in MLL. This course paired with any other course taught in the MLL department counts toward the humanities diversification requirement. Only open to first-year students. No prerequisite. Offered every fall.
This course offers independent study for senior candidates for honors under the direction of the honors supervisor. Normally offered in the spring semester, this course may be offered in the fall with the approval of the student's honors supervisor and the chair of modern languages and literature. Permission of instructor and department chair required.
This first half of a yearlong course is focused on the self in a broader social context for students who are beginning the study of Spanish or have had minimal exposure to the language. The course offers the equivalent of conventional beginning and intermediate language study. The first semester's work comprises an introduction to Spanish as a spoken and written language. The work includes practice in understanding and using the spoken language. Written exercises and reading materials serve to reinforce communicative skills, build vocabulary and enhance discussion of the individual and community. This course includes required practice sessions with a teaching assistant, which are scheduled at the beginning of the semester. Students enrolled in this course are automatically added to SPAN 112Y for the spring semester. No prerequisite. Offered every year.
This second half of a yearlong course is a continuation of SPAN 111Y. The second semester consists of continued study of the fundamentals of Spanish, while incorporating literary and cultural materials to develop techniques of reading, cultural awareness and mastery of the spoken and written language. The work includes practice in understanding and using the spoken language. Written exercises and reading materials serve to reinforce communicative skills, build vocabulary and enhance discussion of the individual and community. This course includes required practice sessions with a teaching assistant, which are scheduled at the beginning of the semester. Prerequisite: SPAN 111Y or equivalent. Offered every year.
This second half of the yearlong intermediate-level language course builds on the concepts and skills addressed in the first semester, with a continued focus on language and culture for students who are interested in developing their ability to speak, read, write and understand Spanish. Students are exposed to more complex Spanish grammar while also expanding their vocabulary in context, using authentic materials similar to those of the first semester (including short novels, stories, essays, newspaper articles, films, television series, and songs). Students produce more advanced analytic and creative writing assignments, and are asked to actively discuss a range of challenging topics in class with increased proficiency (compared to fall semester). Like SPAN 213Y, this course includes required practice sessions with a teaching assistant, though the days and times for these may be different from the fall semester. Prerequisite: SPAN 213Y or equivalent. Offered every year.
This course uses literature and film to give advanced students the opportunity to strengthen their ability to write analytically and creatively in Spanish. The course also strongly emphasizes speaking and reading in Spanish. Works from various literary genres and selected Spanish-language films are among the materials on which class discussion and writing assignments are centered. To deploy this content, we use digital technology that supports the acquisition of advanced vocabulary, the development of reading comprehension and writing. A grammar review, focused mainly on typical areas of difficulty, may also be included. Prerequisite: SPAN 213Y-214Y or equivalent. Offered every year.
This foundational course explores the trajectory of Spanish literature, starting with ballads that reflect the confluence of Christian, Jewish and Arab cultures of the Early Modern Period. It continues through the Golden Age short stories of Cervantes and the theater of Calderón de la Barca; the Romantics and their explorations of new forms of subjectivity in verse and deeply psychological prose; Realist depictions of social change in the late 19th century; and Modernist poetry and works by Federico García Lorca. It concludes with post-Civil War and post-Franco writings, including a contemporary novel about a journalist who discovers the untold history of his father while researching a story on a leader of the Fascist regime. Among the films included is a documentary about the participation of American volunteers who defied the U.S. government and joined the International Brigades to combat Franco during the Spanish Civil War. In addition to the course anthology and shorter pieces, we read original editions of select primary texts. This is an excellent course for students who have taken SPAN 321 because it serves as a bridge course for more advanced literature classes. However, it is also ideal for students who have taken more advanced courses, given that it provides an important understanding of Spanish literature (and its relationship to Latin American literature). Finally, it is a great opportunity for students with interest in theater since we stage two of the plays we read. Other aims center on building skills for analytic writing in Spanish and building the vocabulary useful for interpretation and discussion of film and literary works in Spanish. This course counts toward the literature requirement for the major. Prerequisite: SPAN 321 or equivalent. Generally offered every other year.
Literature and science have enjoyed a fluid relationship for centuries, but in the particular case of the 19th century, the novel became a laboratory for understanding both the individual and society. In Spain, writers sought to capture and critique "reality" with new knowledge about the laws governing behavior and, in the process, came to reveal unanticipated truths about the nature of scientific discovery. In particular, sex was on the mind. In this course, we attempt to understand how and why. Across Europe, groundbreaking, often disquieting schools of thought fueled the popular imagination, from evolutionism to criminology, experimental medicine and psychoanalysis. Together, in Spanish translation, these writings and related essays on sex frame our discussions of novels from several of the greatest Spanish realists, including Benito Pérez Galdós, Emilia Pardo Bazán, Jacinto Octavio Picón and Leopoldo Alas (Clarín). Their representations both disturb and entertain, feeling more like fun-house mirrors than objective reflections of reality, thus we no doubt question the science of such reflections. Our last author is Miguel de Unamuno, as we look at how this wayward realist and his later novel "Niebla" (1914) managed to turn the entire enterprise on its head. Prerequisite: SPAN 321 or equivalent. Generally offered every three years.
From the historical shadows of birthright, religious oppression and absolutism emerge the makings of Promethean individualism in Spain at the dawn of the 19th century, with fire stolen through profanations, infidelities, perversions of desire, erotic sentiment, secret fellowships, unbound interiority and political censure. Indeed, in its various manifestations, transgression as a creative force drives new configurations of the self in opposition to established literary norms and cultural conservatism at this watershed moment in the nation's history. Structured around distinct, often mixed genres of the period (theater, poetry, prose), our discussions address how to define Romanticism; what role specific writers of the period have had in shaping literary history in Spain and beyond; why cultural production — namely literature — and nation-building occur in tandem; and where gender factors into the equation. Primary readings span the legendary figure of Don Juan to the first novel written in Spanish that was both anti-slavery and feminist, while secondary selections expose students to a broad range of literary criticism and authors from other national traditions, in Spanish translation, who were influential in Spain at the time. Prerequisite: SPAN 321 or above.