Affiliated Departments & Programs
Clara Román-Odio, recipient of the Senior Faculty Trustee Teaching Excellence Award (2017), joined the Kenyon faculty in 1992. Professor of Spanish, Latin American Literature and Latino Studies, Román-Odio's research aims at understanding the impact of decolonial theory, critical gender and race studies on cultural productions from Latin American and the U.S.-Mexico borderland. Her scholarship in transnational feminisms and oral history examines how women of color helped to shape and transform the spaces where society produces its laws and social norms. Author of several books and numerous scholarly publications in her areas of expertise, Román-Odio recently had her Ohio Humanities Digital Exhibition Latinos in Rural America (LiRA) included in The Smithsonian Institution's Traveling Exhibition Series.
Spiritist Women in Puerto Rico (1880-1920), by Clara Román-Odio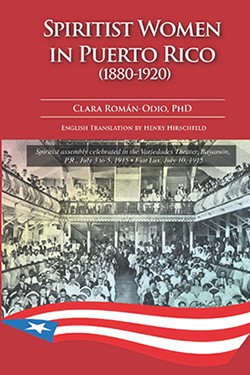 In her latest work, Román-Odio rescues and examines the literature of pioneer spiritists who, as practitioners of Spiritism, helped transform Puerto Rican society during its disruptive colonial transition from Spain to the United States. A related digital project: "Spiritism by Puerto Rican Women: From Remarkable Pioneers to Contemporary Heirs" preserves this element of Puerto Rican history, religious culture, and literature.
Order the English edition.
Order the Spanish edition.
Visit the Spiritism by Puerto Rican Women website.
Areas of Expertise
Latin America / Latino cultural productions, border studies, transnational feminisms
Education
1993 — Doctor of Philosophy from UNC Chapel Hill
1983 — Master of Arts from Purdue Univ West Lafayette
1981 — Bachelor of Arts from Univ Puerto Rico Mayaguez
This course uses literature and film to give advanced students the opportunity to strengthen their ability to write analytically and creatively in Spanish. The course will also have strong emphasis on speaking and reading in Spanish. Works from various literary genres and selected Spanish-language films are among the materials on which class discussion and writing assignments will be centered. To deploy this content, we will use digital technology that supports the acquisition of advanced vocabulary, the development of reading comprehension and writing. A grammar review, focused mainly on typical areas of difficulty, may also be included. Prerequisite: SPAN 213Y–214 or equivalent. Offered every year.
This course presents an overview of the Spanish American short story from 1940 to the present. It examines the antecedents of the new Spanish American narrative, the so-called "Spanish American Boom," and a narrative of the periphery. The national literature of the "boom" will be read with attention to subgenres such as the fantastic, magic realism and the marvelous real. It will be shown how these subgenres are transformed and eventually challenged by an ethnic, feminine and postmodern narrative, which instead of focusing on the representation of the nation explores other social subjects and forms of cultures. Among the authors included are Jorge Luis Borges, Juan Rulfo, Julio Cortázar, Carlos Fuentes, Gabriel García M&aacuterquez, Luisa Valenzuela, Isabel Allende, Ana Lydia Vega, Diamela Eltit, Ricardo Piglia and Elena Poniatowska. Prerequisite: SPAN 321 or equivalent. Generally offered every three years.
This course is designed to introduce students to the literary trends and the poetics that underlie 20th-century Spanish American poetry, including those labeled "modernism," "avant-garde," "social poetry," "anti-poetry" and "conversationalism." Through close readings of representative works, the course will examine the representation of nation, class, gender, ethnicity and sexuality by the practice of these poetics. Some of the authors included are: Martí, Darío, Mistral, Vallejo, Storni, Girondo, Huidobro, Borges, Guillén, Neruda, Lezama Lima, Burgos, Paz, Parra, Cardenal, Castellanos, Benedetti, Varela, Gelman and Pacheco. Prerequisite: SPAN 321 or equivalent. Generally offered every three years.
The artistic discourse of Latin American women has been largely omitted in academic studies, yet the contributions of women's works have been instrumental in shaping and changing our worldviews. In this course we will examine Latin American women's use of the dimension of gender to produce a critique of their culture and oppressive structures of power. Art, film and literature will be used as the primary sources of exploration. Recurring themes such as self-knowledge, affirmation of female eroticism, and struggles for social and gender equality will be examined within the framework of the historical and sociopolitical realities of Latin American societies. Contemporary feminist theories will serve to interpret writing and creative strategies used by these women to produce an experimental language that embodies new human relationships. Among the filmmakers, painters, and writers included are María Luisa Bemberg, María Novara, Frida Kahlo, Remedios Varo, Tilsa Tsuchiya, Julia de Burgos, Claribel Alegría, Luisa Valenzuela, Gioconda Belli, Cristina Perri Rossi, Pia Barros, Elizabeth Subercaseaux and Diamela Eltit. Prerequisite: SPAN 321 or equivalent. Generally offered every three years.
Chicana/o culture produced in the U.S. is a vast field, often underrepresented in undergraduate curricula. Even so, Chicana/os' contributions to literature, visual and public art, music, film, cultural theory and political activism are among the richest in this nation. This absence is symptomatic of a larger societal reality, namely, a history of cultural and economic oppression, which results in silencing "the other" America. In this regard, Gloria Anzaldúa, one of the most important borderland theorist in the U.S., states: "I write to record what others erase when I speak, to rewrite what others have miswritten about me, about you." In "Cultural Productions of the Borderlands," students gain deep understanding of theories and representations of borderlands within the context of their colonial legacies. Students may choose to read, write and test in either English or Spanish, and work with an array of cultural materials including, literature, visual art, film, music and Chicano/a history, as sites of opposition to sexist, racist, classist and homophobic ideologies. This is a core course within the Latino/a studies concentration. It also counts toward majors in American studies, international studies, women and gender studies, religious studies, and Spanish area studies. No prerequisite. Generally offered every two years.
This course offers an opportunity to study on an individual basis an area of special interest — literary, cultural or linguistic — under the regular supervision of a faculty member. It is offered primarily to candidates for honors, to majors and, under special circumstances, to potential majors and minors. Individual study is intended to supplement, not to take the place of, regular courses in the curriculum of each language program. Staff limitations restrict this offering to a very few students. To enroll in an individual study, a student must identify a member of the MLL department willing to direct the project and, in consultation with them, write up a one-page proposal for the IS which must be approved by the department chair before the individual study can go forward. The proposal should specify the schedule of reading and/or writing assignments and the schedule of meeting periods. The amount of work in an IS should approximate that required on average in regular courses of corresponding levels. It is suggested that students begin their planning of an IS well in advance, so that they can devise a proposal and seek departmental approval before the registrar's deadline. Typically, an IS will earn the student 0.25 or 0.50 units of credit. At a minimum, the department expects the student to meet with the instructor one hour per week. Because students must enroll for individual studies by the end of the seventh class day of each semester, they should begin discussion of the proposed individual study preferably the semester before, so that there is time to devise the proposal and seek departmental approval before the registrar's deadline.
This course examines the impact of globalization on feminist discourses that describe the cross-cultural experiences of women. Transnational feminist theories and methodologies destabilize Western feminisms, challenging notions of subjectivity and place and their connections to experiences of race, class and gender. The course builds on four key concepts: development, democratization, cultural change and colonialism. Because transnational feminisms are represented by the development of women's global movements, the course will consider examples of women's global networks and the ways in which they destabilized concepts such as citizenship and rights. We also will examine how transnational feminisms have influenced women's productions in the fields of literature and art. Key questions include: How does the history of global feminisms affect local women's movements? What specific issues have galvanized women's movements across national and regional borders? How do feminism and critiques of colonialism and imperialism intersect? What role might feminist agendas play in addressing current global concerns? How do transnational feminisms build and sustain communities and connections to further their agendas? This counts toward the diversity and globalization requirement for the major. This course paired with any other .50 unit WGS course counts toward the social science diversification requirement. Prerequisite: Any WGS course or permission of instructor. Offered every other year.