Kenyon provides a range of diverse opportunities to help you experience and grow your spiritual life, including religious services, humanitarian interest groups and other meaningful activities.


Meet the Chaplains
Chaplains Marc Bragin and Rachel Kessler '04 lead Kenyon's spiritual and religious life community with the goal of helping students identify and explore their spiritual identities.
Hillel House
Kenyon College Hillel provides opportunities for students and the Jewish community around campus to explore Judaism and expand their knowledge of its traditions and culture.

Canterbury Kenyon
Canterbury Kenyon invites all students, regardless of religious affiliation, sexuality, or gender identity, to deepen their faith through the liturgy and theology of the Episcopal Church.

Thomas House
Thomas House is Kenyon's dedicated space for Muslim gathering and worship, including weekly Jumu'ah prayers.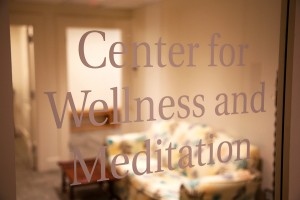 Located in the heart of campus, the Center for Wellness and Meditation is a welcoming space that invites the Kenyon community to rest, reflect and recharge.
An Interwoven Community 
The Kenyon Interfaith Partnership (KIP) connects communities of various religious and moral traditions and supports the programming of student organizations on campus. 
Canterbury Episcopal
Coalition for Christian Outreach
Harcourt Parish Episcopal
Hillel Jewish Life
Muslim Student Association
Newman Catholic
Quaker Meeting
Zen Buddhist Community