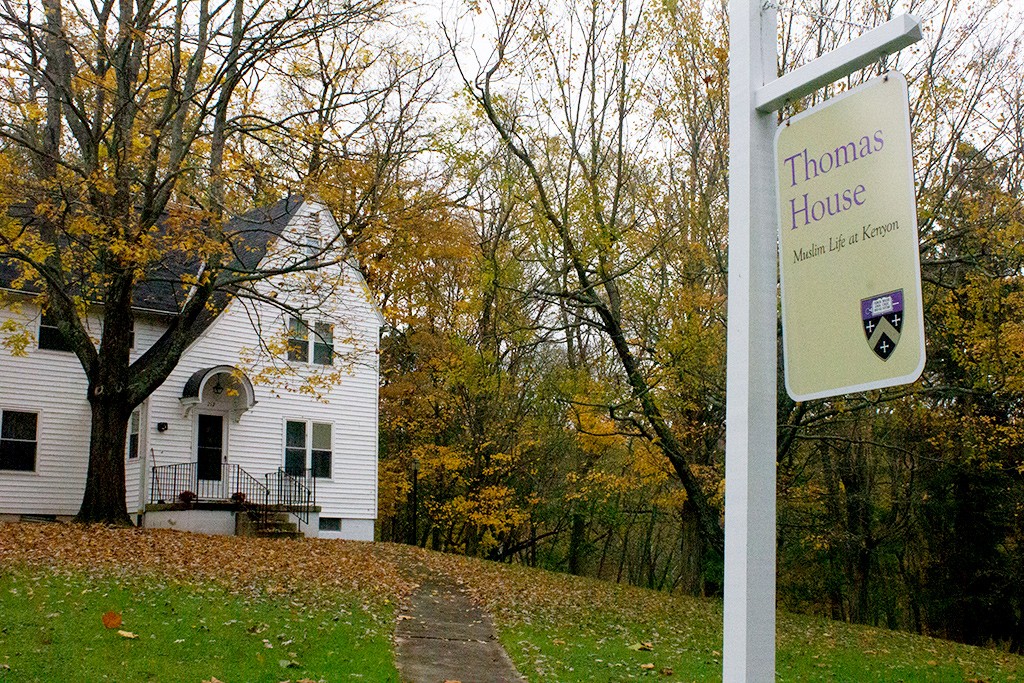 Mahnoor Fakhar '22 and Hanaa Ibrahim '22 have drawn comfort this semester from the peaceful setting of their new residence: Thomas House, Kenyon's first-ever space dedicated solely to Muslim life.
Nestled in a wooded area on the north end of campus, the former faculty residence was converted in 2019 to a community hub for Muslim religious life and became a housing option this fall. The two housemates co-manage the space, hosting events and conversations about Muslim life at Kenyon.
"Having a space where you know you are welcome and appreciated is vital for minority communities," said Fakhar, a physics major from Islamabad. "When you know there is a space you can go to find people of your faith, who understand your experiences, students are more likely to feel comfortable being themselves in the larger Kenyon community as well."
"We hope this space and what it brings to the college community will facilitate more discussion and awareness of the Muslim presence on campus," said Ibrahim, a psychology major from Gaza.
The designation of the space was borne from conversations among students in the Muslim Student Association (MSA), President Sean Decatur, Vice President for Student Affairs Meredith Harper Bonham '92, Professor of Mathematics & Statistics and MSA faculty advisor Nuh Aydın, and Marc Bragin and Rachel Kessler '04, the College chaplains and co-directors of spiritual and religious life. All were interested in increasing representation and inclusion of Muslim students on campus, in part by cultivating a physical space for the Muslim student community.
"It's really important to seek representation in physical manners sometimes. With an increasing number of Muslim students on campus, establishing a space where they can feel represented and welcomed is a key factor in empowering them and amplifying their voices," said Ibrahim, who has been active in sharing her experiences as a Palestinian student since first arriving at Kenyon.
Previously, Muslim students and community members held weekly Friday/Jumu'ah prayers in the Prayer and Meditation Center under the Village Inn. Thomas House, dedicated specifically for Muslim religious life, offers a larger room for prayers as well as a community gathering space, a kitchen to cook meals and an office space for an eventual Muslim chaplain. The spacious lawn of the home can be put to good use for hosting events celebrating Eid and Ramadan, Fakhar and Ibrahim said. In one of their first events as co-managers and residents, they invited the campus community to join them in decorating the house's porch for fall.
Kessler noted that while the space is dedicated for Muslim religious life, the wider community also will benefit.
"The goal of the Office of Spiritual and Religious Life is to give every student the space to live fully into their faith tradition and to explore other traditions as well. One of the gifts of being at a place like Kenyon is coming into close relationships with people from a variety of faith perspectives," she said. "While we have several groups on campus that identify with a particular religious practice, we encourage students involved with religious life to learn from one another and explore traditions that are not their own."