The Kenyon English major prepares our students for a lifetime of meaningful work and rigorous thinking. Nationwide, studies show that English majors are employed at rates similar to other college graduates. At their career peak, their salaries are in line with college graduates across disciplines. Our major prepares students to be capable close readers, meticulous researchers, generous collaborators, eloquent and persuasive writers, and empathetic global citizens — all qualities surveys show top employers seeking. As a result, Kenyon English majors pursue a variety of fulfilling careers. Here's a sampling of some of them:
Communications Specialist

Amy Shirer '18 secured a post-graduation job in communications at a Fortune 500 company. After completing a job shadow with Eileen Lehmann '86, then internal communications director at Cardinal Health, in Columbus, Ohio, she was recommended for an internship. That experience earned her a full-time communications position, where she now works as a senior specialist.

Making Space

A Fulbright in Italy helped English major Jameyanne Fuller '14 realize her desire to go to law school. After graduating from Harvard Law School in 2019, she landed a job in the Satellite Division of the Federal Communications Commission, working as a space lawyer. In addition to practicing law, Jameyanne writes young adult fantasy and science fiction and is a member of the Society for Children's Book Writers and Illustrators.

Doing the Research

Participating in the Honors Program in English for his senior thesis helped Grant Miner '19 solidify the skills he needed to embark on a Ph.D. program in English and comparative literature at Columbia University. His favorite part about academia so far? Getting "to actually be able to touch old books!"

A Poetic Fit

For Ky Lohrenz '20, a pre-orientation workshop with Assistant Professor of English Andy Grace sparked a passion for verse. "Five years later I've ended up with both a degree and a job in poetry," said Lohrenz, who now works as an advertising and marketing assistant at the Academy of American Poets. After years of celebrating and setting up events for National Poetry Month (April) as a Kenyon Review associate, they now get to help organize it from behind the scenes.
First Jobs
Litigation paralegal, Paul, Weiss, Rifkind, Wharton & Garrison, New York
Program analyst, National Institutes of Health, Bethesda, Maryland
National organizer, Earth Day Network, Seattle
Assistant, State of Florida, Federal Policy Officer of Governor Jeb Bush, Washington
Assistant literary manager, American Place Theater, New York
Editorial assistant, Tate magazine, London
English teacher, Carlisle School, Martinsville, Virginia
Press associate, Kennedy Center, Washington
Editorial assistant, Carnegie Mellon University Press, Pittsburgh
Analyst, Deloitte Consulting LLP, New York
Teacher, Teach for America, Miami, Florida
Teaching intern and coach, Northfield Mount Hermon School, Mount Hermon, Massachusetts
Deckhand, Sea Education Association
Financial analyst, Wells Fargo, Palo Alto, California
Publicity assistant, Penguin Group (USA)
ICM Partners talent agency, Los Angeles
Intern, Laura Gross Literary Agency, Boston
Editorial intern, Oxford University Press, New York
English teaching assistant, Fulbright Fellowship, Various countries including Mexico, Turkey, Jordan
Intern, GREY Advertising, New York
Teacher, Teach for America, Tulsa, Oklahoma
Editorial intern, Norton Critical Editions, New York
Episcopal Service Corps, New Haven, Connecticut
Resident, Urban Teachers
Columbia Publishing Course, New York
Elementary teaching fellow, KIPP Columbus
Secondary school teacher, Teach for America, New Mexico
Princeton in Asia, Chiang Rai, Thailand
Careers
Novelist
Sales agent, Cinetic
Co-president and chief programming officer, SXSW
U.S. district judge, United States Courts, Toledo, Ohio
Chief speech writer, Mayor of Chicago, Chicago
Editor, Bloomberg News, New York
Captain, United AirLines, Inc., Palm Springs, California
Vice president, Digital Mastering: Sony Pictures Entertainment, Culver City, Colorado
Former dep. chief staff-operations, The White House, Cincinnati, Ohio
Editor, National Wildlife Federation, Kensington, Maryland
Head teacher, The Gateway School, New York
Director of global brand marketing, Mailchimp
Assistant professor of English, Westminster College
Architect, Blake H. Held AIA Architect, Honeoye Falls, New York
Neurologist-physician, Ozarks Comm. Hosp., Self Employed, Nixa, Missouri
Vice president, Humanities Academic Design, McGraw-Hill Education
Professor of law, Albany Law School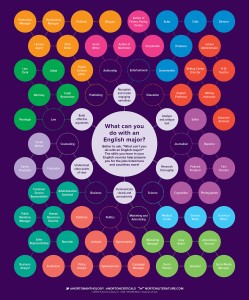 What can you do with an English major?
The skills you learn in you English courses help prepare you for countless careers and represent what employers are looking for:
Oral communication
Teamwork skills with diverse groups
Written communication
Critical thinking and analytic reasoning
Complex problem solving
Ethical decision making 

For George Stone '95, editor-in-chief of National Geographic Traveler, the world is his office.