You've seen the poster: a woman in a red bandanna and a blue work shirt flexes her bicep with the words "We Can Do It!" in a speech bubble above her head. Despite the iconic image of Rosie the Riveter, the real-life "Rosies" who contributed to the U.S. war effort in the 1940s — and who are now recognized annually on March 21 — still have no national memorial in Washington, D.C., dedicated to their efforts.
Raya Kenney '25, an art history major from D.C., is changing that. What started as a school project in fifth grade has inspired federal legislation, earned Kenney a seat at the State of the Union, and launched a fundraising campaign to make the National Memorial to the Women Who Worked on the Homefront a reality.
"I want people to learn about Rosie the Riveters. Because even though I've worked on this project for a decade, I keep learning new things," Kenney said. "These women completely changed the course of history for women in the workforce."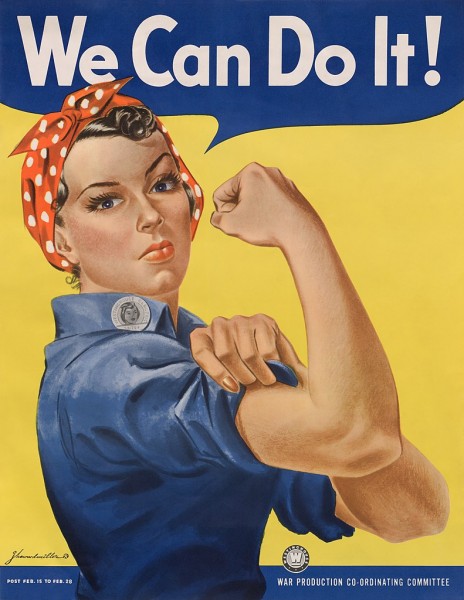 Thus far, the most significant step has been to gain authorization to build the memorial on federal land, which was included in the Consolidated Appropriations Act passed by Congress and signed by President Joe Biden in 2022. Kenney worked with her congresswoman, Eleanor Holmes Norton, to pass the bill in the House, while Senator Tammy Duckworth of Illinois sponsored the legislation in the Senate. To recognize her years of work on the project, Norton invited Kenney to attend Biden's 2023 State of the Union address as her guest.
"Raya is an exceptional person. She does not allow perceived limitations or bureaucratic roadblocks prevent her from pursuing her goals," said Assistant Professor of Art History and Asian and Middle East Studies Brad Hostetler, who is Kenney's faculty advisor. "She has been working on this project well before her time at Kenyon, but I have seen Raya's unique determination to take initiative on all sorts of projects, both in the classroom and our department."
Kenney's art history major aligns with her interest in memorializing the Rosies through a physical monument. "Visual analysis is a cool tool to have," Kenney said. "Learning how people have perceived history through art is really interesting." Tentatively, the memorial would consist of a series of granite pillars representing different jobs held by women during the war effort, arranged in a "V for victory" formation.
"There was never a question in my mind that it was going to happen," Kenney said. "Of course there were moments where I was like, 'Why am I doing this? This is taking forever.' But the ultimate goal is to get these women recognized. And keeping them in mind, I was able to maintain a sense of certainty."
With one major hurdle cleared, Kenney is now working on the long, complex process of fundraising for the memorial, since the authorization legislation does not appropriate any federal funds. Then there's the matter of determining where in the District it will be placed and what the final design will be, which requires close coordination with multiple agencies. Kenney's goal is to build the monument in the high-profile area directly adjacent to the National Mall, but with many ideas for development competing for that prime real estate, doing so will require additional legislation.
"Memorials act as important signifiers of a nation's shared values," said Austin Porter, associate professor of art history and American studies. "Those sited on public land, such as the National Mall, hold a particularly rich resonance as this space is often thought of as the nation's 'front yard.' Thus, the inclusion of Raya's project will elevate the role of women workers during the war alongside other memorialized individuals, groups and events."
As a full-time student who has spent a decade advocating for her idea and is gearing up to spend several more years actually getting the project built, Kenney is not one to shy away from a challenge. "I want to highlight how few women are represented in the National Mall space. While the likelihood of that being accepted is slim, I have decided to shoot for the stars anyway," she said. "I hope that getting the memorial built might inspire younger generations to also do this sort of work."