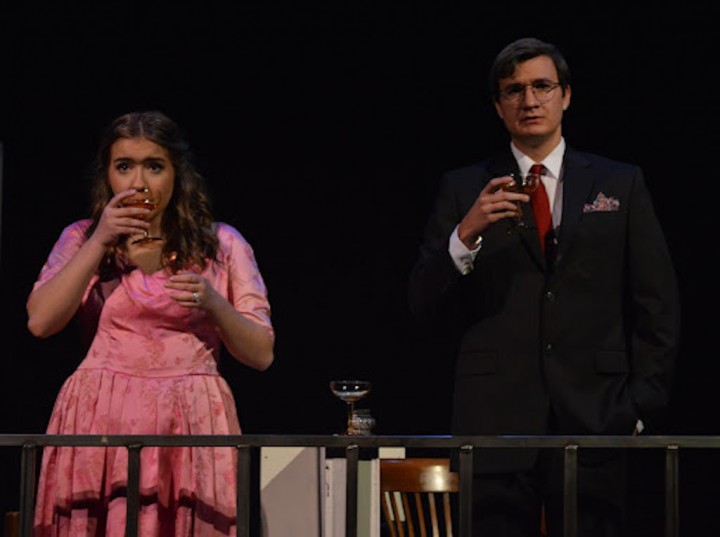 Performing as Sybil Chase in the KCDC production of "Private Lives" my first semester (Photo by Zoe Miller '23)
When I got to Kenyon last year, I was thrilled by the possibilities of involvement on campus. Coming from a small school where I only did our annual play and musical and choir, here, the world was my oyster. I joined an a cappella group and acted in three plays and a staged reading, doing hair and makeup for another show, all in one year. Every day was completely packed. I had class and show rehearsals and a cappella practice, often back-to-back. I found so much joy in all of these things but, ultimately, I became pretty overwhelmed. After our spring concert, I announced that I would be leaving the a cappella group. I decided to take a break from theater for a little while. I was not going to overcommit my sophomore year.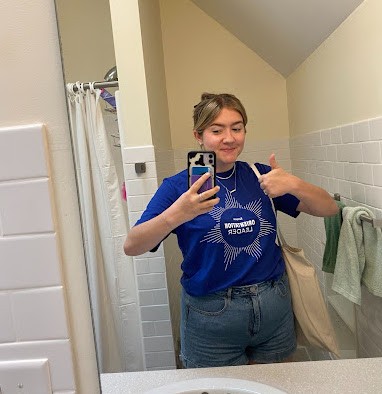 My third semester rolled around and I moved back onto campus early, in mid-August. I had been selected as an Orientation Leader just a few months earlier, and was thrilled to follow in the footsteps of the people who guided me through my very first weeks at Kenyon just a year before. I was assigned ten first-years to advise over the course of one week, meeting with them up to three times a day to discuss a wide range of topics, from picking classes to graduation requirements to making friends. Every day, I ran around from meeting to meeting, and I was having a blast. I made really strong emotional connections with my group and other orientation leaders. I was with the big dogs now, no longer an inexperienced first year.
Then, all of a sudden, orientation was over. Classes began. My friends moved in. Extracurriculars started and, newly a capella-less, I participated in zero of them. Every day, I went to class, got meals with my friends, and did my homework. And, to be honest, I got really bored. Nothing was new anymore: I already knew all of the best (and worst) things at Peirce, I knew the best study spots in Chalmers, and I was hanging out with the exact same people every day. I was in a total rut. I resolved that sophomore year was just the year for boredom; for settling into the mundane. The first year was for discovering yourself, junior year for studying abroad, and senior year for theses and senior traditions. What did that leave for sophomore year, besides declaring my major? I accepted this mundanity for a few weeks, allowing myself to coast along. But, after a while, I knew I needed a change. I was not going to let the sophomore slump get to me.
I joined Her Campus Kenyon, a publication for female writers on campus to pen creative articles and post them online as part of a larger national organization. I get to write about whatever I want, from my favorite social media stars to the latest all-campus party. Through Her Campus, I made new friends and get to discuss my interests with them every other week. Soon, I'm hosting a brunch for all of us! It's been a great, low-commitment way to create and connect with people with similar interests.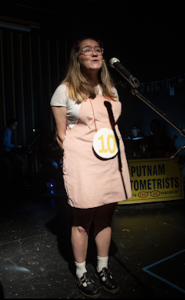 To further spice things up, In September I auditioned for Kenyon College Players' production of "The 25th Annual Putnam County Spelling Bee." I was cast in my all-time dream role, Olive Ostrovsky (photo by Amanda Kuo '26). Through the show, I found new friends in my castmates and in the crew: we formed a sort of family as a company, and I was able to get to know people I never would have met were it not for the show. We sold out every single show. It was incredibly rewarding, and I was able to commit the time the project deserved because I wasn't balancing a bunch of other things.
This semester taught me that college is what you make of it. With so many opportunities in extracurricular activities, you can make your own unique experience. It just takes some trial and error. Something I love about Kenyon is that it might be small, but there is always something to do or get involved in. Sometimes, it's easier to sink into a mundane routine, but exploring is always worth it. Just because there isn't as much specific programming for sophomores as for first-years and seniors doesn't mean that this year has to be boring. College may be a four-year commitment, but most extracurricular activities aren't. It's all a balancing act, and it can be really difficult. But it's also incredibly rewarding. At the end of the day, trust your gut and put yourself first.