This school year was my first real exploration of acting on-screen. I moved in with a new roommate this year, Mollie, who happens to be a film major. And a super involved one, at that. Before I knew it, I was acting in her projects. And then other film majors were reaching out to me. By the time I packed up to go home for winter break, I counted appearances in eight different short films throughout the semester. I decided that the next semester, I would be focusing more on on-stage acting and taking a break from the camera.
That was until I saw an audition notice for a senior thesis film: "IUDemon." It was a film inspired by the recent U.S. Supreme Court overruling of Roe v. Wade, and it was about a girl and her evil singing IUD. I signed up as fast as I could, hoping that the role could showcase both my acting and singing abilities. I auditioned, I got a callback (for which I sang an incredibly dramatic rendition of Adele's "Hello") and I got the part! I was over the moon. The entire team met for lunch soon after. We discussed the director Ali Bianco's vision for the piece, and the scenic designer Sara Tomasi's ideas for the crocheted set. Eventually, makeup came up. I mentioned that I have a lot of experience in makeup, and brought up how I did drag in my spare time. The table lit up: what if my character, Damim the singing IUD, was in drag? Ideas were flying.
Over winter break, I did my drag makeup and sent pictures to Ali for approval. When I came back to campus in January, I was so excited to begin the process. I attended a few rehearsals of the Owl Creek Singers, an a cappella group on campus, to practice my songs with them since they were going to be performing the accompaniment behind me in the film. I got to meet so many talented people and had a blast singing Bonnie Raitt and Adele song parodies about blood and contraception with them. Before shooting, I even got to record the songs in the WKCO recording booth!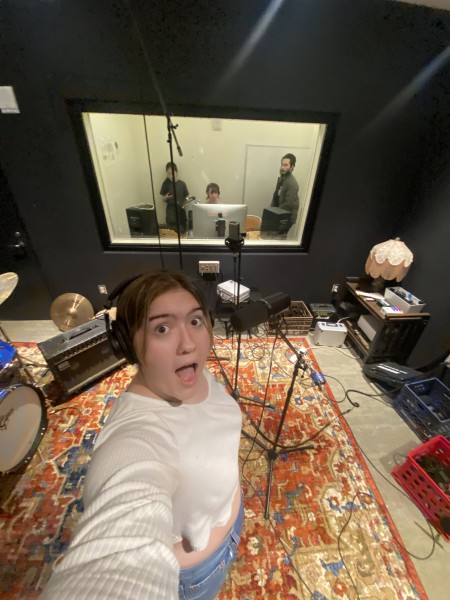 A few weeks into the semester, it was finally time to start shooting. One of my best friends, Alex, was playing a role in the film, and she drove me and our cast mates to set in her minivan. We shot in Ransom Hall, the off-campus Wright Center and Allen House. At the beginning of the film, I make a cameo as a pregnant woman in the gynecologist's waiting room. We made our own waiting room in an unused part of Ransom Hall, and I got to wear a fake pregnancy belly. My roommate Mollie was in charge of lighting my belly.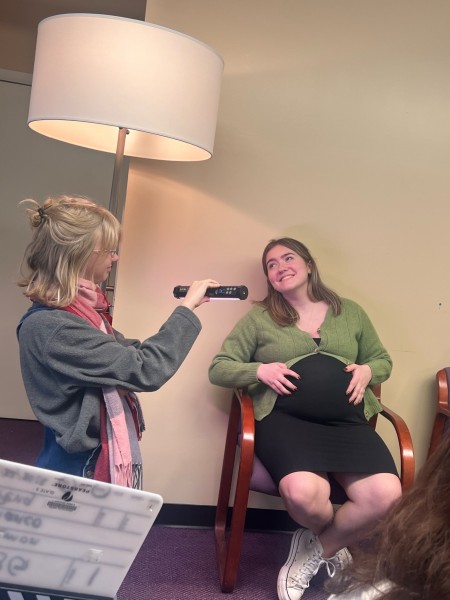 Finally, we moved production to the Wright Center. The crew put up a giant uterus on the soundstage, my castmates and I got ready in a dressing room, and Ali even brought us snacks! The set was swimming with crew members: all of which were female-identifying, something Ali made sure of going into production. We took all kinds of takes and filmed over multiple days to create the scenes. It was an incredibly educational experience: I learned so much about film and screen acting. I had to choreograph my every move in my singing portions for continuity across takes—a challenging shift from my previous work on stage. And (of course) I looked absolutely stunning in my drag makeup!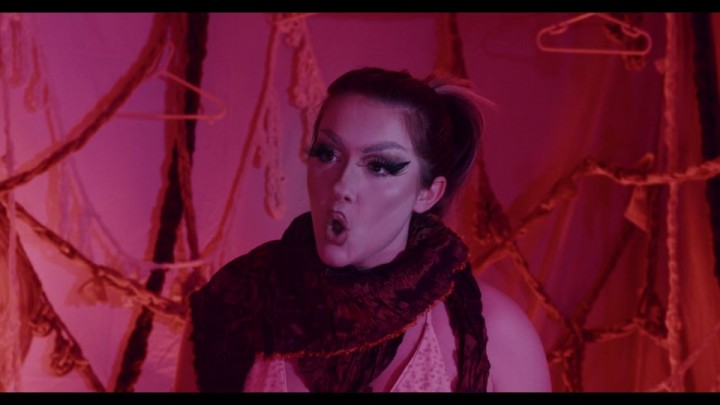 The film premiered with all of the other senior film theses on the last weekend of classes. Ali and the whole team did such an incredible job putting it all together. I even won an award for "Best Supporting Actress" at the student-voted Drama, Dance, and Film awards, and IUDemon won "Best Picture."
When I think about this experience, I think about how unique Kenyon is. I think about the school I almost went to; the school I juggled with Kenyon for a whole month of my senior year of high school, and I wonder if I could have done something like "IUDemon" there. And I can confidently say that I couldn't have. Only at Kenyon could I combine three of my passions: singing, acting, and, most uniquely, drag. I can not only be my truest self here, but can be celebrated for it as well. I am constantly surprised here at Kenyon at how much I can accomplish: in just two years, I've engaged in so many different projects, made incredible friends and felt comfortable being myself. When I was at my tiny Ohio high school, I couldn't have imagined living these experiences. And for that I am forever grateful.