Karl Slatoff '92 sees ripples from his time as a championship swimmer at Kenyon throughout his impressive career. The skills he learned in and out of the pool translated to success in business, which allowed him and his wife, Yvette, to make a multimillion-dollar gift for the first-ever endowed coach position at Kenyon, for swimming and diving.
"I'm 100% convinced that were I not a Kenyon swimmer, I wouldn't have landed my first job in finance, my next job in the entertainment industry, and I probably wouldn't have gotten into my business school — Kenyon swimming was a central piece of my story and the small role I played in our success gave me a significant edge," said Slatoff.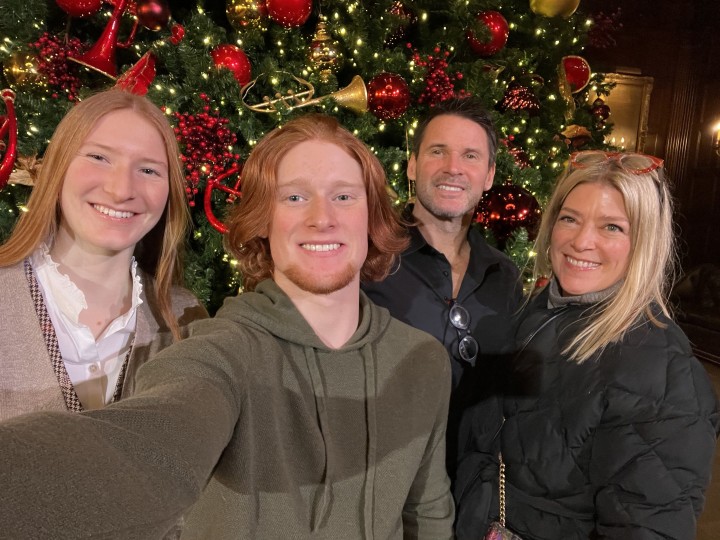 Slatoff, an English and economics major at Kenyon, has an MBA from Harvard and held positions at Lehman Brothers, the Walt Disney Company, and BMG Entertainment prior to his current positions as managing partner of the private equity firm ZMC and president of video game giant Take-Two Interactive Software.
In giving to create the endowed position, the Slatoff family will permanently memorialize the championship legacy of Lords and Ladies swimming, while honoring the new athletics moniker as voted upon by the wider Kenyon community in 2022.
Current coach Jess Book '01 will now hold the title of Lords and Ladies Alumni Head Coach, Owls Swimming and Diving. "It's an homage to the past and also looks to the future; it was very important to include both," Slatoff said.
Slatoff, a 50-yard freestyle specialist, was a member of four NCAA and NCAC championship teams, a three-time NCAA champion, an NCAA record holder, an eight-time NCAA all-American, and eight-time NCAC champion.
He has fond memories of legendary Coach Jim Steen's approach of all swimmers training together for much of the season, regardless of their specialties. "All 50 of us were trying to survive the same practice at the same time, which was an incredible bonding experience. Being part of the 'Coachman' system of transforming a sport based on individual performance into one that flourished through teamwork was a lifelong lesson in leadership."
Much like endowed chairs for faculty, the Slatoffs' gift ensures a permanent funding source for the swimming and diving head coaching position. The gift will be invested along with the College's endowment with the income used to fund the head coach position.
"As a former Lord who now coaches Owls, I'm honored to be the inaugural holder of this endowed coach position. I appreciate Karl's vision and generosity in creating this opportunity to honor the past and future of our remarkable program," said Book.
Jim Parker, a member of the Kenyon Board of Trustees and himself a former swimmer who is also tri-chair of the Our Path Forward to the Bicentennial campaign, lauded Slatoff for his investment in ensuring Kenyon's swimming and diving excellence. "From the beginning, this campaign has been about building a strong foundation for Kenyon's third century in the many areas that make us distinctive. I commend Karl for choosing to align his own love for Kenyon swimming with his philanthropic vision. I'm also looking forward to working with him on the Board," Parker said.
The Slatoff family's gift comes during a larger effort in support of the program, which will be celebrated at a swimming and diving reunion on campus September 8-10. (Registration closes September 1.)
The weekend will feature the Hall of Fame ceremony for Teresa (Zurick) Fish '88, Read Boon '03, Agnese Ozolina '04, and Andrejs Duda '06, in addition to a special evening to honor Steen's legacy as he is inducted into the Hall of Fame.
A separate Swimming & Diving Pursuit of Excellence Endowment Fund has been established in honor of the occasion, to significantly enhance the resources available for the team. While the Kenyon athletic teams are fully funded by the College, the new endowed fund will increase resources for the team to train and compete at the highest level possible. To learn more about supporting the fund, contact Kim Wallace at wallace1@kenyon.edu.
"I've always had a desire to show my gratitude to Kenyon and when the swimming angle came up, it all fell into place; there was no other school on the planet that would have served me as well in my career as Kenyon," Slatoff said.