Flying may be for the birds, but the question of why their flight muscles sometimes develop differently in males and females, that's for Natalie Wright.
The assistant professor of biology has studied differences in the flight muscles of a variety of birds and was captivated by the fact that males had larger muscles in many — but not all — species. To help her take a more comprehensive look at the issue, Wright recently received the distinguished CAREER award from the National Science Foundation.
The grant — which recognizes early-career faculty members who are committed to both research and teaching — will help her examine at least 1,000 species over the next five years and comes with more than $766,000 in funding.
Wright's project is titled: "The evolutionary causes and functional consequences of sexual dimorphism in flight muscle size in birds."
In addition to the central question of how widespread these sex differences may be, there is the challenge of trying to predict which types of birds are more likely to exhibit them and what kind of behavior may explain it.
Maybe it is the result of one sex taking part in mating rituals involving fancy flight? Or being brightly colored and having a greater need to escape predators? Perhaps it's related to the role each sex plays in parenting — that's Wright's best guess.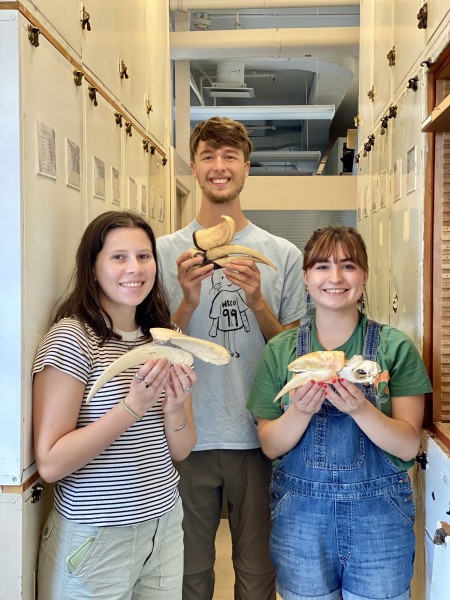 "One of my previous students who graduated a year ago, Jonah Dominguez '22, kind of started to piece this together with a couple hundred species of birds where he found that the mating strategy and the parental care strategy of the species seem to predict dimorphism," she said. "If one sex did all the parental care, the other sex was more likely to have large flight muscles"
Documenting these differences will involve painstaking examinations and measurements of bird skeletons from museum collections across the county. But searching for reasons behind these differences is only part of the goal.
"The other part is to understand how these differences actually affect what the birds can do," Wright said. "In aerodynamic theory, (larger flight muscles) should provide more power, they should provide for faster acceleration, probably a faster takeoff. But that hasn't actually been directly tested very much."
So students will continue experiments testing the flight of house sparrows from central Ohio, a species where males have bigger flight muscles than females. Wright will look to duplicate them with birds that have no sexual dimorphism, such as kingfishers, as well as species where females have larger flight muscles.
The NSF award will allow her to scale up the scope and speed of her current research.
"What it lets us do is amazing," she said. "Having this grant lets me buy more really nice high-speed video cameras. It lets me fund many more trips to museums. This will let us go all over the U.S. to a variety of museums to get data on many types of species."
It also will fund a postdoctoral researcher, a summer intern from Mount Vernon High School and educational programming for area schoolchildren at the Science Play-Space Initiative (SPI) at the Wright Center, Kenyon's film center and community hub.
"My comparative vertebrate anatomy course will be working with SPI to design educational materials that SPI can use. And I'm hoping to have students actually volunteer at SPI," Wright said.
The grant is a testament to Wright's skill as a researcher and educator, Acting Provost Sheryl Hemkin said.
"Over the past years Natalie has shown herself to be an impressive teacher-scholar, and it is great to see her work honored with a CAREER award," she said. "This award will not only help bolster her scholarly work, but will help her share knowledge with the larger Kenyon and Knox County community by enabling Kenyon students to hone their research skills in her laboratory and facilitate science programming for the local community through SPI."
Wright becomes the fourth faculty member to be a recent winner of the illustrious award. She joins:
Sarah Petersen, Ashby Denoon associate professor of neuroscience (2020)
Madeline Wade, Harvey F. Lodish Faculty Development Professor of Natural Sciences (2019)
Aaron Reinhard, associate professor of physics (2017)
That's a serious accomplishment for the College, according to William Billiter, executive director of Strategic Initiatives & the Office for Sponsored Faculty Projects.
"It's unprecedented for a small college like us to have so many CAREER grants," he said. "It's extraordinary for a liberal arts college of this size."
Wright, who also is a member of the Village of Gambier Council, said she officially learned of the award while in Washington, D.C. conducting research with students at the Smithsonian National Museum of Natural History. Their reaction?
"The students had an impromptu dance party in the collection," she said. "They were really excited."