A new director will join Kenyon's Office of Diversity, Equity and Inclusion (ODEI) beginning near the end of this semester. Lynn Hampton, who is currently an assistant professor of professional practice and adjunct professor of sociology at Texas Christian University (TCU) in Fort Worth, will begin her position at Kenyon on Dec. 12.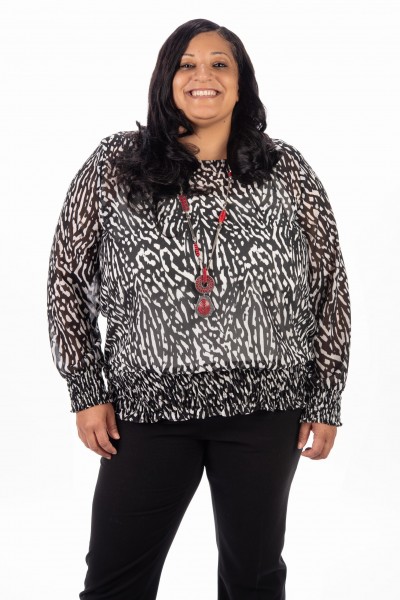 "I was drawn to Kenyon because of the intellectual community of engaged learners, dedicated and passionate scholar-teachers, and a committed staff of higher educational professionals who are clearly invested in the academic and professional success of their students," Hampton said. "I'm looking forward to expanding upon the great endeavors that are already underway in the DEI realm, and plan to continue to build more inclusive communities where everyone has room to collaborate and flourish."
"Dr. Hampton is an experienced social justice educator and mentor who brings a wealth of knowledge on diversity, equity and inclusion initiatives," said Dean for Diversity, Equity and Inclusion Chris Kennerly, who leads ODEI. "Dr. Hampton also has a strong background in facilitating workshops on DEI issues and creating inclusive learning communities that are responsive to underrepresented students. Students who met with Dr. Hampton during her visit are excited about the opportunity to work with her upon her arrival in December."
Vice President for Student Affairs Celestino Limas added, "Dr. Hampton made an immense impression on students and colleagues throughout the interview process, and her robust experience is a perfect fit for Kenyon as we amplify our DEI efforts in accordance with the Collegeʻs strategic plan. Our community is quite fortunate to have her joining us."
Getting to know the Kenyon community and developing deep relationships across campus will be Hampton's first goal at ODEI. "The key to creating more diverse, equitable, and inclusive campuses takes a collaborative, strategic approach," she said. "This can't be done without investing substantial time in building a climate of trust, in which the values of authenticity, courage, humility, and empathy are at play."
Hampton has over 15 years of expertise in the design, implementation, and assessment of student development-related programs, curricula, and instruction. At TCU, she helped launch a new program in comparative race and ethnic studies. She also made a splash by developing a course titled "Beyoncé and Intersectionality," which uses the "artistry, musicianship and feminism of Beyoncé … as a catalyst to help students explore deeper issues of patriarchy, racism, classism and sexism," according to Hampton.
"I will be spending 100% of my time working to ensure the success of ODEI," Hampton said. "However, if the opportunity arises, I would welcome the privilege of teaching the "Beyoncé and Intersectionality" course at Kenyon. In my experience, it can be a powerful way to equip students with tools, knowledge, and resources to dismantle systems of oppression — teaching them to use their power and privilege to advocate for greater change."
A native of Los Angeles, Hampton holds a bachelor of arts in political science and Africana studies from Wellesley College, and earned a master of arts and doctorate in sociology at Vanderbilt University. Prior to joining TCU, she was an assistant professor of sociology at Middle Tennessee State University.