During his time at Kenyon, Dannie Lane '22 served as a student photographer for the Office of Communications. Here, he shares ten favorite shots from his time behind the lens in Gambier.
Across my three years of photography in Gambier, I learned a lot about photography and myself. Kenyon was the perfect place for me to learn as a student, worker, and independent artist. To bookend my time on campus, here is a closer look at ten of my favorite photos. I could write about hundreds of images, but I'll limit myself to just ten.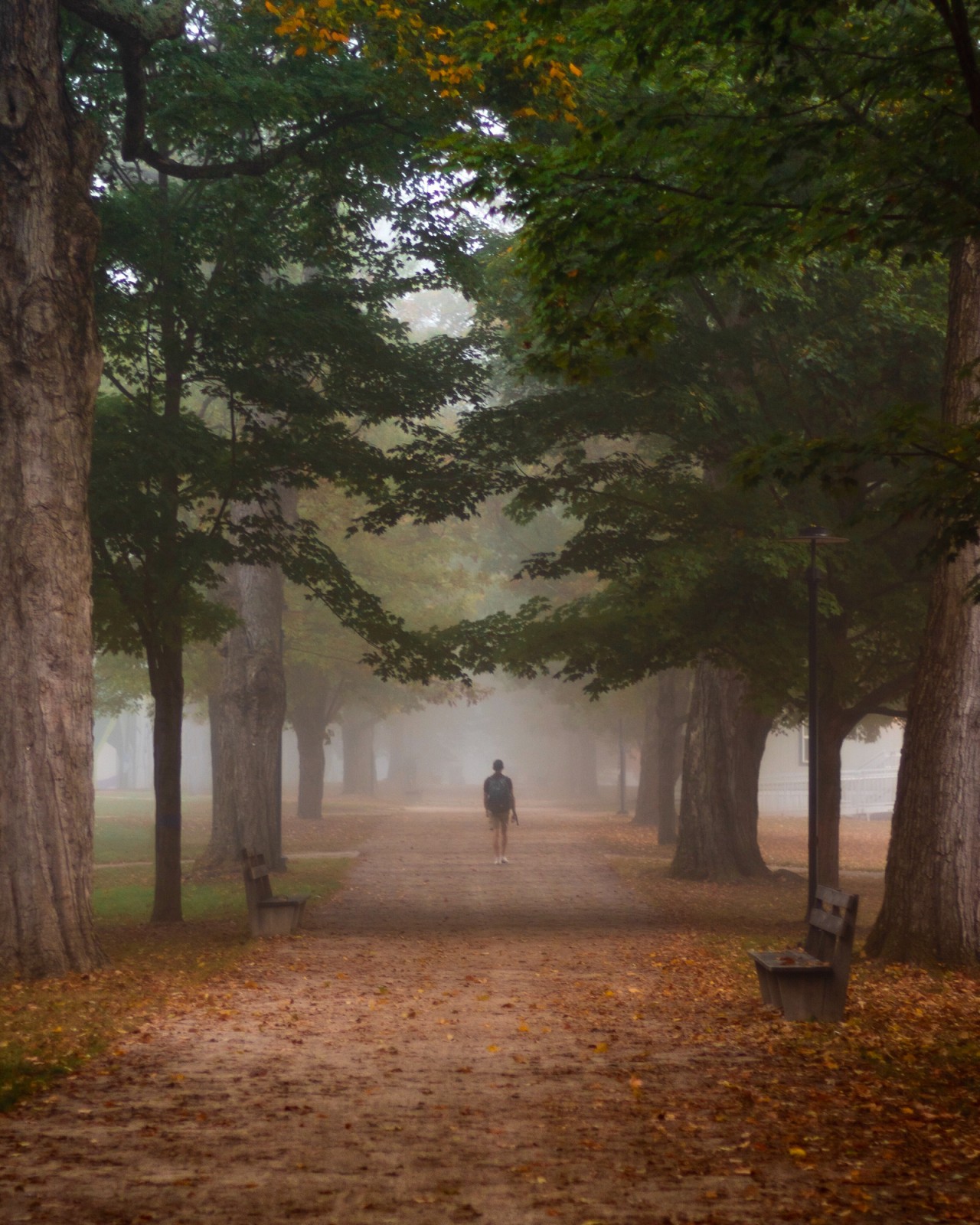 1 - FOGGY MIDDLE PATH
October 3, 2019 at 7:27am
ISO 100, f/1.8, 1/30s, 50mm, Manual Focus
During the summer between my freshman and sophomore year, I got my first DSLR camera. In the fall of 2019, I started to figure out how to use the camera, and, boy, was it a struggle sometimes! As a beginner, my eagerness certainly outweighed my skill. There were plenty of mistakes along the way, including, ironically, this image. In my inexperienced haste and overly excited fervor about fog, I neglected that my camera was somehow in manual focus. Capturing this image was absolutely pure luck! Both the image right before and right after were completely out of focus. This was my first image of campus that I felt was good. I had a taste of what was possible, and, from then on, it was just a matter of figuring out how to get there.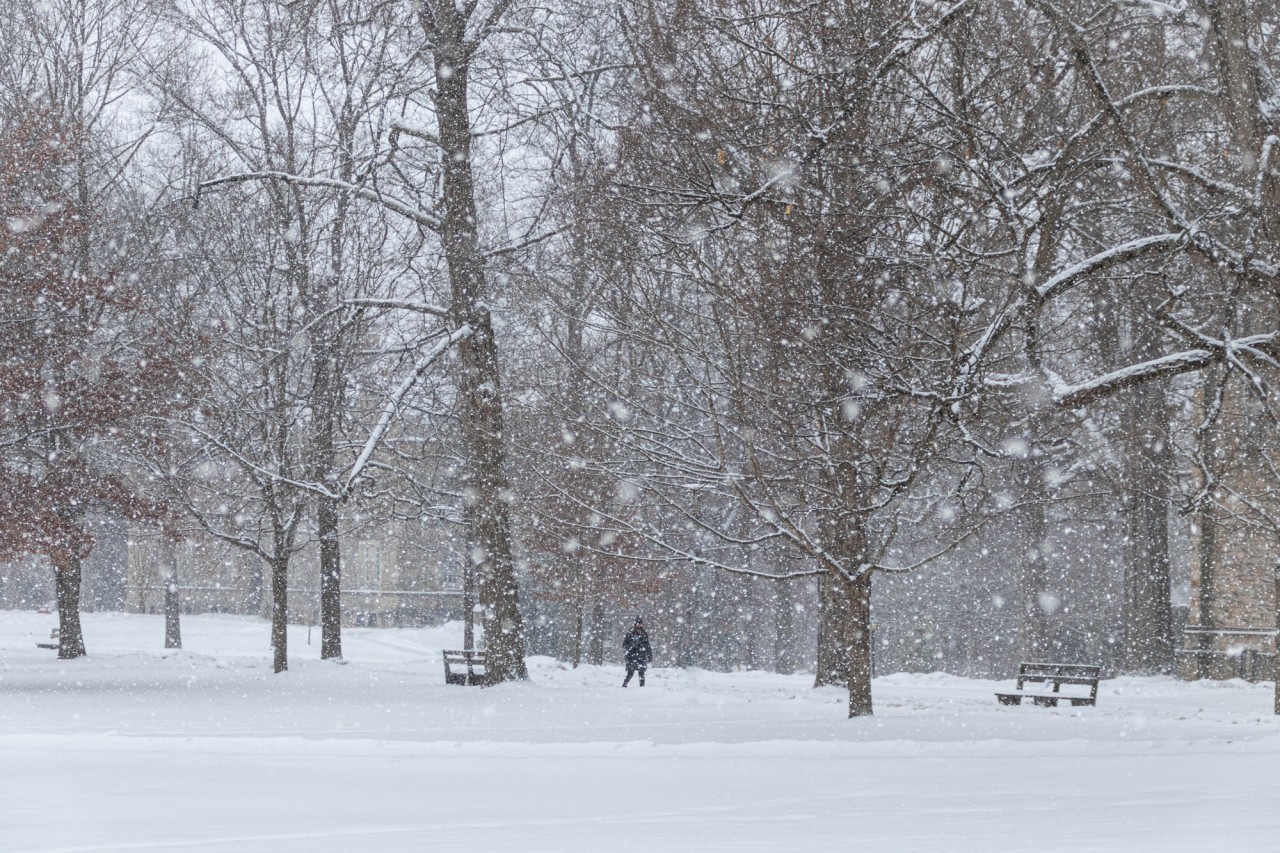 2 - WALKING IN A BLIZZARD
February 16, 2021 at 9:45am
ISO 200, f/5.6, 1/640s, 76mm
Only a few months after I began photographing, the COVID-19 pandemic began and I had to leave campus. After being away for close to a year, I was excited to return in spring 2021. During those first few weeks of the spring semester, students were still in pseudo-lockdowns, with some isolating or quarantining. With the addition of a series of winter storms, most days campus felt empty. In this image, I tried to capture that beautifully chaotic, trudging lonesomeness. When I look back at this picture, I'm reminded both of how isolating that time was and how wonderful it was to walk along Middle Path again. I entered this image into the Kenyon College Winter Snapshot Competition held in Mather Hall, where it won Jury's Choice First Prize.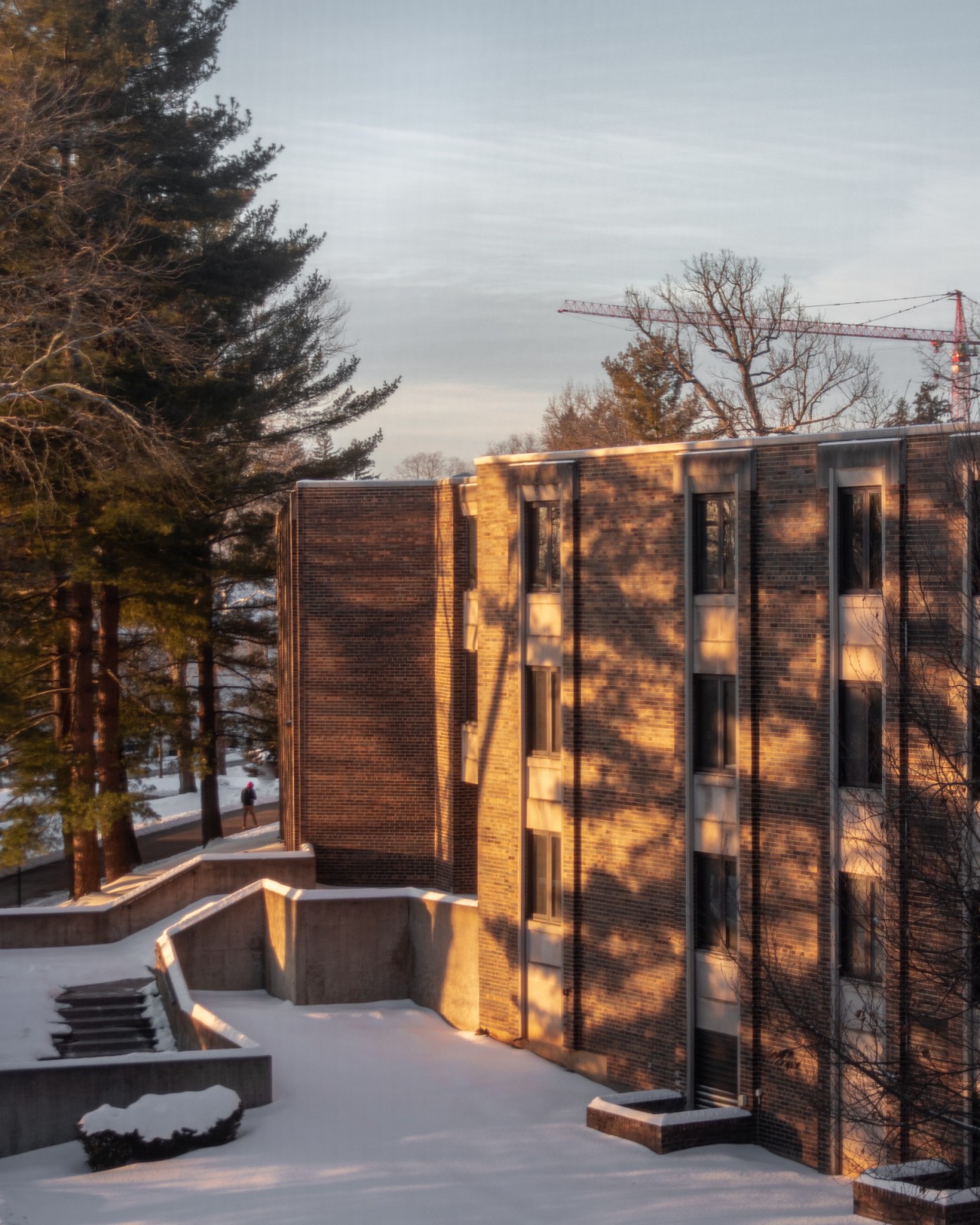 3 - THE VIEW FROM MATHER 405
February 17, 2021 at 8:54am
ISO 200, f/5.6, 1/160s, 45mm
That spring was my third year in a row living in Mather Hall. During the height of the quarantine, windows took on a much more important role than before—they were our gateway to the outside world, a way to escape being shut inside. I took many photographs outside this window that spring, documenting the birds that came by, sunrises, sunsets, and this shot of my good friend Will Spohn '22 walking from Mather to Pierce one morning.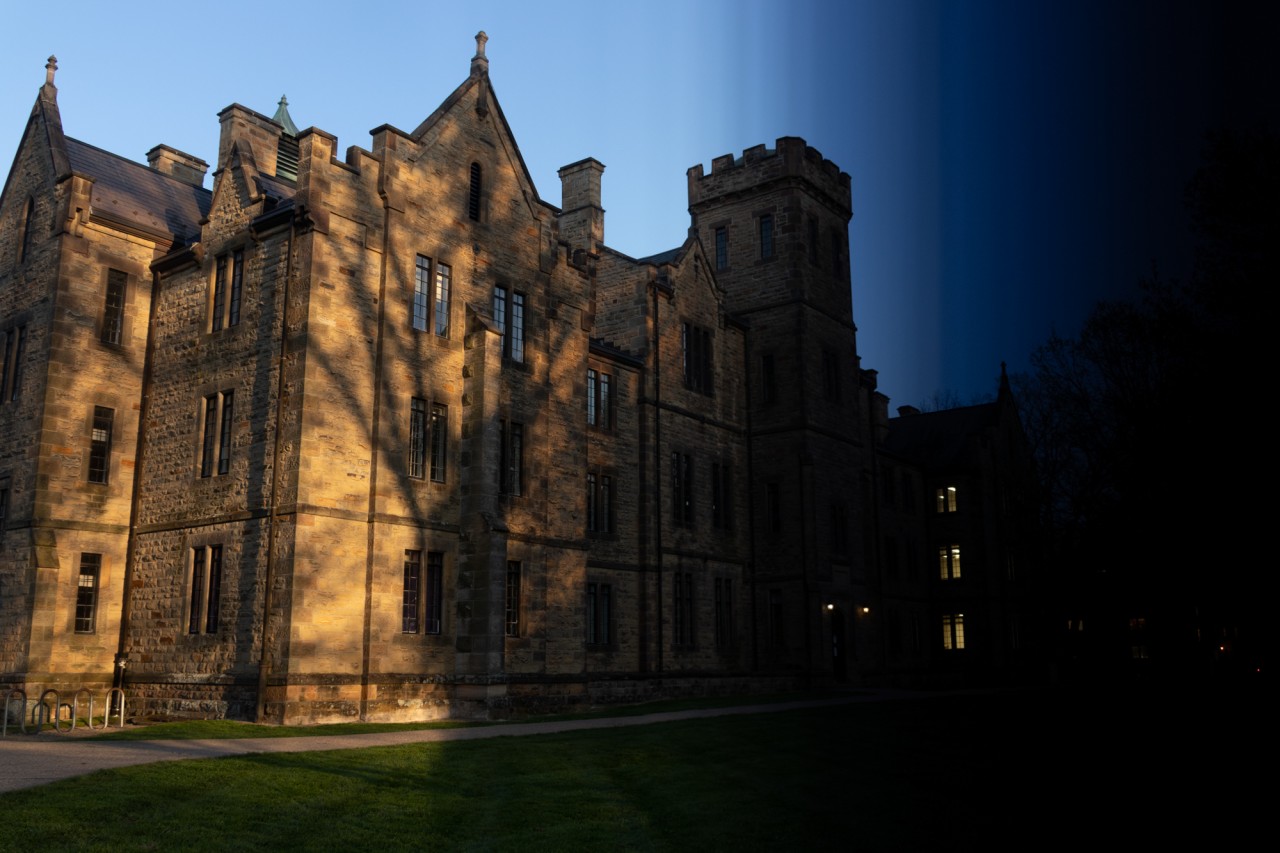 4 - ASCENSION (TIME SPLICES)
Photoshop Composite
Edit finished April 25, 2021
Shot April 23, 2021 from 7:32pm to 8:45pm
ISO 100 - ISO 400, f/7.1, 1/100s - 1/15s, 20mm
As half of an independent final project for a photography class, I made a series of seven timelapse composite images of Kenyon buildings and either a sunrise or sunset. After photographing Kenyon's campus for a few semesters, this was the perfect ambitious project for me. This final Time Splice composite here was my third attempt at Ascension Hall. The edit used 65 of the total 134 images that I made.
Usually, when I was out photographing, I tried to blend in with the background so as to not impose myself into the scene. During this project, however, that wasn't an option. I spent several evenings camped out around Middle Path with my camera and a tripod trying to look as inconspicuous as possible. A few passersby inevitably stopped and asked me what I was doing, which was actually a welcome change of pace.
5 - FOGGY WIGGINS
March 17, 2021 at 7:41am
ISO 200, f/1.8, 1/400s, 50mm
It's no secret that I've always enjoyed photographing fog. There's something immediately intriguing and mysterious about foggy pictures, and especially foggy mornings at Kenyon. During a series of early mornings in spring 2021, I made this photograph of an angle that I used in a previous picture during winter 2019. The subtle greens and oranges amongst the grey veil really do it for me.
6 - SCIENCE QUAD STAIRCASE
May 15, 2021 at 2:47pm
ISO 200, f/6.3, 1/160s, 20mm
Hayes Hall in the Science Quad has such a beautiful staircase. The series of south facing windows, stained glass panels, and beveled glass create these rainbow refractions that color the space. I tried a few times earlier to capture the full beauty of the lighting, but this was the first one that felt right. I made this image during the last few days of finals week. After a long and grueling semester, ending with a bright and hopeful day was exactly what we all needed.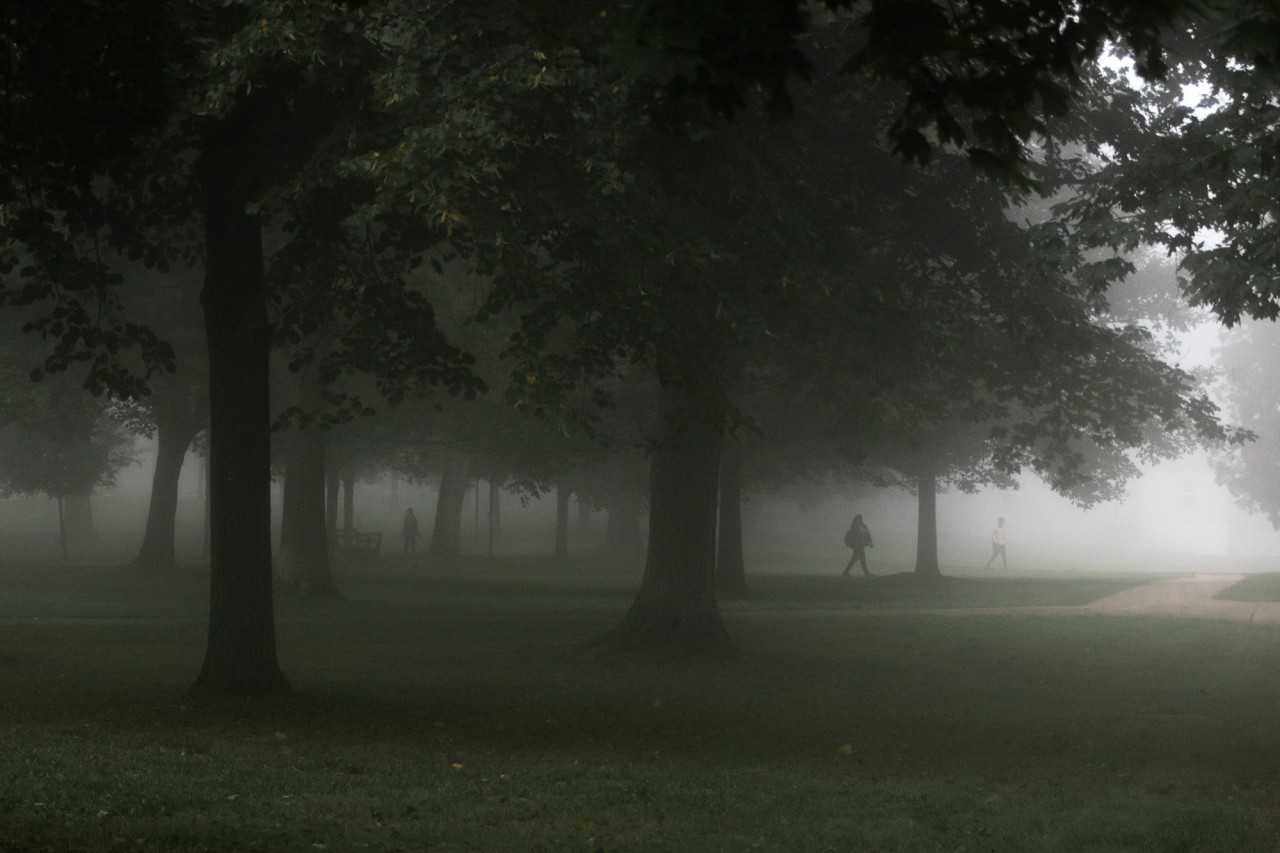 7 - FOGGY LATE SUMMER MORNING
August 31, 2021 at 7:48am
ISO 400, f/5.0, 1/250s, 56mm
After my spring foggy series from 2021, I wanted to get some foresty summer pictures that also featured fog. During a handful of mornings in late August through September 2021, I photographed fellow students and faculty during their morning commutes. I made a ton of foggy images of campus, but this one stands out to me. It's rare to see Gambier this green, especially in the mist. Most of the time, fog comes in the early spring when the trees are barren. This is also one of a few images that I made with this angle. I rarely photographed here to avoid capturing the temporary library modules across Ascension's lawn, but the fog hid them this time.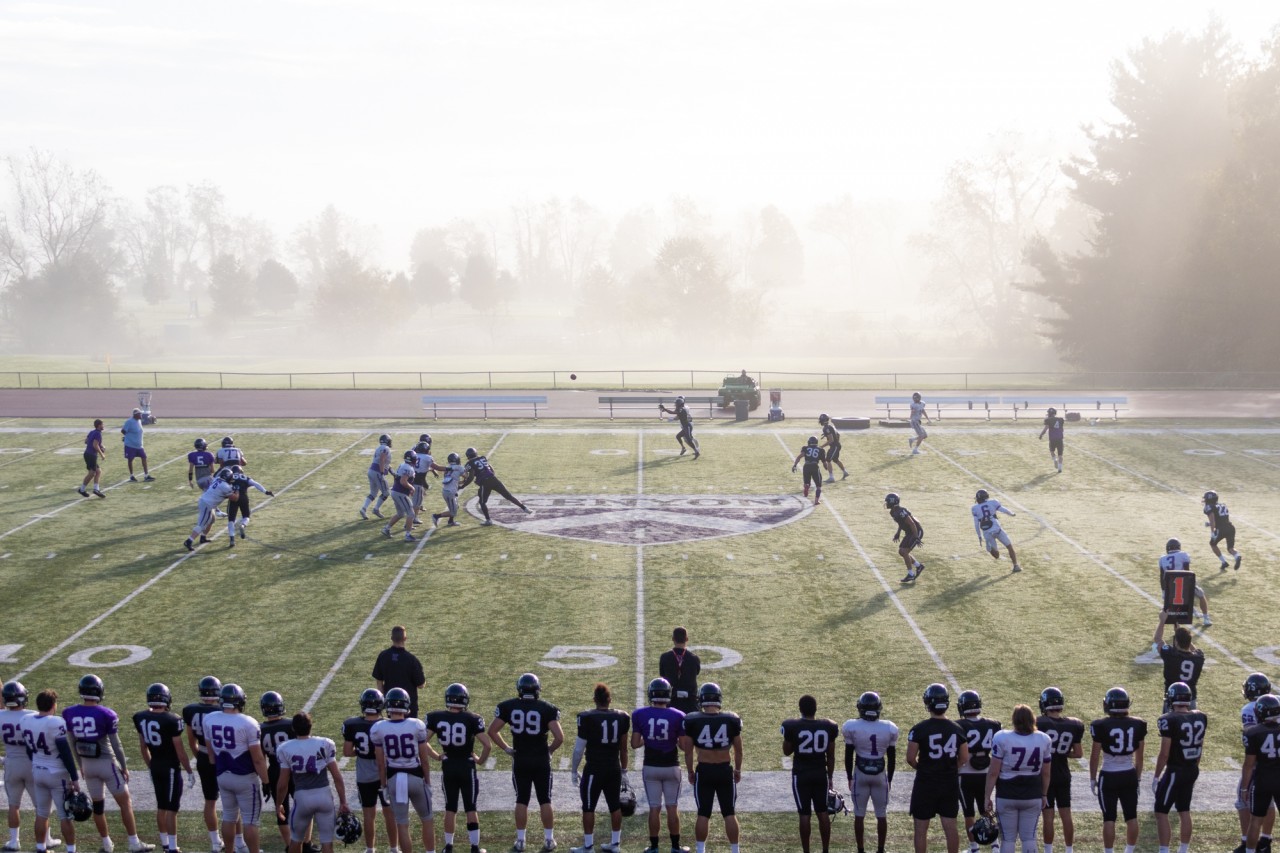 8 - FOGGY FOOTBALL PRACTICE
October 8, 2021 at 8:56am
ISO 100, f/4.5, 1/500s, 30mm
Fall 2021 was my final fall in Gambier. And, just like every other Kenyon student, I was very much looking forward to a beautiful Ohio autumn. But most of the leaves changed colors pretty late in October, and the change was not as uniform as in 2019—my previous fall on campus. Some trees still had green leaves at the start of November, while others were already bare.
Since the leaves weren't as captivating as usual, I made a point to go out to a football practice one morning in the spirit of capturing what I hadn't before. I knew the early morning practices looked awesome, but I was lucky that day to have some fog, too! Since I ran nearly every day on campus year-round, I rarely had the opportunity to watch or photograph other sports.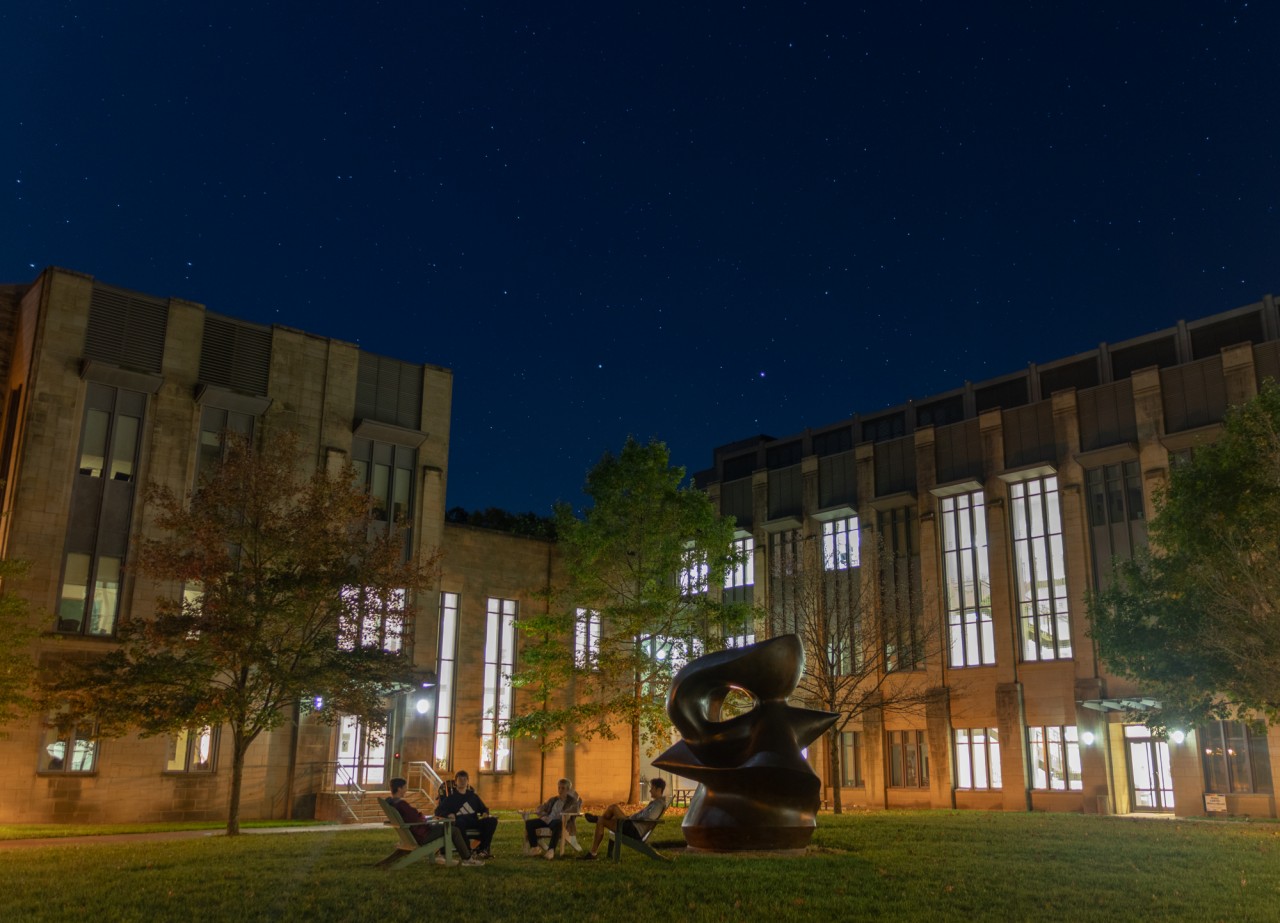 9 - SQUAD UNDER THE STARS (KENYON AFTER DARK)
October 20, 2021 at 12:19am
ISO 200, f/3.5, 6.0s, 18mm
Living in rural Ohio has many perks. On clear nights, you can see a ton of stars. And all you have to do to witness the magic of the night skies is walk outside! Living in Gambier taught me to get out and appreciate nature. Sometimes, though, work gets in the way. Juggling coursework with classes, sports, clubs, and everything else can be intimidating. Just after midnight, some of my cross-county teammates were working on their physics labs in the Science Quad. I sent them a message saying that they'd earned a little break and should come join me outside under the stars. Think of it as some applied physics, I said. Sitting in the Quad's Adirondack chairs, they shared what they were working on, I shared my photos, and we all shared a great moment.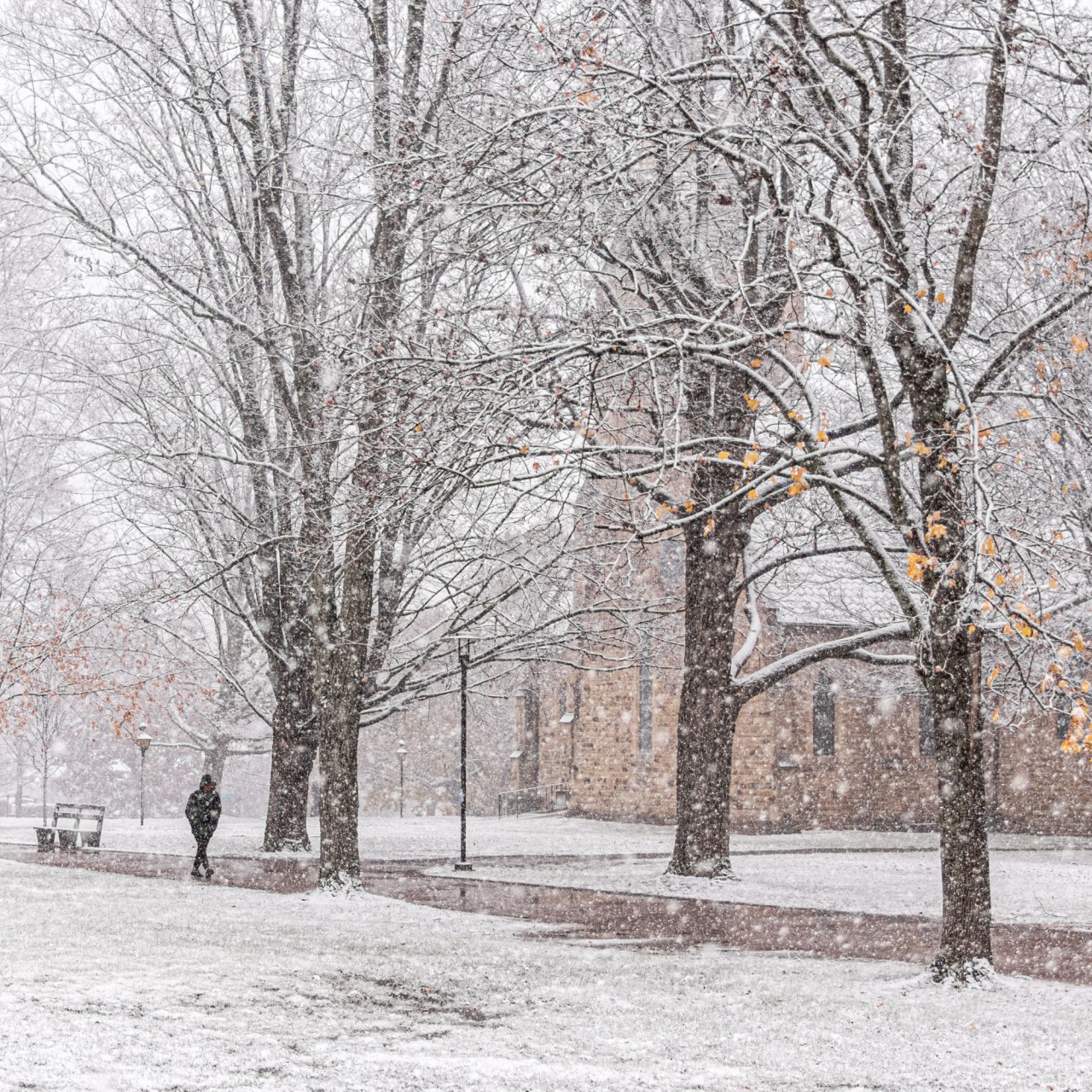 10 - THE CHURCH (MY FINAL WINTER)
November 14, 2021 at 1:51pm
ISO 200, f/4.0, 1/400s, 32mm
Winter is my favorite season to photograph, and my senior winter was especially fun. I also had the most experience with winter, as it was the only season I was on campus for all three years that I photographed. With the conclusion of the Chalmers Library construction, I was able to use this angle for the first time ever. If I was really pressed to pick just one from my thousands and thousands of pictures, this one might be my all time favorite picture of Kenyon, period.
It was one of those pictures you know is going to be good while releasing the shutter. I live for those. It's got everything I look for in my typical Kenyon pictures: a recognizable area of campus, a nondescript person, cool weather and a clean angle. It's similar to my other stuff, but it was something new, something different. Exploring angles from in front of Chalmers reminded me of the thrill of photographing campus for the first time.
Thank you to everyone who has followed my work at Kenyon. I'm lucky to have photographed for a community that truly loves one of the nation's most beautiful college campuses. I would especially like to thank Megan Monaghan, Carolyn Ten Eyck, David Hoyt, Adam Gilson, Ross Ballinger, Marcell Hackbardt, Emily Zeller, and Gregory Spaid for making undergraduate years as a photographer a wonderful experience. Thank you, Kenyon College!
Dannie Lane is a graduate of the Class of 2022 from Lancaster, PA. During his time at Kenyon, he studied Chinese, studio arts and economics, and was a member of the Men's Cross Country and Track & Field programs. Find more of Dannie's work here.