Down behind Kenyon's athletic center, you may notice a steam engine and caboose, an old depot, and a line of benches. If you were trying to catch the train, you're a few decades late. However, if you were trying to catch some glimpses of the beauty of rural Ohio by walking or biking through it, you've come to the right place: this spot marks Kenyon's main access point to the Kokosing Gap Trail.
Just as Middle Path acts as a central artery connecting all parts of campus, this trail connects you to everything beyond the Hill — rivers, nature hikes, parks, towns, you name it. Members of the Kenyon community have easy access to the trail, and can use it as they please for exercise or leisure.
Heading westward on the Gap Trail, you'll find the Brown Family Environmental Center (BFEC) about a mile away. The BFEC includes a network of paths through fields and woods, along with easy river access, in case you want to dip your toes into the Kokosing on a warm day. About five miles further, the trees surrounding you turn into parks and buildings as you enter the city of Mount Vernon. A great weekend activity if you have a bike on campus is to ride into town and stop at Whit's Frozen Custard for an ice-cold treat before heading back, fueled up for the return journey.
Traveling eastward on the Gap Trail, you pass underneath the town of Howard's beautiful covered bridge, which is my personal favorite stop. Bring along some friends and some snacks, and it's a great picnic spot as well.
Did I mention the cows? Just outside of Gambier, there's a field on a hill with quite a few cows in it. Word is, if you moo at a cow on the Gap Trail and it moos back, you'll do well on your next exam (this claim is unsubstantiated, but I suspect it has something to do with the fact that the cows generally moo first).
Although the Kokosing Gap Trail is only 14 miles long, for those wanting to go further, this is just the tip of the iceberg. It's part of a network of former railroads converted to bike trails called the Ohio to Erie Trail, which stretches from southwestern Ohio all the way to Cleveland in the northeast corner of the state.
Before my sophomore year, my friend Jeremy and I were living on campus working some summer jobs and decided to take an extended weekend vacation on the Ohio to Erie Trail. We spent four days bikepacking the 100 miles from Gambier to Akron and back, camping in the woods, eating trail mix and stopping at whatever caught our eye along the way.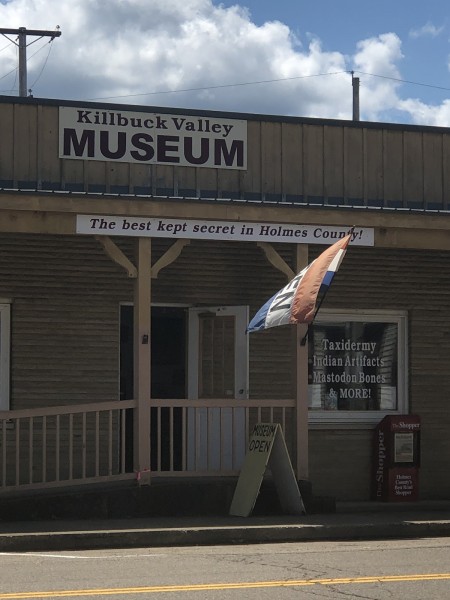 My personal favorite stop was the small town of Killbuck, Ohio, home of the Killbuck Valley Museum, aka "The best kept secret in Holmes County!" That museum had it all, with a shelf of mastodon bones next to a taxidermied badger next to a decades-old varsity jacket from a legendary state-qualifying Killbuck high school football team. While every town we rode through was charmingly unique, they all carried a distinctly rural Ohio vibe. That feeling reminded us to slow down, take a minute and look around (because if you don't, you might miss something).
The ride back to Gambier was unlike any other return-to-campus journey I've been on. Normally when driving back to Kenyon, I reach a point about a half hour away where I think, "alright, fields of corn, we're back in rural Ohio, baby!" This time, I had that realization about 10 minutes after leaving Akron, with 90-something miles to go before landing back at Kenyon. What always made geographical sense finally clicked in my head: this is what Ohio is, a handful of cities surrounded by a sea of corn, woods and towns. Even being from rural Ohio, I had never processed the sheer expanse of it until traveling through it on a non-motorized vehicle.
Riding back on the same trails that took us there, Jeremy and I continued to slow down and appreciate those quaint little towns and the things that made them home for their residents. Parks, diners and corner stores that were one-time stops for us travelers could be the backbones of communities. When we finally arrived back on campus, I rode by the things that make Gambier what it is, and I slowed down. There is only one Killbuck Valley Museum in the world, just as there is only one Wiggin Street Coffee, one Peirce Dining Hall and one Middle Path. I've been walking Kenyon's campus for three years at this point, and it's those one-of-a-kind places that remind me of where I'm at.
Just as Wiggin Street is where I go for a cup of coffee, and just as Peirce is where I go everyday to eat and laugh with my friends, the Kokosing Gap Trail is where I go to connect with the area surrounding Kenyon. Even though I'm usually either running or cycling down the trail, I'm occasionally reminded — by the deer running in the woods, or the river flowing next to me, or the cows mooing their greetings — to take a second, and slow down.
Ben Stillions '22 is a biochemistry major from Cambridge, Ohio.