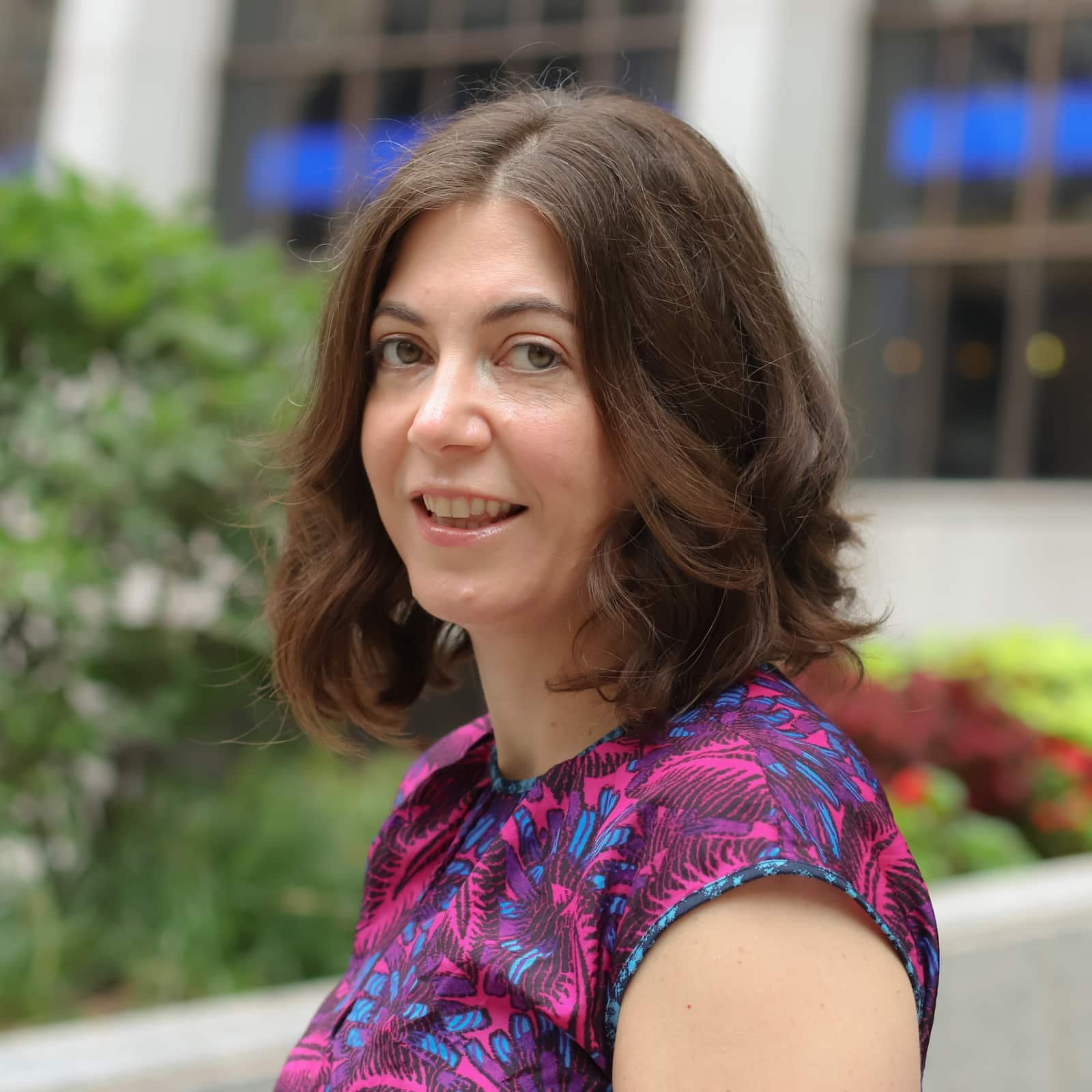 For Emily Blum '96, who has a movement disorder that causes her muscles to contract involuntarily, the secret of life has been moving from "can't" to "can."
"When I was a little girl, I really wanted to be a ballet dancer, and that dream evaporated for me," she said. "But there's so much that because I have dystonia I'm able to understand and innovate — there's just so much in both my personal and professional life. That is because I have a disability, and those things are really wonderful."
Helping others get to that same understanding — and then act on it professionally — has been her mission since becoming executive director of the Chicago nonprofit Disability Lead in 2019. The only organization of its kind works to develop people with disabilities and connect them with leadership positions and roles in civic advancement.
Identified as one of 10 Leaders for a New Chicago by the Field and MacArthur foundations, Blum is a member of the Kenyon alumni group Friends of DISCO, which supports the work of the college's new Disabled/Chronically Ill Student Community Organization.
For Disability Pride Month this July, Blum shared a bit about changing understandings of disability identity, how it is internalized, and more.
How does your own story intersect with disability?
I have a movement disorder called dystonia that not a lot of people have heard of, but it's in the same family as Parkinson's and I've had it most of my life, including when I was at Kenyon. For me, it primarily impacts my gait and how I move. So one of the reasons why I selected Kenyon was because it was small. Walking was very difficult for me, but I could ride a bike; I could navigate the campus relatively well.
I've always had a disability identity, but I didn't really understand the perspectives that it brought to me and that it was really more of an asset than it was a deficit. I think disabled kids — and even a lot of disabled adults — look at their disability from a deficit perspective: I can't run a marathon. I can't climb Mt. Kilimanjaro.
How did your time at Kenyon influence the path that you ended up taking?
Back in 1996, the discussion about diversity was really about multiculturalism, and even then I had an understanding that disability was part of it. And I think I was pretty alone in that understanding. But I remember Kenyon was the kind of place where you could offer that idea. There was just a sense of encouragement and support that I always felt at Kenyon.
These days, you say disabled people should lead with "power and influence." What does that mean?
When people think of disability, too often it's from a deficit perspective that people with disabilities are successful despite their disability, right? I think to lead with power and influence is to show up proudly in spaces and say: I have a disability. I have a unique and really special perspective that only I can bring to this space. I'm confident in that, and I know that as we are making decisions, outcomes will be better for myself, for the disability community and, really, for everybody.
What does it mean to you to be part of an alumni group supporting students with disabilities?
There have always been disabled students at Kenyon. When we think about the prevalence of disability in our society, the estimates are that one in four, one in five people have a disability. Perhaps those disabilities may be invisible or things like chronic diseases or mental health disabilities or learning disabilities, but they've always been there. I'm just so thrilled that students are identifying in that way. I think that this younger generation is much more comfortable doing that than my generation ever was, and I'm just thrilled that they are loud and proud on campus and finding their own community.
What else can people do to help?
Get curious. I think that we've learned that disability stories are incredibly powerful and that there are so many out there, but they need to be discovered and embraced and consumed. So seek out disabled writers, seek out stories about people in the media and on television in movies.
What does disability pride mean to you?
Having real love and acceptance for all of us exactly as we are. Those are easy words to say, but they are, they can be incredibly challenging words to internalize.