William Harris "Bill" Brown, Kenyon's head men's basketball coach from 1988 to 1996, died Wednesday, Feb. 15, in Rostraver Township, Pennsylvania. He was 71 years old.
During his time at Kenyon, Brown accumulated one of the best win totals in program history. In 1993-94, his 24-4 team set the Kenyon record for season wins, going on to win the North Coast Athletic Conference (NCAC) tournament and appearing in the NCAA Division III tournament. The following year, his team again played in the NCAA tournament, making it to the third round. Brown was twice named NCAC coach of the year, after his inaugural season in 1989 and again in 1993.
"Bill Brown's legacy will long be remembered in the history of Kenyon Athletics," said Jill McCartney, director of athletics, fitness and recreation. "A dynamic coach, he recruited promising players and led them to significant success on the court. Coach Brown made a lasting impact on the Kenyon men's basketball program and on the student-athlete community."
"Bill was an incredible resource for a young coach like myself and he was always willing to answer questions, offer words of advice or just listen to a young kid trying to figure out if coaching was the right path. … He made you feel like he was interested in what you had to say, that you mattered," said Matt Burdette, head baseball coach, who first arrived at Kenyon in 1993. "His Kenyon teams in the mid-'90s were outstanding … their road win at Wooster in the NCAA Tournament might be the most exciting Kenyon game I've witnessed."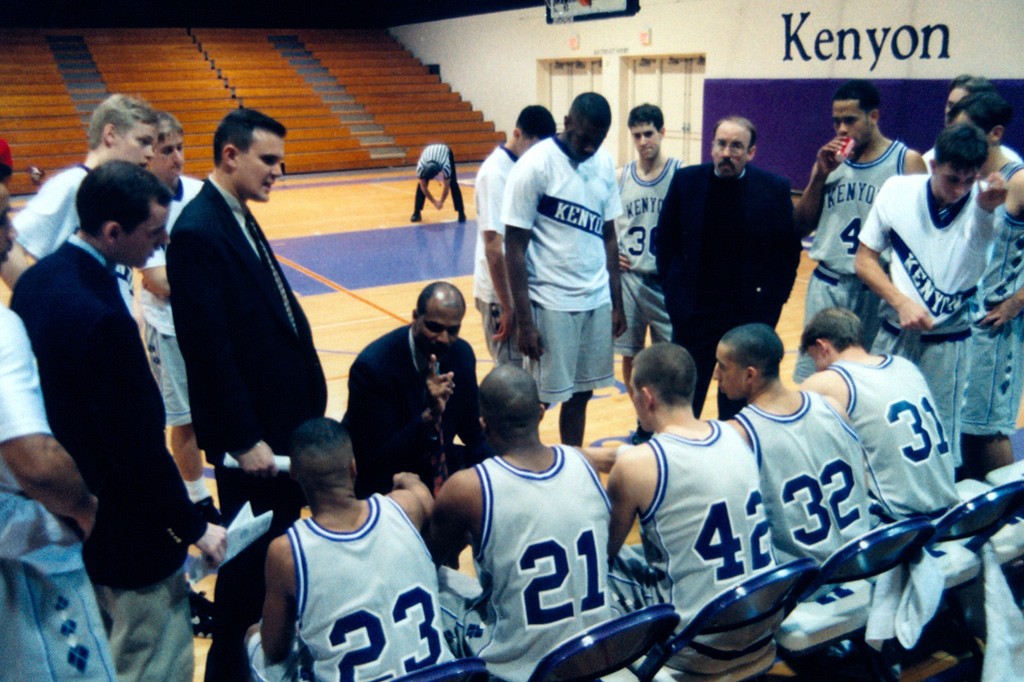 Brown was born to the late William and Helen Harris Brown in Toledo, Ohio, on July 30, 1951. He graduated from Ohio University, where he was a star player on the Bobcats basketball team. During his college career, he twice played in the NCAA tournament, was team captain for two years, was named the team's most valuable player in 1974 and was once named Ohio University's athlete of the year.
After graduating, he remained at Ohio to begin his coaching career, then served in positions at the University of Arkansas and California State University, Sacramento before coming to Kenyon. After leaving Gambier, Brown coached at California University of Pennsylvania until 2016, becoming the Vulcans' winningest coach in history, and then volunteered at Duquesne University as the Dukes' director of community relations and player mentoring for six seasons until his death.
"As crazy as it sounds for folks who attended a Division III liberal arts college known for writing and swimming, Bill Brown was the singular reason that many of us on the basketball team chose Kenyon," said Shaka Smart '99 H'17, head men's basketball coach at Marquette University. Brown recruited Smart to play basketball at Kenyon; after Smart graduated, he began his coaching career on Brown's staff at Cal U. "I can speak for nearly everyone that crossed paths with him when I say he truly was one of a kind: warm, witty, engaging, kind hearted, commanding, competitive and highly charismatic. No collection of words can properly describe this extraordinary father, husband, coach and friend."
In addition to his passion for basketball, Brown's other interests included tennis and gardening. He is survived by two children, Aaron and Kerra, as well as nine grandchildren, and was preceded in death by his wife, Christy, who was known in the Gambier community as a dedicated teacher at Wiggin Street Elementary School.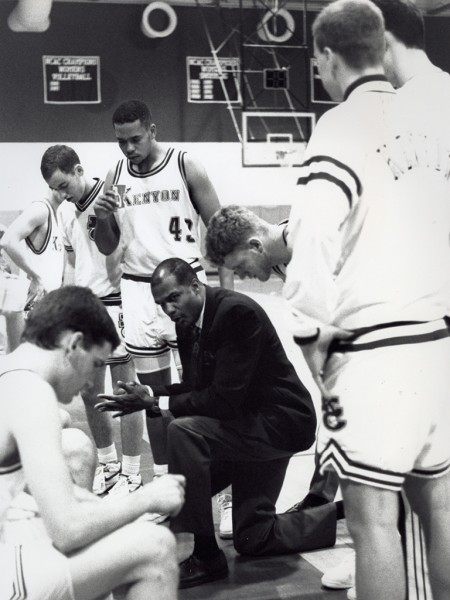 "When I first heard the news that Coach Brown had passed away, I was incredibly sad and heartbroken for Aaron, Kerra and the rest of his family," said Jamie Harless '95, who himself served as Kenyon's head basketball coach prior to, like Smart, joining Brown's staff at Cal U. "But over the next few days, thinking about all of the great memories of him as my coach and mentor kept bringing a smile to my face. Coach Brown was a kind and generous person who made a huge difference in countless lives. He always had his teams say 'We're Better Together' when they broke the team huddle. For him that wasn't just a team slogan, but the way he lived. His legacy is evident in the many lives that he touched, and during his memorial service, a diverse group of people stood up and testified to how he impacted their lives and careers."
"Coach Brown was a father figure to me," said Tom Oakes '95, another former player who is now the athletic director at Hoover High School in North Canton, Ohio. "He overcame many challenges throughout his life, and this helped me when I struggled at moments in my career. I absolutely loved playing for him, and am grateful to have spent four amazing years on the Hill with him. He will certainly be missed by all."
Smart recalled: "As a junior at Kenyon, in the midst of worrying about what would come after college, I got a call from Coach Brown: 'After your senior year, you should come work for me as a graduate assistant and begin your coaching career.' And while my professors thumbed their noses at the idea, my plans were set the moment he spoke them aloud. Coach, thank you for all that you have taught us, for all that you poured into us and for countless priceless memories of your rare and glorious spirit that we will cherish forever."