Archaeologists are often better known for excavating monuments and temples than for examining the more prosaic aspects of ancient civilizations. But Associate Professor of Anthropology Claire Novotny has always had an interest in what average dwellings can teach us about households and everyday life in past societies. Her 200-level course "Habitat and Humanity," offered every fall at Kenyon, applies that historical knowledge to contemporary issues surrounding housing.
"This class is a really great blending of my archaeological interests with an interest in houses cross-culturally, looking at how people have built different kinds of dwellings depending on where they're living," Novotny said. "We have here in Knox County the farming landscape, and the way that people have settled on that landscape is really interesting, and so I wanted to involve the class more in something local."
This year, Novotny has worked with both the Winter Sanctuary, a homeless shelter in nearby Mount Vernon, and Habitat for Humanity, the worldwide non-profit organization that builds, rehabilitates and preserves homes. While housing insecurity is often thought of as a purely urban issue — one of Novotny's assigned readings, "Evicted: Poverty and Profit in the American City," focuses on Milwaukee — touring the Winter Sanctuary shows students how rural areas face similar challenges.
"What I really try and do is put them into contact with people in the community [and] directly talk to the people who are dealing with housing insecurity in the county," said Novotny, who worked with Kenyon's Office for Community Partnerships (OCP) to facilitate connections. "Getting students off campus and into the community is a really unique and interesting part of this class, and the OCP is doing a really good job of supporting professors in doing this kind of teaching."
"Housing in some form or another is an important part of human life, and this shows up in the archaeological record, so it seemed like dwelling-space was a natural next step for study," said anthropology major Sìleas Campbell '23, who has also taken the 300-level "Engaged Archaeology" with Novotny. Campbell, who is from Columbus, was especially interested in learning housing issues affecting Central Ohio specifically. "Going out and participating in a project like this grounds what we have been talking about in a real, tangible way that we wouldn't have gained otherwise."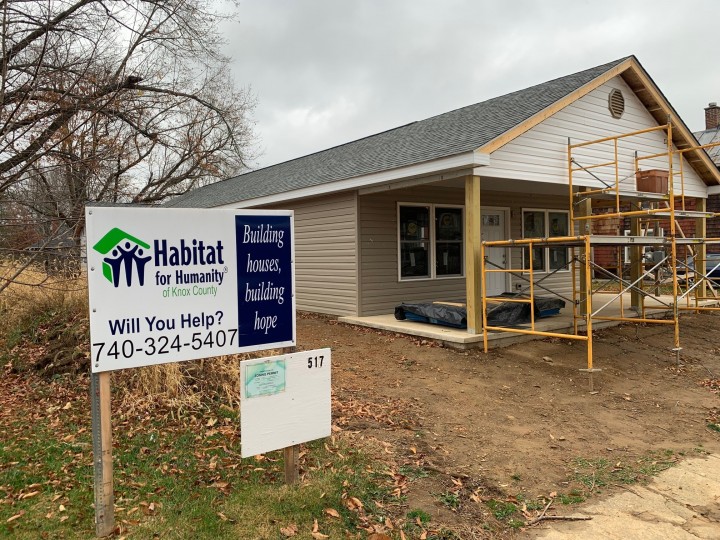 The 17 students enrolled in the course visited two Habitat for Humanity sites in Mount Vernon on Saturdays in November — one newly-built home and another house being refurbished and prepared for new occupants — and had the opportunity to speak with Terry Schulz, affiliate director for Knox County's Habitat chapter. Working alongside the family that will move into the newly-constructed house in the coming weeks, students assisted with various building projects and even had the opportunity to add their signatures to a garage wall.
"The opportunity to perform construction helped me to gain some perspective on what it's actually like to build or improve a house," said Lucas Dunst '24, an English and philosophy double major from Canonsburg, Pennsylvania. "The process has a high level of physicality that's really hard to appreciate until you've actually worked on a house, and requires a surprising amount of intuitive, moment to moment judgment." Dunst especially enjoyed the chance to meet people in Knox County. "My favorite aspect of the whole experience was the sense of community that it fostered," he said.
"Really helping and physically doing something that engages them with the community, not just in conversation but actually physically helping build, that makes an impression," Novotny said. "Even if they don't remember in 10 years the readings that they did in class, they'll remember an experience like that, and so I think it really helps the ideas from the class really stay with them in the long term."