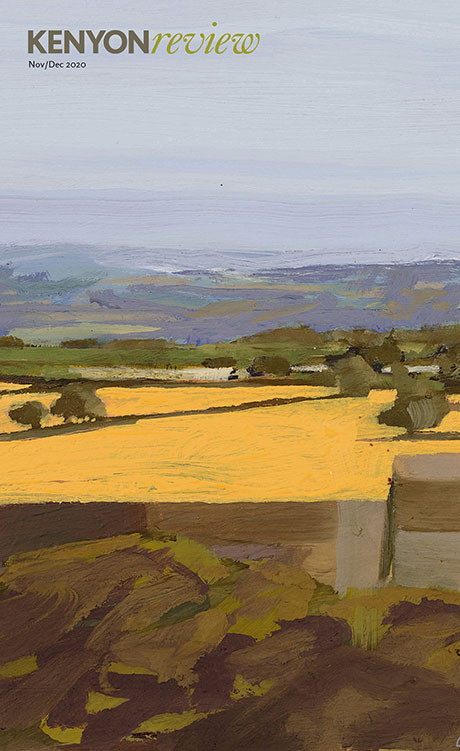 After 26 years as editor of the Kenyon Review, Professor of English David Lynn '76 P'14 stepped down this year as the esteemed literary magazine begins a new chapter under the leadership of acclaimed poet Nicole Terez Dutton. Lynn published the following editor's notes in the Review's final issue of 2020.
This issue of the Kenyon Review breaks my own long-standing rules. It's an indulgence I've granted myself on the way out the door. (I'm actually a kind of ghost editor in these pages, having physically walked out that door at the end of June — such are the rhythms of production.)
For 26 years (in truth for nearly 30, since I served as acting editor in 1989–90 and as associate after that), I've always been committed to open submissions, to searching diligently for the very best literary writing that has come to us, whether over the transom or via the Internet. In the process we've discovered many brilliant new voices and published them alongside some of the most distinguished writers of our generation. This has been our mission and has allowed us to welcome many authors to our pages for the first time.
Many of the writers in this issue, as a matter of fact, first appeared in KR thanks to those very efforts or to our many fine editors and associates who have passed along superb poems and stories and essays, urging publication.
On this occasion, however, and for this curated issue, I've chosen to reach out directly to the authors featured here, asking them to contribute. Many go back with me 15, 20 years or more. Others I've encountered only in very recent times. But all are writers I admire enormously. And all have become, through this literary relationship, my friends as well. I believe that is in the very nature of art. This then, my final issue as editor, is a celebration of art and brilliant writing — and of friendship.
It may seem odd when I claim, in fact, that friendship lies at the very heart of why one becomes an editor. Let me explain. I've often written about the eureka moment — the instant every editor will recognize — when sifting through so many deserving submissions and, often bleary and exhausted and doubting my own ability to discriminate between a poem and a grocery list, a truly brilliant poem — or a story imbued with magic or an essay of deep and penetrating insight — has seemed to unveil its wonders before my eyes. These are instants of joy, and they have often felt like unexpected gifts. And gifts are precious.
So says Lewis Hyde, my longtime friend and colleague, in his wise "The Gift: How the Creative Spirit Transforms the World." He goes on to persuade us that true gifts represent a dynamic spirit of exchange that never simply comes to an end. In this way, they differ profoundly from the commodity exchange of the marketplace, where once a transaction has taken place — when I've paid for a new hat and put it on my head — the relationship between seller and buyer is complete. This is true of so many of our quotidian dealings. Gifts, to the contrary, remain vibrant. They will necessarily lead to acts of further generosity. That is where art breathes and abides, as does spirit.
I've been nothing less than blessed in receiving so many matchless gifts from hundreds of Kenyon Review authors over the years. And more: through this gift exchange — for they have sent me their work; my colleagues and I have shared it with the larger world, and readers, in turn, carry the spirit of the art with them — the authors, as represented by those in these pages, have become my friends as well. I remain deeply grateful.
Once again, in responding to my breaking the rules and reaching out to the authors featured here, they have offered these matchless gifts. And I, in this my final issue as editor of this noble enterprise, happily sustain this life-giving exchange by offering them to you. Now it's your turn.
Subscribe to the Kenyon Review.